READY TO RUMBLE
The November Nine are set to battle for the title as ESPN expands live coverage
By Sean Chaffin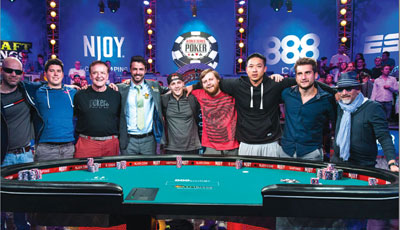 After a huge summer of card playing and more than 60 events, the World Series of Poker played down to the final nine players in July and the "November Nine" will return to the Rio Resort and Casino on Nov. 8, playing until just one man is left holding all the chips in front of ESPN cameras.
In the 46th annual event, 6,420 players from 80 different countries paid their $10,000 for a shot at the championship and huge money. This year's total prize pool topped $60 million, and the winner will not only earn the biggest title in poker, but also $7.68 million in cash. The other eight players take home their share of $18 million with the runner-up earning $4.47 million. The ninth-place finisher will earn just a bit over $1 million.
The final nine players represent the continued international growth of the game, hailing from four different countries—Belgium, Israel, Italy and the U.S. In July, the final players battled through seven grueling days with as many as 12 hours a day at the tables. Throughout the last couple days of play, much of the poker world was focused on the deep run of Daniel "Kid Poker" Negreanu, one of the biggest names in poker with six WSOP bracelets. Negreanu holds the all-time tournament winnings record at $30.7 million and looked to be making a run at the November Nine. Ultimately, Negreanu came up just short of the final table, finishing 11th for $526,778.
After hours under the lights at the Rio, 24-year-old poker pro Joe McKeehen leads the final table with about one-third of the chips in play. He is a big favorite to bring down the title with such a massive lead. But in poker, one big hand or called bluff could change everything. This year's final table again has no females. It does feature two men over age 60 hoping to stop the recent run of the poker young guns who have claimed poker's top prize. Here's a look at the final nine hoping for a place in poker history.
Joe McKeehen
Age: 24
From: North Wales, PA
Chips: 63.1 million
This will be the biggest cash of McKeehen's career, and could also be his first bracelet. No stranger to success on the poker felt, he's earned almost $2 million in tournament earnings. That total includes $883,494 in eight previous WSOP cashes including a runner-up in the inaugural Monster Stack event in 2014 for $820,863. McKeehen also has two WSOP Circuit rings in his poker resume, and has won several nice titles at Atlantic City's Borgata and other East Coast casinos.
Experience is on McKeehen's side and he should be able to push the action much of the time with his mountain of chips. In August, the poker shark was playing some events at the Borgata to stay sharp and competitive. The pro seems to have handled the pressure well throughout the latter parts of the series, and will hope to avoid any major pitfalls on his way to a title.
Zvi Stern
Age: 36
From: Herzilya, Israel
Chips: 29.8 million
Stern sits in a nice spot with second-place chips. With just $5,055 in WSOP earnings and $45,595 overall, this is by far the biggest poker stage he has ever appeared. At this summer's WSOP, Stern notched a couple small cashes in preliminary events and another couple cashes at the European Poker Tour in August and the WSOP-Europe in October.
While he sits second in chips, McKeehen still has a 2-to-1 chip advantage over Stern. With a difference of $3.5 million between second and ninth places, Stern may be looking to avoid a dip on the pay scale with any early coolers. Surviving to four- or five-handed play could be Stern's shot at the title if he can snag some nice pots along the way.
Neil Blumenfield
Age: 61
From: San Francisco, CA
Chips: 22 million
One of the few poker amateurs at the table, Blumenfield becomes only the second player over age 60, along with Pierre Neuville, in the eight-year history of the November Nine format. A graduate of the University of California-Berkeley and a former high school debate champion, Blumenfield works in the software industry and has one tournament victory under his belt. He's earned $130,468 in poker tournament winnings including $44,395 in two previous cashes at the WSOP.
This is the fifth consecutive year Blumenfield has played the Main Event, and will face pretty long odds to win the title if recent history plays out. The event tends to be dominated by younger pros in recent years and Blumenfield's lack of experience may prove a hindrance in such a high-pressure environment. After qualifying for the final table, Blumenfield continued snagging some tournament cashes including an eighth-place finish at the Heartland Poker Tour–Reno $1,650 buy-in Main Event for $7,817.
Pierre Neuville
Age: 72
From: Knokke-Heist, Belgium
Chips: 21.075 million
No doubt many poker fans will be cheering for the "old guys," Neuville and Blumenfield to bring home the bracelet. Already the oldest final table qualifier in history, a victory would add to that footnote with Neuville taking the place of poker legend Johnny Moss as the oldest Main Event winner in history. Neuville began playing poker in his 50s and is now a regular on the European Poker Tour. He has an interesting business background, designing a board game and creating a toy company in 1969, which he sold to Hasbro in 1982. He stayed on as a vice president of the company for 10 more years.
Fourth in chips, this marks his first final table appearance at the WSOP after playing in six out of the last 10 events and has $591,460 in career WSOP earnings with 19 cashes. While he may be an amateur, Neuville certainly has some major skins on the wall with $2,195,160 in poker tournament earnings. These include a runner-up finish a $5,000 buy-in WSOP NLHE Six-Handed event in 2014 for $385,041 and several other runner-up and final table scores for five- and six-figures. Neuville has made it known that he plans deep preparation for the final table and is very competitive. His experience on the big stages of Europe should be a huge help.
Max Steinberg
Age: 27
From: Oakland, CA
Chips: 20.2 million
This pro brings some bling to the table, outlasting a field of 2,795 in 2012 in the $1,000 NLHE event for $440,238. In 2013, Steinberg was runner-up of the 2013 WSOP National Championship for $219,799. His resume also includes six-figure runner-up finishes at the WSOP, World Poker Tour, and Latin American Poker Tour. When not at the table, Steinberg has found success in the growing world of daily fantasy sports and won his seat into the Main Event via Draft Kings.
Steinberg is a very accomplished player and finished 131st in the Main Event in 2013. He has WSOP earnings more than $1.4 million and $1.95 million in lifetime tournament winnings. With a strong background at the tables at major events (including a bracelet on his resume), he should be tough to deal with at this final table. If Stern and McKeehen trip up, he could be battling it out late for a title.
Tom Cannuli
Age: 23
From: Cape May, NJ
Chips: 12.25 million
This poker pro boasts just two cashes and $20,203 in WSOP winnings. In 2014 he finished 691st for $18,406.
Cannuli plays mostly cash games and online, and his total live tournament earnings are $52,235. While he may be young, Cannuli has played the game for several years and says he is living a dream.
While he has seen thousands (maybe millions) of hands online, his challenge will be adjusting to live play in such a pressure-packed situation. On the other hand, Cannuli could be the next big thing and bring home the title like the twenty-somethings who have won the last seven years including last year's champion, Sweden's Martin Jacobson. Age is certainly on his side considering this event in recent years.
Joshua Beckley
Age: 24
From: Marlton, NJ
Chips: 11.8 million
Beckley is yet another young player looking for a big score, and the fourth player from the Northeast at this final table. His four WSOP cashes all came this year for a total of $19,403. His total lifetime live tournament winnings are more than $240,000. Beckley has some nice five-scores over the last two years at the Parx and the Borgata including a win last year at the $1,500 Big Stax VII for $98,348.
Even after leaving the comfy confines of the Rio, Beckley was back at the tables in September with a major score. He earned a WSOP-Circuit ring at the $365 NLHE event in West Palm Beach, FL, for $22,349. Beckley hopes the positive mojo and top-notch play can overcome the big chip disadvantage.
Patrick Chan
Age: 26
From: Brooklyn NY
Chips: 6.225 million
This young professional has already amassed some nice cashes and six-figure lifetime earnings. Chan attended the College of Staten Island, and has four previous WSOP cashes for $113,145. At this final table, he is hoping to add to his live tournament earnings of $524,263. Chan has plenty of experience at the tables with plenty of final table cashes at North-eastern casinos. One of his best finishes came in 2012 at the Borgata's Fall Poker Open where he finished third in the $2,500 NLHE Championship for $131,895. In January, Chan finished runner-up at the$2,500 NLHE Big Stax Championship at the Parx Casino in Pennsylvania for $71,449.
Chan began his career about five years ago playing online. After Black Friday, he moved to live tournaments and continued his nice run with a seventh-place finish at the Borgata in September. Still lacking that big major win, this poker star will be looking for that breakthrough in Las Vegas.
Federico Butteroni
Age: 25
Rome, Italy
Chips: 6.2 million
Butteroni becomes the first Italian player to play at a Main Event final table and no doubt will have many of his countrymen cheering him on. In his short career, Butteroni has $103,006 in career winnings with$49,255 coming in WSOP events. In a preliminary WSOP event this summer, he notched a 20th place finish the $1,500 NLHE Monster Stack event for $45,633. He also had his first career victory this summer at one of the Rio's $235 Daily Deep stack tournaments held at the Rio in conjunction with the WSOP, in which he took home $31,756.
For both Chan and Butteroni, winning the Main Event will be a big uphill climb. Both have less than one-tenth the amount of chips as McKeehen's almost 30 million chips. Both will have to make a move fairly early to build a chip stack or get whittled away as they try to climb up the pay ladder.
The poker boom may have slowed in recent years, but the game's expansion into such a major event in recent years shows that there are still plenty of Americans dreaming of slipping on that shiny gold bracelet. For one of these highly-skilled cardsharps, that dream is going to come true—and change a life forever.
The 2015 World Series of Poker final table airs live during primetime on ESPN2 with expanded three-day coverage this year beginning Nov. 8 and running through Nov. 10.