Q&A
Adam Goldberg, CEO & Partner, Rock & Brews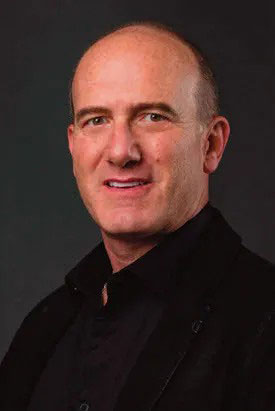 Casino Player is thrilled to bring you an exclusive interview with the visionary leader behind the exciting fusion of rock 'n' roll and gaming: Adam Goldberg, the CEO of Rock & Brews. Join us as we delve into the electrifying world of entertainment and hospitality, gaining a rare behind-the-scenes glimpse of the recently unveiled Rock & Brews casino in Braman, OK, and Rock & Brews Restaurant at Potawatomi Casino Hotel in Milwaukee. As we sit down with Adam, we'll not only explore the genesis of the Rock & Brews restaurant chain but also dive into what's in store for this rockstar brand as it continues to captivate audiences and redefine the casino experience.
CP: On May 10, Rock & Brews opened its first-ever casino location, Rock & Brews Casino, in Braman, OK. Could you expand upon the importance of the inaugural casino and how it contributes to the overall brand strategy?
AG: The opening of Rock & Brews Casino is a pivotal step in our brand's evolution and contributes significantly to our overall strategy. It validates the strength of the Rock & Brews brand and highlights the demand for a branded casino experience. By introducing the Rock & Brews brand, which resonates with the universal language of rock 'n' roll, we enhance the overall gaming experience. In competitive markets, the Rock & Brews brand becomes a valuable differentiator, helping casinos stand out and thrive while offering our customers an elevated and unique experience.
With a solid foundation of more than 20 Rock & Brews restaurant locations, could you shed light on the thought process behind venturing into the realm of casino operations? How does this strategic move resonate with the vision of the Rock & Brews brand?
The vision of the Rock & Brews brand expands through our commitment to providing top-tier entertainment and hospitality. Just as our restaurants have become synonymous with great food and a vibrant rock 'n' roll atmosphere, our casino operations extend that commitment into gaming and entertainment. It's about creating an immersive experience for our guests encompassing all aspects: a premier destination for entertainment, dining and gaming.
How do you plan to integrate the Rock & Brews theme seamlessly into the casino experience? What can visitors expect in terms of music, décor and overall vibe?
Our goal is to seamlessly weave the Rock & Brews brand into the casino experience where visitors can enjoy gaming and immerse themselves in a rock 'n' roll experience. Music is at the heart of Rock & Brews. The décor reflects the spirit of rock 'n' roll, with art and visuals that pay homage to iconic musicians and moments in rock history. Whether you're at the slot machines, gaming tables or dining areas, you'll feel the pulse of a dynamic and energizing atmosphere.
What key attributes do you believe distinguish Rock & Brews Casino from its competitors in the market?
Rock & Brews Casino stands out in the market by offering an exciting and captivating gaming experience that transforms it into a place you want to be. We are committed to taking gaming to the next level through the power of rock music. Our curated playlists and décor create the right ambiance and elevate the casino experience. Visitors can expect an electrifying soundtrack of classic rock that not only adds to the gaming excitement but also immerses them in the world of rock 'n' roll.
Having the frontmen of the band KISS, Paul Stanley and Gene Simmons, associated with the brand, what significance and impact does this collaboration bring to Rock & Brews?
Our co-founders, Paul Stanley and Gene Simmons, bring immense significance to our brand. Their creativity and knowledge in the music industry provide opportunities as we expand the brand. However, it goes beyond just their star power. We appreciate the music industry and establish partnerships with other rock stars. We create a unique synergy by collaborating with these rock legends to develop innovative food items and cocktails. It's a way of ensuring that rock 'n' roll lives on through music, our culinary offerings, and the overall experience we provide.
What unique features and experiences does Rock & Brews Casino bring to the world of entertainment and gaming? Are big shows a major part of that considering the "rock" part of the name?
Rock & Brews Casinos are not just a place to play games; it's an experience that elevates gaming to a new level. Our unique features create a customer experience leading to extended play, increased engagement, and frequent visits. Our commitment to beautifully curated soundtracks and live music further solidifies our position as a dynamic and exciting hub for entertainment and gaming.
In the competitive casino industry, attracting players often relies on appealing promotions and special events. How significant are these aspects to Rock & Brews, and what types of offerings are included in your plans?
In the competitive casino industry, promotions and special events are pivotal in attracting players. One key element of our approach is our rockstar collaborations. Partnering with renowned musicians and bands allows us to create exclusive promotions and events that resonate with our guests. We regularly host live music performances, ranging from local talents to well-known artists, creating an electrifying atmosphere within our casino.
When guests leave Rock & Brews Casino, what is the primary experience or impression you hope they carry with them?
When guests leave Rock & Brews Casino, we hope they will carry an unforgettable experience and a lasting impression. We want them to feel like they've stepped into a place that brings back cherished memories of seeing some of the best rock musicians ever. We hope they remember the fantastic gaming and entertainment and savor the flavors and atmosphere that make Rock & Brews Casino a unique destination.
The opening of Rock & Brews Casino Braman marks a significant milestone in the history of the company. Looking ahead, do you have plans to expand into additional locations and explore new markets for Rock & Brews?
The opening of Rock & Brews Casino Braman is undoubtedly a milestone for us, and we are committed to expanding our presence. We have plans to venture into additional locations and explore new markets for Rock & Brews. I'm excited to share that we'll announce several new projects throughout the United States in the coming weeks.
Finally, in your role as CEO, what aspect of the Rock & Brews brand are you most proud of? What excites you the most about the future of Rock & Brews Casinos?
As the CEO of Rock & Brews, I'm most proud of the transformative power of the Rock & Brews brand. It serves as a dynamic tool for casinos, restaurant partners and our communities. We have the unique capability to assist in rebranding facilities, improving the visual appeal and the overall experience on gaming floors and within restaurants. I'm genuinely excited about collaborating with partners to elevate their venues, infusing the energy of rock 'n' roll, and enhancing hospitality and gaming experiences. It's about creating win-win situations where everyone benefits, from our partners to the communities they're a part of.
Casino KISStory
Paul, Gene and the boys are no strangers to the casino floor. As any fan knows, the band has licensed its logo and images on numerous items—from comic books and lunch boxes to pinball machines and toy train sets. There's even a KISS casket for superfans who may want to keep the KISS karma going into the afterlife.
Part of that license mania has included some previous forays into the gambling world. The KISS slot machine offers players a chance to take the stage with the band. The game serves up some classic hits with the Starchild, Demon, Spaceman and the Catman all along for the ride. Beyond the characters, other symbols spinning on those reels include guitars, the KISS logo, Gene Simmons' giant-sized tongue, guitar picks and more.
The Rio Hotel and Casino in Las Vegas also hosts KISS by Monster Mini Golf, a 13,000-square-foot indoor glowin- the-dark course. Monster Mini Golf is filled with state-of-the-art video, design and band props and memorabilia. KISS fans will also find arcade games, a special event room, rock 'n' roll gift shop, KISSthemed wedding chapel, a live DJ and more. Some of the venue's "Crazy, Crazy Nights" feature KISS music, trivia and contests.
On a visit to Monster Mini Golf, visitors can take a look at some unique band memorabilia including drummer Eric Carr's Porsche, gifted to him by Stanley and Gene Simmons upon signing on with the band; Peter Criss's Spirit of '76 Tour drum stool; every KISS album, signed by all the band members; the original '70s KISS pinball machine; and various band members' guitars. Paint your face and grab a putter the next time you're in Vegas. Sink a hole in one and shout it out loud.