POSTSCRIPT FOR A JESTER
The life of comedic genius and Las Vegas legend Jerry Lewis
By J. Phillip Vogel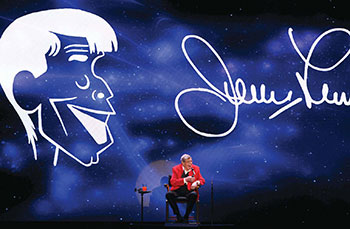 Jerry Lewis, the brash slapstick comic who became a pop culture sensation in his partnership with Dean Martin and then transformed himself into an auteur filmmaker of such comedic classics as The Nutty Professor and The Bellboy, died in hit Las Vegas on Sunday, August 20. He was 91.
Lewis was born Joseph Levitch in Newark, N.J on March 16, 1926. Both his parents were in show business and, at the age of 5, Lewis made his debut at a Borscht Belt hotel singing "Brother Can You Spare a Dime?"
Since his parents spent a great deal of time on the road, Lewis found a way to fill the void through humor by the time he was attending Irvington High School in New Jersey. By age 15 he was pantomiming operatic and popular songs and was booked into a burlesque house in Buffalo.
In 1942, he tried out his comic pantomiming at Brown's Hotel in upstate New York, where he was also working the summer as a bellboy. Comic Irving Kaye was sufficiently impressed to land Lewis some bookings and became his road manager.
Lewis met the young singer Dean Martin at the New York nightclub the Glass Hatt in 1946. His pairing with Martin, featuring their improvisatory backbiting and physical chicanery, was an instant hit. When producer Hal Wallis saw them performing at the Copacabana and at Slapsie Maxie's in Hollywood, he saw the potential for a new Bob Hope and Bing Crosby and signed them to a Paramount Pictures contract.
For the next 10 years, Martin and Lewis turned out one silly film after the next starting with My Friend Irma in 1949 and including The Caddy, The Stooge, Artists and Models and Pardners. All of their films grossed at least $5 million, a handy sum in those days.
In addition to his most famous films, Lewis also appeared in a number of notable works, such as Martin Scorsese's The King of Comedy, but was largely offscreen from the late '60s on and was more active with his telethon and philanthropic efforts, which includes more than $2.5 billion raised for the Muscular Dystrophy Association through the annual Labor Day telethon
An undeniable comedic genius, Lewis continued to perform in Las Vegas as late as 2016, where he first debuted his comedy routine back in 1949.