POETRY FOR THE PALATE
Culinary artist and Iron Chef Jose Graces infuses cultural traditions with a unique modern twist
By Lisa Robertson-Dziedzic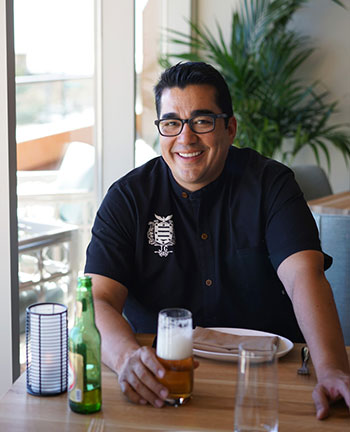 Atlantic City's culinary scene shines that much brighter thanks to the recent openings of new dining concepts and an interactive bar at the Tropicana. Bolstering its list of in-house culinary elite, the new venues – which opened on March 4 to rave reviews – are Olón, a fine dining seafood restaurant; Okatshe, a Japanese sake and noodle bar; and Bar Olón, a double sided social bar that connects the two restaurants. These new culinary delights are the vision of award-winning Latin-American chef Jose Garces.
Jose Garces incorporates his rich cultural traditions and culinary vision into personal dining experiences through Garces, the eponymous Philadelphia-based hospitality group.  Garces operates more than 15 restaurants across the country, including Amada, Distrito, Tinto, Village Whiskey, Garces Trading Company, JG Domestic, Volvér, Rural Society, The Olde Bar, Buena Onda, 24 Wood Fired Fare, Olón, Okatshe, and Ortzi, as well as Bayamo and Pincho Tapas Bar on board Norwegian Cruise Line's Escape.
Chef Garces has emerged as one of the nation's most gifted chefs and restaurateurs and is the 2009 winner of the James Beard Foundation's prestigious "Best Chef, Mid-Atlantic" award and one of only ten chefs in the country to hold the distinguished title of Iron Chef.  Garces also operates Garces Events, a full-service catering and event division; the Garces Foundation, a philanthropic organization dedicated to Philadelphia's underserved immigrant community; and Luna Farm, Chef Garces' 40-acre farm in Bucks County, PA.
Adding to his list of accolades, Chef Garces is pleased to re-invest in Atlantic City (Garces owned four restaurants at the now shuttered Revel) and offer new dining experiences at the Tropicana, venues that are offered nowhere else in the city.
Bar Olón is the interactive bar and lounge located between the two restaurants and was designed to be a casual lounge with a modernized beach vibe, so when people are walking in off the boardwalk they feel comfortable at any time. This high-energy hang out includes vintage-style fans that provide a cool, "ocean" breeze with whimsical bongos and neon signage to complete the nostalgic feel.
Bar Olón's extensive beverage program includes a custom, double-sided tap with 16 draft beer selections, 35 beers by-the-bottle,  20 wines by-the-glass; 75+ wines by the bottle and 8 hand-crafted specialty cocktails.  A light food menu is also available featuring fresh oysters, ceviche, sandwiches, and shareable small plates.
Bar Olón is open from 11:30 a.m. – 11 p.m. daily. Seasonal live, entertainment will be offered from 9 p.m. – midnight on Fridays, Saturdays and holiday weekends.
For seafood lovers, Olón provides guests with a classically alluring, laid-back experience centered around Chef Garces' vision of fresh seafood. Guests enter through custom-crafted Ecuadorian gates and first encounter a 43-seat ceviche bar and lounge, where they can watch chefs prepare ceviche and other raw seafood specialties.
In the 128-seat dining area, the décor is light and airy with every seat showcasing sweeping ocean and boardwalk views. Beach-like cabanas with soft draperies create intimate nooks within the space while touches of natural light and fresh salt air create an inviting yet alluring atmosphere. Weather permitting, seating for 40 will be available on a deck overlooking the beach.
The menu at Olón features Chef Garces' family recipes with a modern twist, as well as unique takes on time-honored favorites.  Traditional features include steamed clams, crab cakes, jumbo fried shrimp, and surf & turf.  More contemporary options include wood-fired Wagyu skirt steak, roasted chicken, jumbo gulf prawns, black bass, two-pound lobster, and king crab.
Olón is open seven days a week with a lunch menu starting at 11:30 a.m. and dinner 5–11 p.m., midnight on Fridays and Saturdays.
Developed from the inspiration of Chef Garces' travels to Japan, Okatshe is a full-service restaurant that visually transports guests to the streets of Tokyo and provides a sense of discovery by taking guests through a small Japanese candy shop.  The candy shop plays homage to the creative packaging of different types of Japanese candy that exist. Guests who are "in the know," can ask if there is a restaurant beyond the candy shop.  From there, you open a door and there lies a beautiful Japanese Streetscape that has a little bit of urban grit to it.
Okatshe serves some of Chef Garces favorite foods— a selection of small plates, yakitori, ramen, sushi and sashimi. Yakitori skewers include chicken, beef, pork, vegetable or seafood. Ramen noodles are served in three unique styles: Tokyo, light chicken and Dashi broth; Tonkastu, rich pork broth; and Okatshe, lobster dashi. Sushi, sashimi, and maki offerings include everything from scallop and wasabi tobiko to spicy rolls, black jack eel rolls, and the signature Tropicana roll.
The bar at Okatshe includes a curated selection of Japanese whiskeys, 50 sakes, beers, and specialty cocktails. Okatshe is open 4 p.m.–2 a.m. seven days a week and perfect for that late night bite after a show.
Q & A: CHEF JOSE GARCES
It's very exciting to have an award-winning Chef of your caliber invest in Atlantic City. What led you to open restaurants at Tropicana?
My team and I love Atlantic City, and consider it to be an extension of our home, Philadelphia. We are thrilled to be here! Since 2015, Tropicana underwent over $90 million in renovations—this place is really special. The commitment to excellence makes it a great canvas for us.
From a seaside coastal town to a Japanese streetscape, Olón and Okahtshe are two very different styles of food preparation. How did the concepts come to be and how do you blend the two venues?
We created three new concepts that we made exclusively for Tropicana. Our goal was to complement and enhance the diverse selection of restaurants at Tropicana. We really wanted guests to feel transported and chose a Japanese streetscape, seafront coastal town, and a beachside beer bar.
Olon is inspired by the tranquil beach town of Olón, in Ecuador, and the vibrancy of coastal culture. My family is from Ecuador and I spent many vacations there as a child.
Olon is classically alluring, laid-back and elegant, using my vision of fresh seafood. Every seat has sweeping ocean and boardwalk views.
Okatshe is our playful, modernized take on a traditional Japanese izakaya and
transports guests to the streets of Tokyo. I traveled twice to Japan, once while taping Iron Chef and once with my children.
Bar Olon is in the center of the two and blends the elegance of the beach setting with a lively and social bar.
What's the #1 thing you would like guests to walk away with after dining at Olón and Okatshe?
Transported—I want them to feel like they just had a fabulous meal in a beautiful and cool environment. I want them to know that we appreciate them and think of them as guests.
A big trend in the culinary world is Farm to Table. We were (happily) surprised to learn you own a 40-acre farm—Luna Farm—in Bucks County, PA. Is this a passion for you and can you tell us a little more about it?
The past season at my 40-acre farm in Bucks County, Luna Farm, was a fallow year to allow the soil to regenerate, so we're just getting going again in terms of planning and planting.  It's important in the farming process to allow the land to recover and regain fertility.  Soil that is full of nutrients translates into crops that are extra nutritious as well.
In my mind, it's a question of choosing the finest possible ingredients as the building blocks for creating the best tasting dishes.  As a result, I often choose organic produce, meat and fish over others.  I've always found that food that is produced mindfully tends to be superior in quality, and it is virtually impossible not to be mindful of what you're growing when you adhere to organic practices.
We understand Luna Farm plays a critical role in support of the Garces Foundation. Can you tell us more about the foundation and its mission?
In 2012, the Garces Foundation was founded to support Philadelphia's immigrant community, particularly employees of Philadelphia's hospitality industry and their families. The foundation raises funds to provide this community with medical, educational and nutritional programming. The goal is to help Philadelphia's immigrants take advantage of these resources so that they may actively contribute their talents to making this city truly world-class.
The foundation currently runs three of its own programs that improve the health, language, cultural skills, and nutrition of this community. The first is a quarterly Community Health Day where uninsured patients can receive free dental care, physicals, and medical screenings. The second is an applied learning English as a second language class for restaurant workers, English for the Restaurant and Everyday Living, which aims to narrow the language and cultural gap in the workplace and beyond. Last, the foundation hosts summer Luna Farm Field Trips to the Garces family farm, where children grow and harvest fruits and vegetables, cook their own healthy lunch from the produce they harvest, and practice fun ways to exercise.
Speaking of trends, what are some current culinary trends that you can really get behind, and which do you wish would just die already?
I'm fascinated by the intersection of technology and restaurants.  These aren't necessarily trends, but are instead the future of restaurants.  Right now, we're working on mobile pay, point of sale technology, digital menu boards, commercial kitchen design advances, and packaging.
You're a restaurateur to more than a dozen critically acclaimed restaurants, James Beard Award winner, Iron Chef, cookbook author, philanthropist and farmer. What do you consider to be your greatest personal achievement in your career thus far, and what are you still reaching for?
I try to be a great dad!
What's next for you?  Another restaurant?  Another cookbook?  
We are opening Ortzi in the Luma Hotel in New York next month.