Playing the Percentages
There are high player returns on the slot floor if you know where to look
By Frank Legato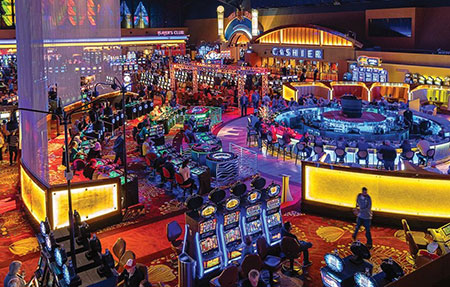 If you arrive at a casino and go directly to the slot floor, it's a good bet that your main goal is to enjoy the entertainment of today's vast variety of slot games.
However, if your goal in playing is to achieve the best overall return for your gambling dollars, one would have to place slot machines near the bottom of the list.
That's if you have an average bankroll. If you have a large bankroll, the high-denomination reel- spinners in the high-end room can return 97, 98, even 99 percent—in other words, a house edge under 3 percent, which is on par with many of the most popular table games.
You can also do well, payback percentage-wise, with the dollar slots in traditional three-reel, mechanical-style games. You can expect a house edge under 5 percent on many of those, particularly in the locals casinos.
Those penny slots you love are normally set at or under 90 percent payback. They are usually very volatile, meaning you occasionally can win huge credit awards. But most play these for the entertainment value of the game, rather than the player return.
However, there is one alternative on the slot floor that will get you high returns for lower bets—that is to choose the table games that happen to be inside of slot machine cabinets.
The obvious choice here—not to mention the most widely available— is video poker. Since there is skill and strategy involved in video poker, there is only a small percentage of players who can make all the draw decisions perfectly. For that reason, video poker is offered with low, or even no, house edge.
Of course, to take full advantage of that fact requires a bit of training. If you're playing video poker for the first time, it's best to learn basic strategy. The first thing to learn is how to identify the variants of video poker with the best return. For many games, the key is to look at the single- credit payout for the full house and the flush; these are the pays usually manipulated to affect the payout percentage.
The easiest to learn are basic 9/6 Jacks or Better (single-coin payout of 9 for full house and 6 for flush), with a payback percentage of 99.54 percent with optimal strategy; its variants in the Bonus Poker family—8/5 Bonus Poker at 99.17 percent; 10/7 Double Bonus Poker at 100.17 percent, one of the games that actually gives the player an edge with perfect strategy; 10/6 Double Double Bonus at 100.6 percent; or Deuces Wild, with a top pay schedule that returns 100.67 percent.
(Note that a payback percentage of 100 percent doesn't mean you'll always win— it means there's no house edge with perfect play, or a 50-50 chance of winning over the long run.)
In any video poker game, your chances will go up if you learn the correct draw decisions. If you're a regular reader of Casino Player and its sister publication, Strictly Slots, you'll find regular articles from video poker experts on strategy to take full advantage of each game.
There also are many sources where you can find complete tutorials on various video poker games, from numerous books—we recommend Bob Dancer's Video Poker for the Intelligent Beginner or Jean Scott's Frugal Video Poker—to software programs that are great for learning basic strategy. What's good about the software programs—Dancer's "Video Poker for Winners" is the most popular—is that they not only tell you the correct strategy, but they let you play the game on your computer, and tell you when your draw choice is incorrect.
If you're not a fan of video poker, there are other options on the slot floor to avoid that typically high house edge on most video slots. You could seek out electronic table games, or ETGs. These offer either video replicas of traditional table games or a video feed of a live table game, presented in a regular slot cabinet with slot-style wagering buttons and ticket-in/ticket-out payment.
You will normally find ETGs clustered together in a dedicated area. Many are configured in club-like settings. Manufacturer Interblock provides what it calls the "Pulse Arena," which is basically an ultra- lounge with private bars, DJs and dedicated servers that create sort of a party around playing ETGs. Other ETG manufacturers provide similar devoted areas.
ETGs also are available in what is called a "stadium" setting. Here, ETGs will be clustered around live dealers, with video of each live game beamed to player terminals potentially comprising hundreds of machines. One positive aspect of this type of setup is the ability to play several different live table games at once, from a single player terminal.
Whether streamed live table games or video versions, which use a random number generator that duplicates the distribution of cards in a live game, the games are exact replicas of the live tables, and as such, the low table-game house edge is offered—without the intimidation of having to learn at a table with more experienced players; and most times, with a minimum bet that is much lower than in the live table-game pit.
Whether choosing traditional high-denomination slot games, video poker or electronic table games, there are alternatives on the slot floor for players seeking the highest overall return for their gaming dollars.
Of course, that doesn't mean you should avoid the multi-line penny slots if that's what you love playing. Casinos are about enjoying yourself. Play what you love.
Win-River Resort & Casino Debuts Lightning Link Lounge and Dragon Link Den
Win-River Resort & Casino in Redding, CA, celebrated its 28th anniversary in April. To mark the milestone, Aristocrat Gaming held the grand opening of a Lightning Link Lounge and a Dragon Link Den at the thrilling northern California property.
Win-River's Lightning Link Lounge is home to 38 of Aristocrat's electrifying Lightning Link games and the Dragon Link Den has 20 player-favorite Dragon Link games.
Lightning Link and Dragon Link are global sensations, and their popularity led Aristocrat to create the Lounge and Den concept, where players can easily enjoy a high concentration of their favorite games all in one destination on the casino floor.
Since its launch in 2015, Aristocrat's multiple award-winning Lightning Link struck a chord with players around the world and has grown in popularity year after year.
Gold Strike Casino Resort Launches Gaming Floor Buffalo Zone
Casino players across the Mid-South have a new reason to cheer as Aristocrat Gaming and MGM Resorts International's Gold Strike Casino Resort in Tunica launched Mississippi's first Buffalo Zone on May 28.
Located on the resort's second level, the new 2,800-square-foot "Buffalo Zone" is dedicated exclusively to Aristocrat's exciting Buffalo-themed games. These games feature 68 player-favorite titles, such as Buffalo Chief, Buffalo Diamond, Buffalo Gold, Buffalo Gold Revolution, and Buffalo Grand, as well as Buffalo games on the Wonder 4 brand and RELM XL cabinet.
"Gold Strike is this region's first casino to partner with Aristocrat Gaming to bring the Buffalo Zone to Mississippi," said Gold Strike's Senior Vice President of Marketing and Operations Brandon Dardeau. "Buffalo games are extremely popular among our players and having the opportunity to create a special gaming section allows us to enhance our guests' gaming experience."
Aristocrat's Senior Vice President of Commercial Strategy and Data Analytics Jon Hanlin said, "We're thrilled to partner with Gold Strike Casino Resort to launch Mississippi's first Buffalo Zone. Buffalo continues to be the strongest brand in gaming, and with Gold Strike's new Buffalo Zone, players will enjoy all their favorite Buffalo-themed games in one exciting place."
FOXWOODS UNVEILS ENHANCED REWARDS PROGRAM
On May 17, Foxwoods Resort Casino rolled out new enhancements to its award-winning Foxwoods Rewards loyalty program. With these updates, members can now earn more points and advance tiers faster than ever.
The new and improved program comes with bigger benefits and faster rewards. Members will reach the next tier in record time with monthly Tier Credit Multiplier Days, and will earn more Foxwoods Rewards Points every time they play, depending on Tier Status, with Rewards Accelerator Bonuses.
In addition, members can earn points on hotel stays at Foxwoods by earning one Rewards Point for each $100 spent on hotel stays. Members can also redeem points for gas at the Pequot Outpost at an improved rate of one Foxwoods Rewards Point for $1 in gas. In addition, Tier members will receive discounts on cash or credit sales at the pump.
Foxwoods Rewards members are eligible to earn best-in-class cruises and discounted rates on Norwegian Cruise Line, and have the opportunity to unlock free stays at Caesars Palace Las Vegas, Atlantis Paradise Island in the Bahamas, and our new sister property, Foxwoods El San Juan in Puerto Rico. On property, Foxwoods Rewards members can earn points at even more locations at the Tanger Outlets, and Rewards members can play with their Rewards card to earn discounts or free passes at Monza World Class Karting, and free golf, discounted merchandise and lessons at Lake of Isles. Members can also earn discounts on spa services and products at G Spa and Norwich Spa at Foxwoods.
Visit foxwoods.com/foxwoods-rewards for more information.