PLAYING THE SPORTS BOOKS
Stepping Up To the Plate
Bettors who brush off baseball miss out on favorable odds
by Buzz Daly
According to Jimmy Vaccaro, of the three major sports, baseball has the lowest hold (profit margin) for the sports books.
With March Madness now a fond memory for Las Vegas bookmakers. The threat of a National Football League work stoppage, makes everyday action of Major League Baseball seem the savior of the sports books. Unfortunately, this sport simply does not energize bettors.
"Watching baseball is boring, like watching paint dry," I was told by a heavy hitter in a Strip sports book.
'Tis a pity, since baseball is the best opportunity a punter has of dramatically reducing the house edge. Legendary bookmaker Jimmy Vaccaro told me, "When you hang a number on a [baseball] game, it gets interesting."
I spoke with Vaccaro, director of sports operations at Lucky's, about the coming season. He acknowledged that many customers consider baseball dull, and complain that the games and season are too long.  "It has been a niche sport for 100 years," he said.
Baseball appeals to a small but dedicated audience, Vaccaro noted. "We see the same faces year after year. The wise guys don't bet baseball much, but a fair number of smart guys are regulars. A few syndicates play, but not for the full season. Tourists come in to bet their hometown teams, but are intimidated by the money lines rather than point spreads, which they are familiar with in other sports."
It's too bad more bettors don't test these waters.  According to Vaccaro, of the three major sports, baseball has the lowest hold (profit margin) for the sports books. Straight bets on football, with a 20-cent line, give the books about a three percent hold, which rises to around 10 percent when parlays are factored in. Basketball, also with a 20-cent line, mirrors football.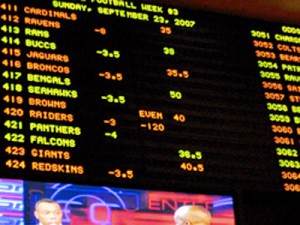 But for books dealing a 10-cent line in baseball, the hold on these money lines is less than football. When you add the true odds bettors get in parlays rather than arbitrary payoffs, baseball is much more attractive for bettors. For example, Vaccaro pointed to 6-1 odds assigned to a three-team parlay in football, compared with up to 8½-1 or 9-1 true odds for a three-teamer in baseball.
Lucky's offers a 10-cent line so customers don't go elsewhere. Its betting crowd, which includes a lot of locals, is pretty savvy.  And they are diehards. "Nevada guys tend to bet the Dodgers and the  Angels," Vaccaro said. "They're generally the last games of the day. With so many residents from California, those teams are keyed to lots of bets."
Given the inclination of many players to risk small trying to win big, baseball parlays outnumber straight bets by 5-1, Vaccaro revealed. "They'll bet six- and eight-teamers hoping to run a $50 bet into $1,200.  And every so often, one of them gets the cheese."
Scalpers—customers who wager on both sides of a game when they find opposing lines that guarantee a profit (though usually very small)—come with the territory. Unlike many bookies who thoroughly dislike scalpers, Vaccaro doesn't get worked up over the activity. "They come in to take a lead on a game by betting the overnights, which have a 20-cent line, then look for small edges the next day when the 10-cent lines go up," he explained. "It's a grind, and really doesn't appeal to many bettors."
Baseball isn't easy to handicap. There are so many variables. The overload of information can be confusing. Some bettors track  umpires. Some check out the speed and direction of the wind at outdoor ballparks like Wrigley Field. Others feverishly crunch numbers on pitchers. Some follow winning and losing streaks. The syndicates handicap by using sophisticated software and simulating millions of games featuring accurate lineups. When there is a big enough variance between their numbers and a book's lines, they spring into action. But the Nevada gaming rule that prohibits messenger bets forces them to use other less regulated outs than what they find in Vegas.
Lucky's takes a $2,000 limit on sides which, according to Vaccaro, is high enough to satisfy 95 percent of bettors. During the recession, some Vegas bet shops eliminated the 10-cent line, particularly on the Strip. But the bet baron noted that lines can move substantially from the opening to game time. He noted that a diligent shopper will find bettable numbers at books where a 15-cent or 20-cent line is offered.
Vaccaro insists that volume cures most bookmakers' issues. The 20-cent line helps a shop protect itself by keeping away sharp action and insuring a higher profit margin, but he'll have none of that. In order to attract more money, he'll open a game three or four cents lower and move his numbers around so there are discernable differences from the competition. Lucky's isn't a clone shop under Vaccaro's stewardship.
As the sports books suffer through months of contentious negotiations between their precious moneymaker, the NFL and its players, Jimmy Vaccaro says, "It's going to be a long, hot summer. Come to Lucky's and check out our baseball lines. You won't be bored."´
Hard Rock Vegas & Cantor Gaming Team Up For A New Style Of Sports Betting
If you've been following the monthly column of Casino Player writer Buzz Daly, you're aware that the hot new name in the world of Las Vegas sports books is Cantor Gaming, a subsidiary of bond trading giant Cantor Fitzgerald in New York.
If that sounds odd—a Wall Street-related company running the sports betting operations inside Vegas casinos—the fact is, Cantor created the technology many of those firms use to trade U.S. Treasury bonds, stocks and other securities. A few years ago, Cantor Gaming CEO Lee Amaitis decided to set his sights on Nevada, this continent's sports betting hub. His team came up with innovative technology to transform the way sports books are run. When M Resort opened in Las Vegas in 2009, Cantor was put in charge of its book.
Amaitis calls his sports bettors "traders" and has referred to the sports book at M as a "trading floor." The most important innovations: gamblers can ask for hand-held devices known as "eDecks," which they can use to bet on casino games as well as sports. Even better? Cantor's sports books offer "In-Running" betting.
This means that you can instantly wager on thousands of betting propositions within each game. Will Kobe sink his next two free throws? Will the Packers make the field goal? Sports bettors have been loving Cantor's approach, which opens up a whole other world of gambling possibilities—and keeps them on the edge of their seats for the duration of every contest.
Now, the famed Hard Rock Hotel & Casino Las Vegas has enlisted Cantor Gaming to open a brand new, state-of-the-art race and sports book facility at the resort. It will offer mobile wagering tablets, giving patrons access to multiple screens on which to bet and watch their chosen games, in addition to dozens of high-definition screens throughout the sports book.
By the time you read this, Cantor may have already introduced its eDeck mobile gaming system at the Hard Rock. This gives casino patrons the ability to play a variety of proprietary casino games, as well as bet on their favorite teams, throughout designated areas of the resort. At the Hard Rock, these areas include HRH Beach Club, The Joint, Pink Taco and on the main casino floor.
PLAYING THE SPORTS BOOKS .