PLAYING IT SAFE
As casinos reopen across the country, new safety guidelines are changing the way we gamble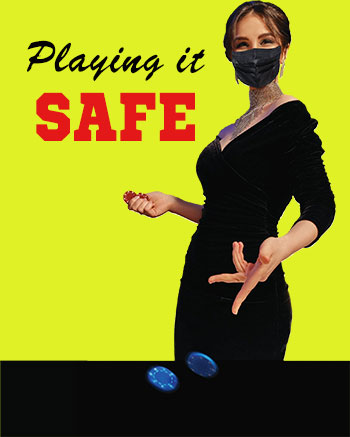 The past few months have been a rough road for casinos and gamblers alike. With the onslaught of the dreaded COVID-19, casinos everywhere shuttered their doors in an effort to slow the rising threat. But now, at long last, things are starting to change. Restrictions have been eased and the public is finally being given the chance to venture outdoors and back into stores, restaurants and, of course, casinos.
As you read this article, keep in mind that those listed below aren't the only casinos now – or about to – open. It's happening all across the country. For example, in both California and Nevada, casinos are firmly back in action. Indeed, in a matter of days several major slot jackpots have already been hit. But it represents the general protocols casinos everywhere have put in place.
That said, since the threat of contracting the deadly virus is still present, casinos are taking special steps to ensure the health and safety of both the gaming public and their staff. So, if you're planning on visiting a casino sometime in the near future, here's a sample of what protective measures you can expect to encounter in various regions.
Mohegan Sun Casino Foxwoods Resort Casino
Mashantucket and Uncasville, CT
The Mashantucket Pequot Tribal Nation and the Mohegan Tribe in Connecticut each began the reopening of portions of their reservations on June 1. As part of Phase One, Mashantucket Pequot reopened portions of Foxwoods Resort Casino and the Mohegan Tribe reopened portions of Mohegan Sun. Both resort destinations are operated on sovereign land.
The two tribes collaborated to establish new safety protocols and operating procedures for each property's reopening guidelines, aimed at mitigating the risks for both guests and employees. Based on the collaborative guidelines, each Tribal Nation developed their own policies to address the unique needs of their respective property. Consistent with or exceeding the State's phased guidance and safety protocols, each property incorporated protective equipment and physical distancing in its policies. Neither property opened its concert venues, buffets or poker rooms and tenant restaurants is open for take-out only.
"We're proud to partner with the Mohegan Tribe to ensure we develop the most responsible plan for helping the state of Connecticut recover swiftly and safely from the crippling economic impact of this pandemic," said Rodney A. Butler, Chairman of the Mashantucket Pequot Tribal Nation. "The safety, health and wellbeing of our Tribal community, guests, team members and local communities remain our number one priority."
"With the guidance from our Chief Medical Officer and the CDC, we've made significant investments to enhance our processes to adapt to the challenges of the new normal brought on by the COVID-19 pandemic. Like many casinos successfully opening around the country – we've implementing industry best practices to provide a safe and enjoyable experience for everyone. Some of the operational changes are obvious from the infrared temperature scanners installed at all entrances, to the requirement that guests wear masks and members of our team wear appropriate PPE. Behind the scenes, ongoing disinfection of all common surfaces is performed at short intervals, as well the replacement of dice, tiles and cards in use at our table games. On behalf of the Mashantucket Pequot Tribal Nation and the entire Foxwoods team, we look forward to delivering moments of joy and celebration that help ease ourselves back into this new way of life through safe experiences and environments."
James Gessner, Chairman of the Mohegan Tribe said "As we developed our new guidelines for reopening which expanded on the rigorous safety policies already in place at Mohegan Sun, the safety of team members, neighbors, partners and friends were at the fore-front of each decision we made. We have spent the past 10 weeks putting extraordinary measures in place including cutting edge technology to protect the safety and health of all individuals who walk through the doors of Mohegan Sun as well as to ensure the safety of our community as a whole. The new guidelines are based off recommendations from experts nationally and around the globe and have been implemented at several of our other resort destinations across the country – some of which are now open or will be later this month. As we enter our "new normal" we are excited to welcome back our team members who are an extension of our Mohegan family and to once again begin working with many of our local partners and businesses to help stimulate the Connecticut economy."
In addition to the above protocols, team members at each property received training on infectious disease (with a heavy focus on COVID-19) safety and sanitation protocols to further ensure guest and team member safety. More comprehensive training will be provided for team members with frequent guest contact including housekeeping, food & beverage, environmental services, hotel operations, gaming, retail, entertainment and security.
Turning Stone Resort Casino Point Place Casino and Yellow Brick Road Casino
Oneida Indian Nation Homelands, NY
Following months of extensive planning and coordination with neighboring municipalities, the Oneida Indian Nation opened the doors for a phased reopening of its award- winning hospitality and entertainment properties on Wednesday, June 10. Included in the reopenings are Turning Stone Resort Casino, Point Place Casino and Yellow Brick Road Casino.
Operating under its comprehensive Health and Safety reopening plan "Safer Together," the Oneida Indian Nation has implemented new safety protocols, enhanced cleaning policies, trained staff on additional precautionary protocols, and has introduced certain restrictions during Phase 1 of its reopening process. Key protocols include:
Limit access to guests who travel from within 120 miles within New York with valid New York State issued driver's license or non-driver ID.
All employees are required to have daily screenings, including temperature checks. Employees who handle commonly touched items with guests are required to wear gloves, including in all restaurants, at registration desks and on the gaming floors.
Guest and employee entry and ID verification protocols that allow for contact tracing, if necessary.
Mandatory face coverings for all employees and guests, as a condition of entry, even in administrative areas.
Occupancy limits and distancing in all restaurants, lounges and smoking areas.
Enhanced cleaning measures include new technology that alerts guests with an on-screen notification of the exact time the slot machine was last sanitized. The new Automated Game Sanitization system also notifies the casino cleaning staff when a guest finishes playing on a machine so the slot machine can be cleaned.
Additional cleaning measures include increased touchless hand sanitizer dispensers placed at every guest entry point and throughout the properties, including at table games, slot machines, and every registration desk.
The health and safety plan was developed in consultation with public health experts, Oneida and Madison County officials and incorporates input from discussions with the National Indian Gaming Commission and the New York State Gaming Commission.
Seminole Hard Rock Hotel & Casino Hollywood Seminole Casino Coconut Creek
Seminole Classic Casino Hollywood, FL
Seminole Hard Rock Hotel & Casino Hollywood, Seminole Casino Coconut Creek and Seminole Classic Casino in Hollywood reopened with a combined workforce of 3,200 team members on June 12 under new and stringent "Safe and Sound" program guidelines. The guidelines include multiple new initiatives designed to create a quality entertainment experience in an environment that helps to keep guests and team members safe. The Safe and Sound Program guidelines include:
Temperature checks for all guests and team members prior to entry. Any guest or team member with a temperature above CDC guidelines of 100.4 degrees Fahrenheit will not be allowed entry.
A requirement that all guests wear masks or cloth face coverings that meet CDC guidelines, without exception. Masks will be provided to guests, as needed.
Thousands of alternating slot machines are turned off, to help ensure social distancing on the casino floors.
New Plexiglas barriers divide players at table games, poker games and customer service areas.
Hundreds of team members are part of a new "Safe and Sound Clean Team" to focus on cleaning and disinfecting surfaces throughout the casino complexes, with special emphasis on high-touch surfaces and common areas.
Hand-sanitizing stations available on the casino floors, at the entrances and throughout the casino complexes.
Constant purification and disinfecting of the air flowing into the complexes through the AtmosAir bipolar ionization system designed to destroy virus particles in the air and on surfaces.
An overall 50 percent reduction in guest capacity throughout the casino complexes.
"Hard Rock and Seminole Gaming have made a tremendous commitment to sanitary protocols and a safety-first mentality for both guests and team members," said Jim Allen, CEO of Seminole Gaming and Chairman of Hard Rock International. "We are making sure our resorts and casinos are safe and sound so our guests and team members have peace of mind when they return."
Casino Arizona and Talking Stick Resort
Salt River Pima-Maricopa Indian Community, AZ
Casino Arizona and Talking Stick Resort reopened on June 1 as part of their soft, phased openings, each opened at a limited capacity and with significant health and safety measures in place. Among them include temperature checks, the use of personal protective equipment and social distancing. The properties also temporarily eliminated smoking, a step combined with the others that they hope will mitigate any potential spread of novel coronavirus amongst guests and employees.
"We are excited to welcome back not only our loyal guests but also our employees, both of whom have been so patient and supportive throughout this closure," said Ramon Martinez, director of public relations for Casino Arizona and Talking Stick Resort. "We took great care and the necessary time to implement a phased reopening plan with new protocols that will keep their health and safety top of mind across all facets of our operations."
Leveraging directives from the Centers for Disease Control and Prevention and guidelines from state and local officials, the first phase of Casino Arizona and Talking Stick Resort's opening required that guests and employees have their temperatures taken upon entry. Should a guest or employee's temperature be at or above 100.4 degrees, they will not be allowed entry. Masks will also be required while inside the properties. Additionally, social distancing has been implemented throughout each property.
At Talking Stick Resort, the number of available hotel rooms is reduced with no access to adjoining rooms. Further, a reduced number of restaurants are open with limited grab and go food and beverage menus. At Casino Arizona, The Coffee Station, Salt River Café and the Bingo Hall are open, while Talking Stick Resort has opened Black Fig, Blue Coyote Café and Ocean Trail for take away dining. Moreover, elevators are limited to four people per ride and valet services are temporarily unavailable.
On the casino floor, plexiglass has been installed between slot machines, while others have been taken out of service in order to observe appropriate social distancing. Plexiglass has also been installed at table games for guest and employee safety. In addition to acrylic dividers, limited capacity is also practiced at the table games, in the Bingo Hall at Casino Arizona and in the ARENA Poker Room at Talking Stick Resort.
In addition to these physical changes, Casino Arizona and Talking Stick Resort continue intensified cleaning policies with an increased focus on high-touch, high-traffic areas such as; slot machines, tables, door handles, buttons, and kiosks. Further, designated internal and external teams are in place to implement those policies. Hand sanitizing stations continue to be available for guest use.
Desert Diamond Casinos
Tucson, AZ
The Tohono O'odham Gaming Enterprise (TOGE) resumed gaming operations on June 5 at all four of its Desert Diamond Casinos near Tucson, Sahuarita, Glendale, and Why. As a leader in guest service and safety, TOGE is implementing comprehensive, structural changes in its health and sanitization procedures to offer the highest level of protection for guests, team members and the community.
Deep cleaning of each property has been underway throughout the suspension of operations. Facilities are also rearranged to accommodate social distancing measures and installed protective equipment such as plexiglass shields. New precautions include temperature scanning of guests and daily screenings of team members for symptoms. Masks will be provided and required for both team members and guests. Special clean teams will be deployed, using state-of-the-art disinfectant equipment, to do continuous cleaning of high-contact areas throughout each day.
The reopening of each location will occur in phases, prioritizing health and safety. Each facility will temporarily limit occupancy capacity to preserve space for social distancing. TOGE is continuing to monitor the pandemic situation and will gradually phase in amenities, hours and capacity when conditions are appropriate.
Rudy Prieto, CEO of the Tohono O'odham Gaming Enterprise, said "On behalf of the entire Desert Diamond Casino family, there is tremendous excitement to welcome our guests back to Arizona's premier gaming facilities. The fact that we have taken extraordinary safety measures will only enhance our guests' entertainment experience during this unprecedented time."
Additional information can be found at www.ddcaz.com or by calling 866-DDC-WINS.
FireKeepers Casino
Battle Creek, MI
FireKeepers Casino Hotel reopened to the public on June 1 with a full series of safety measures, solely focused on creating a safe environment for guests and team members. "During the past few weeks, the FireKeepers leadership team has worked diligently in every area of the casino and hotel to develop strategies to safely operate during these unprecedented times," stated FireKeepers CEO, Kathy George. "We are proud to be the casino of choice in the Midwest, and are committed to maintaining the standards we have set these past ten years."
Their newly implemented protocols include:
Physical Distancing
Guests are directed to practice physical distancing by standing at least six feet away from other groups of people not traveling with them while standing in lines, using elevators or moving around the property.
In active restaurants, there are a reduced number of tables and other physical layouts will be arranged to ensure appropriate distancing.
On the slot floor, ever other game shut down presenting a dramatically lower amount of available games.
With slot occupancy greatly reduced, it is encouraged that guests visit the website, firekeeperscasino.com, before leaving home. A slot calculator on the site will advise how many of the current games are in play. The higher the number in play, the lower the number of available games.
Table games will limit the number of people allowed to play at any one time.
Masks are required for all guests and team members on the property. Guests should be prepared to provide their own mask.
Guests, vendors and team members alike are subjected to a temporal scan upon entry. Those exhibiting a fever or symptoms will be asked to wait to return at least 72 hours after symptoms have dissipated.
Other items to note
Smoking is not permitted anywhere inside the building. Guests may leave the building to smoke (in designated exterior areas) but are required to a temperature check upon return.
Poker, Bingo, Mijem Buffet and Chi Monee's remain closed.
Self-service beverage stations are not available.
The parking garage is closed; valet parking is available.
Hotel pool and fitness areas remain closed.
TITO (slot) vouchers from pre-closure will be honored for 60 days from reopening.
Sanitizer stations are available throughout the property.
Additional Cleaning Ambassadors have been deployed to continually clean high touch areas throughout the property, including gaming areas, hotel corridors, and more, 24/7.
Finally, FireKeepers Casino offers one last word of advice to would-be players: Do not visit FireKeepers Casino Hotel if you have a fever, if you are not feeling well, have recently traveled outside of the U.S., or have had contact with someone diagnosed with COVID-19. Stay home and visit when the time is right. For more information, visit www.firekeeperscasino.com.
Downtown Grand Hotel & Casino
Las Vegas, NV
The Downtown Grand Hotel & Casino wants to assure all of its visitors that they are committed to protecting your Las Vegas experience. They are asking everyone to do their part and take steps to safeguard against the spread of the virus. These measures include a specialty housekeeping team to enhance the safety for visitors and staff by using disinfectant products that meet Environmental Protection Agency (EPA) guidelines for use against viruses, bacteria, and other airborne and blood-borne pathogens.
They have also increased the environmental cleaning schedule and enhanced operating procedures regarding cleaning and disinfectants usage. New initiatives designed to ensure the health and safety of guests and staff include Thermometer Guns Thermo screening at entrances to monitor guest temperatures to ensure that they do not exceed 100.4F; guests are encouraged to wear personal face masks while visiting the property; employees are mandated to wear PPE; guests and staff are required to maintain six feet of social distancing in all public areas; signage and distancing guidelines are posted throughout the property; all elevator and escalator landings are equipped with sanitizer stations, and distancing signage; casino operations include table game spacing with limits of three players per table, every other slot machine shut off and chair removed, UV guns. In addition, guest rooms upon check out will not be re-occupied for 24 hours to allow for extensive sanitizing and every other room on a guest floor will remain vacant occupancy permitting.
Snoqualmie Casino
Snoqualmie, WS
Snoqualmie Casino reopened to the general public on June 11. The casino prolonged its closure in an effort to support Washington's "Stay Home, Stay Safe" efforts.
During the closure, Snoqualmie Casino implemented enhanced safety protocols to ensure the safety of guests and team members upon reopening. "The health and well- ness of our guests, team members, and community takes precedence over anything else," said Snoqualmie Tribe Chairman, Robert de los Angeles. "As an entertainment venue that welcomes guests from all over the region, it is our responsibility to do everything we can to not only adhere to health guidelines and recommendations, but to exceed them."
With King County transitioning into Phase 1.5 and providing guidelines to begin re-opening restaurants and retail, Snoqualmie Casino Interim CEO and President Stanford Le outlined the casino's comprehensive reopening plan supporting the state's health recommendations. "We take pride in being Seattle's closest casino," says Le. "which means doing what we can to support community safety and continuing to set unparalleled standards to do so."
The following are a few examples of what Snoqualmie Casino has implemented to ensure safety:
Targeting on-floor guest capacity at 12.5% per hour; well below the Washington health guidelines of 25% for restaurants and 15% for retail stores in Phase 1.5.
Placing plexishields at each station where guests interact with team members (i.e. cage, restaurant cashier, loyalty club booth).
Applying plexishields at various table games to create a barrier and between guests and dealers as well as between guests themselves.
Requiring masks for all team members and guests and providing masks to those who do not have one.
Repurposing Falls Buffet to a full service dine-in al a carte restaurant.
Scanning temperatures of all team members and guests who enter the property.
Socially distancing guests at slot machines by chair placement and machine availability.
Installing plexishields between most popular slot machines to optimize accessibility.
Enhancing cleaning material standards and frequency, with high touch areas cleaned up to once every half hour.
HVAC systems continue to draw fresh air from the outside at a rate of eight times per hour.
Placing hand sanitizing stations throughout the property, especially in high traffic areas.
"Careful consideration and planning went into our opening strategy to ensure that we could provide the safest environment possible,"
Le continues, "We've been looking forward to welcoming our guests back and know that our decision to wait until it was safe to do so was the right one." For more information visit www.snocasino.com.