Playing for Fun
Aruze brings the fun of kids' games and carnival games to the slot floor with the Activ-Play series
By Frank Legato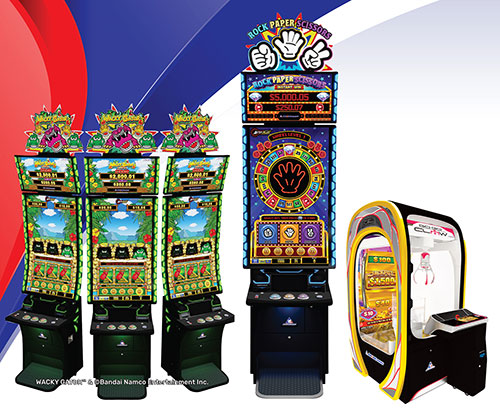 Aruze Gaming's story is unique among suppliers of slot machines. Its predecessor company, Universal, provided the first serious competition to the former Bally Manufacturing with its mechanical reel-spinning slots in the 1980s. Universal was already well-known in Japan as a supplier of pachinko and arcade games. That history would come in handy when the company now known as Aruze Gaming America received its license to manufacture casino slot machines in Nevada in 2004. The company was breaking into an already-crowded market dominated by IGT, Bally, WMS Gaming and Aristocrat.
Aruze would break through in the U.S. slot market by harkening back to those amusement-game roots.
After establishing a strong library of both reel-spinning and video slots through the early 2000s, Aruze would break through in the U.S. and other worldwide markets with the 2011 release of a game called Paradise Fishing.
At the heart of the game was a community experience shared by an entire bank of players. Above a bank of six machines were three giant video monitors that formed a bank-wide display of an underwater ocean scene teeming with fish. A community bonus would be triggered, and all players on the bank would compete to see how many fish they could catch for bonus credits.
That's where the amusement prowess came in. The players would "fish" for bonuses with a joystick-like control featuring what was called "Reel Feel" technology. You would pull on the lever, and you'd feel resistance as you would when a fish pulls on your line in the real world.
It was a hit game that went a long way to establishing Aruze's unique identity on the slot floor. The company released several iterations of the fishing bonus technology within the subsequent few years, followed by Mad Mountain on the Muso Limited community-style setup.
Then in 2021, the company again drew on its amusement history to create the first of a new style of slot game. Called Activ-Play, this series of games was to draw upon classic carnival games, and even kids' games, to create totally new styles of game play on the slot floor. The first was Go Go Claw, an arcade-style game that applies slot math to the classic claw machines everyone remembers from arcades, bowling alleys and other public places.
That series has grown with the release of Rock Paper Scissors, based on the kids' game everyone knows, and the latest, the soon-to-be-released Wacky Gator, which re-creates the carnival-classic "whack-a-mole" games with a gator instead of a mole.
This new breed of games has achieved instant popularity in markets like Downtown Las Vegas, where players typically crowd around Go Go Claw machines on two separate levels. It is a new way to approach a slot machine, but according to Mitsuhiro Miyazaki, Aruze's senior vice president of global product management, it all traces back to Paradise Fishing.
"Paradise Fishing is the father of it all," Miyazaki says. "We definitely consider Paradise Fishing to be the first installment of the Activ-Play line, even though we didn't know it then. The groundbreaking slot product used a community-style bonus with a tactile joystick acting as a fishing rod, actively involving the players into the special game-play experience. Since then, we've worked to innovate slots as much as possible.
"We've explored several avenues of making a game that is one, easy to catch onto, and two, looks nothing like a slot while still being a slot. With this mindset, we came up with Go Go Claw."
Working the Claw
The idea with Go Go Claw was to replicate the claw machines at the arcade in which you manipulate a construction-style crane to grab trinkets, watches or other prizes. But in this case, you're manipulating the crane with a joystick and touch-screen to grab plastic balls filled with bills representing cash prizes, and move them to a prize chute to win a credit award.
"It's something everyone recognizes," says Miyazaki. "You use a crane to try and grab a prize—there's no question when it comes to how to play, and it brings an unmatched flare to casino floors."
It was an immediate hit when it was introduced at the D in Las Vegas. "It's hard to know when a new game will be a hit; you can guess, you can do focus groups, but the only way to find out for sure is to put it on the floor and test it," Miyazaki says.
"We took what we knew, slot players are an aging demographic, and paired it with what we thought: the new era of casino-goers want more. They want an entire experience, and we thought the perfect way to enhance the casino experience was to make it more interactive. Go Go Claw adds a touch of nostalgia. The results have spoken for themselves."
The game's footprint expanded quickly. Go Go Claw is currently available at both commercial and tribal casinos in a growing number of U.S. markets. "We plan to expand it to even more jurisdictions, spreading the fun further than ever before," says Miyazaki. "Player reaction could not be more positive—when you see someone play it, you can't help but watch and cheer for them. Much like the classic arcade game, it draws a crowd, and players love it."
The Next Phase
At the big industry trade show last fall, Aruze showed the follow-up to Go Go Claw in the Activ-Play series, Rock Paper Scissors.
It's another case of giving players a game they already know and love. On the large-format Muso Curve 55 cabinet, Rock Paper Scissors replicates the kids' game with three choices for every round—there are buttons to wager Rock, Paper or Scissors. At the center of the screen is an LED representation of a hand that ends up with one of the three gestures of the classic kids' game—a fist for Rock, an open hand for Paper, or a two-finger sign (like a V for victory) for scissors.
Just like in the kids' game, Paper covers Rock, Scissors cut Paper, and Rock smashes Scissors. The game progresses through rapid wagers and outcomes. When the player wins, a prize wheel at the top of the 55-inch screen spins to a credit award or one of two configurable progressive jackpots, the Ruby or the Diamond. If the player picks the same outcome as the computer, it is a tie. The prize amounts on the wheel increase, and the game repeats for free.
"Just like Go Go Claw, we wanted a game that anyone could understand right off the bat and play," says Miyazaki. "Every culture has its own version of Rock, Paper, Scissors, so domestic and international tourists and locals can hop on, play and win. It's the same math model as a slot machine, but players feel like they have a better chance at winning; if they can just make the right decision, maybe they can beat the machine."
The game can be found at Circa and several other casinos in Las Vegas. "Players love it—while it might be anecdotal, we recently tried to get a picture of it on the floor but couldn't," Miyazaki says. "There were too many players lined up to give it a try. Similar to Go Go Claw, Rock Paper Scissors Instant Win is bringing a flare that attracts players in a new way."
Next up, slated to be released next fall, will be Wacky Gator. Featured on the sleek Muso Curve-55HB cabinet, it is a digital version of the classic whack-a-mole game using an alligator instead of a mole.
Three gators take turns lunging toward the player, who must decide when to send a hammer down on the gator by pressing a button. In one of the many possible bonus rounds, if the player hits the gator, it stuns the character, and the player can then rack up credits by repeatedly hitting the hammer button until the gator is "finished."
While the games look and play like their arcade counterparts, Aruze game designers meticulously crafted the program math so the return to the player is similar to that of most slot machines. "The slots are all meant to look like arcade-style games, but at the end of the day, they are just that—slots," Miyazaki says. "The math is no different than that of a traditional video slot. The difference is that with Activ-Play slots, you get to choose and participate in the play, as opposed to pushing a button and watching the wheels spin for you."
While we'll see Wacky Gator in casinos by the end of the year, there's no doubt Aruze is going to continue adding new titles to the Activ-Play group, with more nostalgic titles that bring a new way to play the slots.
"You'll just have to wait and see what kind of innovations we have waiting for you," says Miyazaki. "At Aruze, we stand by our tagline that 'innovation is our tradition.' So, as long as there's room for improvement, we're going to keep making new styles of games to suit new styles of players, as well as maintaining the classics that everyone has come to know and love.
"We can imagine a world where there are full sections of Activ-Play games, sure, but we're going to focus on perfecting what we have and leaving the rest up to casinos and players." •