OVERCOMING THE ODDS
Poker player James Baune's amazing journey from flatline to final tables
By Sean Chaffin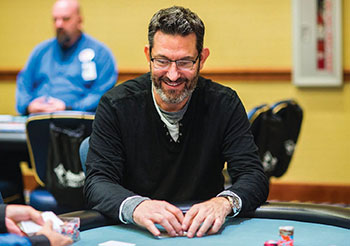 "Oh my God, you're back," the EMT said as James Baune's eyes blinked open. "I can't believe you're alive."
Red and blue police and ambulance lights flashed. Broken glass and twisted metal littered the pavement. EMTs loaded him on a gurney and rushed him to the hospital, still unsure if he'd make it. His breathing was labored and he couldn't move. Baune was fighting just to survive.
The path to the WPT Bestbet Bounty Scramble in Jacksonville, Florida didn't come easy for Baune, but he credits poker with playing a part in getting him here. While lying in bed for months and after going through some of the darkest times of his life, playing at the tables on ClubWPT via his iPad gave him a goal. The club is the World Poker Tour's online poker site and offered a simple activity to keep him focused.
While the 51-year-old Florida resident could barely move his fingers after a horrific wreck and had to use a pencil as a stylus to control his movements, it was a start at least – a path toward walking again.
The Wreck and the Injury
After a long career in automobile sales and real estate, Baune had been working as a consultant. He traveled to dealerships and realty firms all over the country, helping them boost sales and productivity.
In 2016, he'd been working in the city of Coeur d'Alene in northern Idaho. He couldn't have asked for a nicer temporary home. Located near the Spokane River on the north shore of Lake Coeur d'Alene, the town is surrounded by mountains and national forest. It was a great stop for an outdoorsman like Baune.
On June 13, 2016, Baune's job was finished and he planned a trip into the mountains for some camping and hiking. His son James Baune Jr., who had been drafted by the Dodgers in 2013, was also along for the trip. James Jr. was sup- posed to go on the camping trip, but instead needed to get back to Los Angeles.
After dropping his son off at the airport, Baune was ready for his getaway. After a few weeks of hard work, sometime in nature and the mountain air would be wonderful and well- deserved. He wheeled out of the airport and drove a bit. He stopped at a red light and was the first car in line.
"I unbuckled my seat belt a second to grab my bag," he says. "And as soon as I sat back down a lady hit me from behind going about 70 miles per hour."
The force launched his car into the intersection and he was T-boned by another car. The woman who plowed into him was on medication and had fallen asleep.
Baune didn't have any scratches or bruises, but that doesn't tell the real story of his injuries. Four of his vertebrae were fractured from the impact. Basically, his entire spine was crushed.
"I remember at the moment of impact, the last thing I said was, 'Oh my God don't let me die like this,'" he says. "When police and paramedics got there, I remember being somewhat coherent, and I knew something was wrong because I couldn't move. I couldn't breathe. My diaphragm was crushed."
While he may have been coherent, it wouldn't last long. He flatlined at the scene and paramedics grabbed the defibrillators to bring him back to life. It worked, but he wasn't out of the woods yet. He was taken to a local hospital and prepped for emergency surgery.
One constant question ran through his mind: "Am I going to die?"
While not able to talk, Baune was able to get staff to call his son. After just landing in Los Angeles, James Jr. checked his messages.
"Your father James has been in a major car accident and may not make it," an ominous voicemail said. "He's in Kootenai Hospital."
James Jr. jumped right back on a plane to Idaho. Baune had his neck fused and a titanium rod inserted. Doctors hoped for the best, but informed their patient he would be a paraplegic the rest of his life. They were direct and to the point.
"Point blank, no doubt, no hopes," he remembers. "I had no feeling in my hands, nothing. I couldn't move. Just imagine laying in your bed and looking at your body – and you can't move."
The Hard Work Begins
Baune grew up in Gainesville, FL, and the prospect of never walking again just wasn't acceptable. He's an outdoorsman and loves to scuba dive, fly airplanes, camp, hike, and enjoy the outdoors. Playing in poker tournaments is also now a passion.
However, getting to the point of walking again seemed impossible at times. There were frustrations and setbacks. For four and half months, he had to be fed by hospital staff and "craned" out of bed. His mind went to some dark places at times where he didn't even care about living. Stuck in a hospital bed in the middle of Idaho where he had no friends or family, his situation seemed hopeless.
"For four and half months, it was the most ungodly situation," Baune says. "What a nightmare to wake up to."
Friends and family made the trip to visit, but Baune eventually sent them away and said he didn't want to see them again until he was walking. Doctors advised against this, but he was determined to set a new course.
Soon something unexpected happened. He wasn't sure, but it seemed like he could move his toe. Doctors said it was just a ghost movement, a feeling more in his mind than in reality. But later that night he noticed the movement again.
"Four or five days after that, I noticed that I started getting some more feeling back," he says.
The spine can be a bit of a mystery. Sometimes it can heal and patients can recover. Some people don't recover at all and others may have partial movement return. But any returning feeling can often take years. Just some simple toe movements gave Baune hope.
After spending six months in the hospital, Baune was able to stand. He couldn't walk yet, but jumped into rehab three times a day – early morning, mid-after- noon, and evening. Getting on a plane wasn't quite in the cards yet, so Baune booked a train from the farther corner of Idaho to Jacksonville – he was ready to get home.
"I just pushed myself until it got me through the process," he says. "I finally got to the point where I could walk with crutches out of the hospital."
The Poker Recovery
Even while in a hospital bed and with no movement, Baune needed a goal. Something to get him out of those dark places. Something to keep his mind right.
"What am I going to do, I'm so bored," he told his son.
James Jr. handed him an iPad.
"Go get some games," his son said. "Go play poker."
With minimal movement in his hands, simply controlling an iPad wasn't easy. But in his new world, where minor accomplishments could mean so much, Baune now had a new goal. He began learning to play poker on ClubWPT, but cash or final tables weren't the goal for Baune. It wasn't just about poker. Raising and betting weren't easy, but he began to see improvements. His control and mobility was slowly returning.
"It really got me through some dark times," he says. "Not that poker's a lifesaver, but it gave me focus"
So much so, that Baune decided when he was out of the hospital he wanted to play more. After his recovery, he did just that. After finally moving back to Florida, he headed to Orange City Racing and Card Club in Daytona to play in his first live tournament. Those days playing on the iPad paid off – he won first for $1,200.
The next week, he went back and finished runner-up. A week later? Third place. He then went and played his first WPT at the Seminole Hard Rock.
"I caught the fever," he says. "I was all in."
The Journey Home
In 2018, Baune was awarded a player of the series trophy for cashing in four preliminary events at the WPT Bestbet Jacksonville series. That included making two final tables and this recreational player now has more than $56,000 in live tournament winnings.
Now semi-retired, Baune isn't a man who can sit still. He owned a car dealership when he was only 24 years old, and now has a real estate company and has been successful flipping houses. Walking is still a bit of a struggle and he uses a crutch or cane to help. But he's doing it.
Baune continues his physical therapy and now plays plenty of poker. He's also writing a book about his life and his experiences in hope of inspiring others.
As he walked out the front door of the hospital in 2017, it was a scene that only months earlier seemed impossible. Hospital staff wheeled Baune into the hall near the exit, but it wouldn't be a short walk.
His Uber car was there to take him to the train station. Nurses, staff, his surgeon, and the physical therapist gathered in the hall. There were plenty of hugs and his surgeon teared up as he made those first few steps toward the exit.
"I can't believe you're doing this," she told him. "I've never seen anything like it."
At one point, he looked like he might topple over and his therapist stepped in.
"I've got this," Baune said gently pushing him away.
His muscles strained with each slow, deliberate step – onlookers clapping as he moved closer to the door, closer to freedom, closer to his family.
And closer to poker on a bigger stage than an iPad. He's continued playing some WPT events and other tournaments over the last few years.
"Traveling to play poker has really kept me motivated," he says. "I have to get up each morning and play. I love it."
Sean Chaffin is a freelance writer in Crandall, Texas, and senior writer for Casino Player and Strictly Slots magazines. He is also the writer and host of the True Gambling Stories podcast. Follow him on Twitter @PokerTraditions or email him at seanchaffin@sbcglobal.net for story assignments.