MY TOP 10 NEW SLOTS PICKS
Here's a totally subjective lineup of what I consider the top 10 new slot games revealed at G2E
By Frank Legato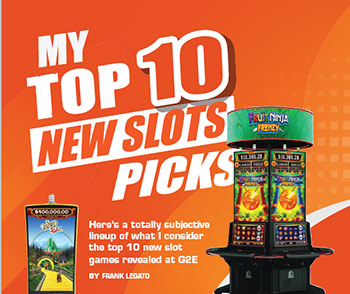 As longtime readers of Strictly Slots know, every fall, the casino industry stages a huge trade show, the Global Gaming Expo (G2E), at which the slot manufacturers roll out the new games that will be released over the subsequent months. It's like the auto industry's rollout of the "new model year."
You may have seen my cover story last month highlighting the new games for the coming year. However, something else I do every year is publish my own personal "Top 10" among the new games. This is a completely subjective list of what I  thought were the best games launched at G2E.
Note the word "subjective." This is completely my opinion, based on the 38 years (whew!) I've been writing about slot machines. The  fact I thought these games were cool doesn't mean you will like them as much, or even that they will be popular in general. They're just innovative, fun games to watch out for.
Here's my lineup of slot games to watch for in the coming months:
Fruit Ninja Frenzy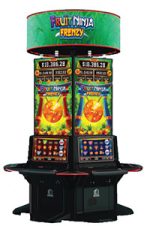 Everi Holdings
While there were a lot of games that caught my eye at G2E, I have to say this one was my favorite. First introduced as one of the base games for the TournEvent tournament system, Fruit Ninja Frenzy has at its heart a "frenzy" of player interaction in a fast-paced bonus event, as various pieces of fruit fly across the screen and the player physically swipes and slashes the touch-screen to obliterate as many pieces of fruit as possible within a short time, revealing bonus awards each time. This game is a blast.
---
The Wizard of Oz: Follow the Yellow Brick Road

Light & Wonder
This latest iteration of the Light & Wonder series (first launched by L&W legacy company WMS Gaming), based on the legendary 1939 film, is the most grand version yet, and it could have been No. 1A on my list. It is featured on the giant Mural cabinet, with dual stacked 55-inch 4K curved monitors that really make the collection of bonuses based on the film's characters jump out at the player. Yes, Glinda the Good Witch is still one of those bonuses (my favorite).
---
Rocky and Bullwinkle/Boris & Natasha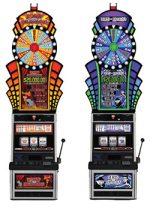 Everi Holdings
My first three choices really could all be No. 1 picks. These sister games from Everi were among my favorites—probably due as much to my age as to the fact they are great games. These are mechanical reel-spinners with a bonus wheel, but with a soundtrack that is absolutely hilarious to anyone who was a fan of the quirky 1960s cartoon series. The voice-over impressions of the characters, including the smarmy narrator, are all spot on. What fun!
---
Fortune X Poker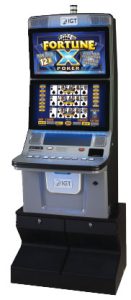 IGT
Anyone who knows me knows I love a good video poker game. IGT, the king of video poker, features a series of multi-hand video poker games on which a bonus is added, paid for by an extra per-hand wager so as not to affect the best pay schedules of the games. This year, it's Fortune X Poker, with a random multiplier bonus occurring an average of once every nine games. When the "X" mode is triggered, wins on the subsequent five hands can get a multiplier rising from 2X to 12X.You only get to use the multi- plier once, so there's some extra strategy involved, where you weigh the potential value of your hand against the probability you'll get another hand that pays more with a higher multiplier. This is a great game for any video poker enthusiast—or any gambler.
---
Frankenstein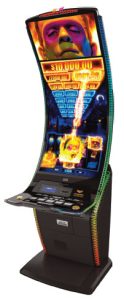 Light & Wonder
The second of the three L&W games that made my list (they knocked it out of the park this year) is featured on the new Cosmic cabinet, which features a 49-inch portrait screen. Frankenstein uses that substantial real estate with great animation of the famous monster, complete with instantly recognizable sound effects. When "It's alive!" covers the first reel and the wild monster symbol covers the fifth, credit awards zap in lightning bolts to the monster's "terminals."(His reaction to the zaps is priceless.)
---
Ocean Phoenix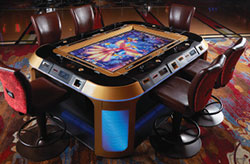 Gaming Arts
Gaming Arts displayed a radical new multi-player game called Ocean Phoenix. It is a flat table covered by a giant monitor displaying various-sized fish swimming under the water. Players sit around the table with joysticks and buttons to shoot at the fish for prizes, in an excellent accomplishment of perceived skill. This game is great fun, and a fantastic communal experience during which the excitement simulates a crowded craps table.
---
Blazing 7s 2X3X5X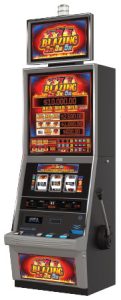 Light & Wonder
I've always loved the classic mechanical reel-spinners, and none is more classic than the legendary Blazing 7s. L&W used its new Landmark 7000 reel- spinning cabinet to roll out a new version of one of the most well-known mechanical reel-spinners of all time, from legacy brand Bally. Blazing 7s 2X3X5X is a supercharged version of the well-known original that adds an array of multiplying wild symbols to the multiple"7"combinations that made the original game famous.
---
Let's Make A Deal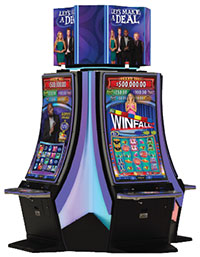 IGT
IGT's latest take on the classic TV game show Let's Make A Deal is a new high-denomination ($1, $2, $5, $10) premium slot on the giant Peak65 cabinet. The game takes cues from the famous game show for all its bonus features. For instance, bonus features typically end when the player lands a "Zonk," which is the word that has always signified a "bad deal" on the game show. The free spins go until the player lands his last Zonk symbol on the reels. Initially, three Zonks and you're out. However, a special pyramid-shaped symbol landing on the reels can award additional Zonk chances. The main bonus is the "Big Deal of the Day," a simple picking bonus—the player picks Door No. 1, Door No. 2 or Door No. 3.The prizes  can be credits, multipliers or one of four jackpot "deals." The Grand Deal returns a progressive resetting  at $500,000.
---
Jackpot Carnival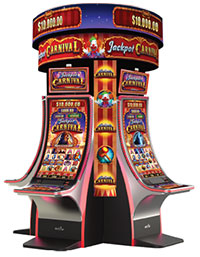 Aristocrat Gaming
Jackpot Carnival, on Aristocrat's new Neptune Single large-format cabinet, is a family of five- reel, 1,024-ways-to-win base games featuring funny hurdy-gurdy carnival music behind the reel-spinning and fun carnival-themed bonuses. In the Clown Feature, the screen displays a carnival-style game board. The player spins for four Bonus Balls that can award multipliers up to 25X.The player presses the Play button to drop a ball down the screen and into one of five prize buckets. The Hammer Feature is a take on the test-your-strength hammer-and-bell games. Players strike a hammer on the bottom of several rows to generate credit awards and multi- pliers rising to a maximum of nine rows.
---
Wacky Gator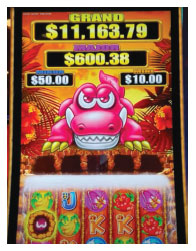 Aruze Gaming
Aruze, known for stretching the limits of what a slot machine is, unveiled Wacky Gator, an electronic simulation of the classic whack-a-mole game using an alligator instead of a mole.
Three gators take turns lunging toward the player, who must decide when to send a hammer down on the gator by pressing a button. If he hits the gator, it stuns the character, and the player can then rack up credits by repeatedly hitting the hammer button until the gator is "finished." (Yikes!)