My Jackpot Dream
Scoring big, paying it forward, and being practical with those slot machine winnings
By Sean Chaffin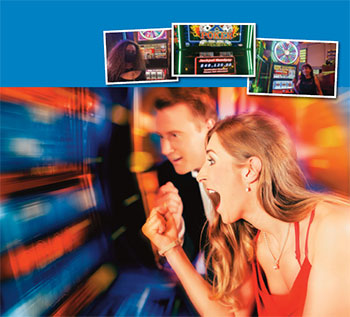 Any slot machine player dreams of hitting it big—or even medium or small for that matter. A nice chunk of winning cash speeds up the heartbeat and the adrenaline flows. Players fantasize about what a nice score could do for their bankroll. A new Corvette? Maybe a grand vacation or season tickets to a favorite sports team? Those are all options, but many players are a bit more practical and some prefer using some of those jackpot winnings to help others.
Most gamblers have heard tales of gamblers getting lucky and then seeing all those winnings spent without too much to show for it. Slot machine players have become synonymous with this story for some, but that definitely doesn't tell the whole picture. Many players indeed use those jackpots wisely and buck this stereotype. Strictly Slots recently spoke with some players about how they used the money and got the story behind their wins.
Benefitting Family and Friends
For Terri G., of Northfield, New Jersey, a nice jackpot 16 years ago meant helping someone close to home. Her grandchildren had been placed with the 58- year-old, and a well-timed win at Bally's Wild West in Atlantic City on a 25-cent Catch A Wave machine certainly helped her situation. The kids were victims of neglect and all had special needs. Terri had quite a task ahead of her but knew she had to be there for her grandchildren.
"I was able to quit one of my jobs so I could be home with them more and give them the structure, support, and life they needed," she says. "I had probably $200 to my name, but payday was the next morning. I was stressed trying to figure out how I was going to support two little girls and be with them when I was working two jobs.
"I went to Bally's to relieve stress. I started to win a little and increased my bet, then hit a jackpot and won $10,000, hand paid. I still had about $600 in the machine and decided to play it out and won another $12,000. I was so excited and relieved. Just when I needed it most, God provided and has ever since. I truly believe that if you do good things, good things happen to you."
Elaine D. owns a casino party events business in the Dallas area and also believes in giving back. Her company runs numerous charity and business casino parties and she also plays the slots sometimes when at a casino herself. On those occasions when Elaine has a good night and hits a nice score, she uses some of those winnings to pay it forward and show some gratitude.
"I pool it into mini bonuses for the people who work for me," she says. "I've not hit the big big one, but definitely some hand pays in my day."
Atlantic City resident Erica J., 47, plays at the Tropicana when she's heading to the slot machines. An $800 score last summer brought an opportunity to provide a nice, warm meal for some homeless people who regularly reside just outside the casino.
"I didn't do anything extravagant," she says. "I won some money, went to the grocery store and bought spaghetti and meatballs. I made it at home and then went back on the boardwalk and fed some homeless people. That's all I did, not much. Just went and made them a homemade hot meal and brought them ice tea, sodas, and good food."
While she may minimize her efforts, kindness like this is nothing new among gamblers. Erica regularly brings water and food to this group of homeless people, noting: "Even if I don't win I still get them something."
Home and Heart
The HGTV program My Lottery Dream Home features big winners looking to purchase a new home. Many don't overdo it and make solid choices that won't take up too much of their windfall. Slot machine jackpot winners often make similar choices, often including helping family members with their homes as well.
Jesse W., 37, has hit several nice jackpots over the last three years. The largest jackpot this year for the Texan was $40,000 at WinStar World Casino and Resort. He went back the next week and hit a jackpot for $24,000. His wins through the years have brought plenty of peace of mind when it comes to his home and eliminating mortgages and other payments.
"I have paid my land off, bought vehicles, and race-car stuff," he says. "Also, I will pay my mortgage off several months in advance after a big win or apply a chunk to principal. Before COVID I would book cruises [with winnings]. I always try to purchase something of value after a large win. I also document all of my wins with pictures and videos."
A nice score in Atlantic City also allowed New Jersey resident Lorraine O. a chance to help out family. She won eight $4,000 jackpots at the Tropicana 20 years ago in one weekend and paid her daughter's college tuition. She's not convinced her luck is the same and wonders humorously if a win could even pay the university's bill nowadays.
"Tuition at George Washington University in D.C. is two times that now," she says, "and you sure can't win at the Trop anymore."
Heather T., 43, decided to be practical and pay the dreaded taxman after hitting a nice score on a video keno machine. She lives in the St. Louis area and had been playing at the Horseshoe in Bossier City, Louisiana. On a $2 bet, Heather saw nine of her 10 picks hit the board—which comes with odds of more than 789 to 1. She won $9,600 and decided to be practical with the winnings.
"I paid three years of back real estate taxes on seven houses with it," she says. "It just saved me from spending my money for @#!* taxes."
Over the summer, a lucky player on the BetMGM online casino in Michigan took down the Big One Colossal Cash jackpot, turning a $4 Bison Fury bet into more than $1 million. This lucky winner was ready to help out others immediately.
"I'm still in shock by the size of this win," the winning player said. "I'm referring to it as good karma though, and before I treat myself to anything special, I'm going to pay it forward and use the money to help my family. I want to pay off their mortgages and loans and make sure that they're happy, healthy, and well-educated. Thank you BetMGM for helping to make that happen."
In the age of COVID, when others may be struggling, it seems more and more players are thinking along those lines as well.
Sean Chaffin is a freelance writer in Crandall, Texas, and senior writer for Casino Player and Strictly Slots magazines. Follow him on Twitter @PokerTraditions or email him at seanchaffin@sbcglobal.net for story assignments.