My Borgata – Slot Club
Meets all the requirements to make it a favorite slot club
by Jeffrey Compton
I am usually loath to answer the question "What is your favorite slot club?" However, I have no problem answering the question "What is your favorite slot club in Atlantic City?" because I do have a clear choice—the My Borgata Rewards Club at the Borgata Hotel Casino & Spa.
How do I come to this decision? While I will readily admit that picking any type of favorite is highly subjective, when I am choosing or rating a players club I ask myself several questions and (hopefully) base that decision on the answers. And how I chose My Borgata is an excellent opportunity to show how I go through the process of picking a favorite club.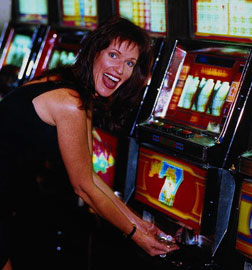 How do I feel about the overall property?
If I am going to spend time and earn comp dollars it helps that I like all aspects of the property—especially those parts where I plan to spend those comp dollars.
Borgata Hotel Casino & Spa is not only the newest hotel casino in Atlantic City, it is the most elegant and well-designed. As you walk through the main doors, you get a feeling that you are someplace special and not just in another casino. Their customer service standards (which I measure by how many people smile and say hello to me—and how fast it takes to get a drink at the machine) are excellent.
I am a commuter, so I cannot rate their hotel rooms (though friends of mine tell me that they are quite nice) nor can I comment on the spa amenities. However, the restaurant selection, including the buffet (which has the best wine selection and service I have ever seen in a buffet) is very high-quality.
Another important facet of the property is the entertainment. Not only is the Borgata's high-quality, quite a bit of it is geared to boomers (Diana Ross, Harry Connick Jr., The Who).
The only downside? Borgata does not participate in any bus programs and is not located in walking distance from any other Atlantic City casino. If you have a car, it can be easier to get to the property than some of the others, but for us non-drivers, it can be a bit of a hassle.
Do I like the games on the casino floor?
Both Bob Dancer and I agree that Borgata's video poker selection, especially in the higher denominations, is the best in Atlantic City. I have no problem finding a $2 Jacks or Better game.
My lower-denom video poker players, as well as my slot-playing friends, tell me that the Borgata has a good selection of machines and more importantly, they keep them up-to-date and maintained. Whatever denomination of machine you do play, it is easy to find your game using the lighted signs throughout the floor.
Do I find the club easy-to-work-with?
If you like user-friendly clubs that tell you exactly what it takes to earn a point, comp dollar or whatever, plus how many comp dollars you have and what you can do with them, you will not like Atlantic City. Until very recently, most of the card readers said only "Accepted" when you inserted your card and forget about trying to find out what is required to move up to the higher ranks of the card.
The reason, at least in my opinion, that this is true is the unique nature of the Atlantic City market. Most of the customers are local (they go home at the end of the day), but many of them travel a total of 100 miles (both ways) to get there and thus have to be extra-enticed to come back. When you take everything into account (especially direct mail) Atlantic City casino player reward programs are very generous, but in order to remain competitive, the casinos have to build as much flexibility into their benefit structure as possible. They cannot be bound to the type of fixed slot club point structure found in Las Vegas (and elsewhere).
My Borgata awards (in a very open way) both comp dollars and slot dollars. You do not know exactly how much play is required to earn either one (except through experience and good record keeping) but you do know how much of both are in your account. Comp dollars can easily (sometime too easily) be spent immediately anywhere on the property just by giving your card to the appropriate buffet, restaurant, spa or shop cashier.
You cannot spend your slot dollars until your next visit, but you can find out the amount waiting for you anytime you want by going to the My Borgata website. It's nice to know that when I arrive, I can insert my card, press a few buttons and get $50 to start playing.
I also like the My Borgata booth. It's well located (a short walk from the main entrance) and there is usually a very short wait. (The fact that My Borgata is so well automated, thus requiring few reasons to visit the booth, helps a lot.)
Is the reward system generous and (very important) varied?
When I add in the basic benefits (discussed above), the direct mail (discussed below) combined with the choices available to spend comps dollar on, I am happy with what My Borgata gives me for my play. Plus, with a little probing (like reading the material) I see there are other benefits available including "My Borgata Vacations."
Because of the casino's unique ownership (MGM Mirage and Boyd Gaming) My Borgata members are able to redeem their comp dollars for rooms at nine Las Vegas casinos (including Main Street Station, Sam's Town, New York New York and the Bellagio) as well as hotel casinos in Biloxi, Tunica, Detroit, and Peoria.
Is the tier structure of the club fair?
Personal bias here—I prefer a simple two or three tier player card structure. The basic card, and then one or two advanced tiers. When I see signs saying Topaz members to the right, Opal members to the left, Diamond Members down the middle while Gold members wait until they are called, I frequently want to turn around and walk out. Also, I do not like it rubbed continually in my face that I am not a highest-level possible member.
The My Borgata Club has three tiers. The basic level is Red Label with the next tier named appropriately (thank you Johnnie Walker) Black Label. When you first visit the casino or just the website, you will think that these are the only two tiers available. There is however a third tier called Titanium for true high rollers.
How do you become a Black Label member? According to clearly written My Borgata literature, a member goes from Red Label to Black Label automatically when they earn 1,000 comp dollars in one year and is renewed automatically if they maintain that level of play. So while I do not know how much exact play is required to get there, I can probably figure it out after a couple of trips.
What rewards do Black Label members receive? Free parking (including valet), use of priority lines at the check-in and restaurants, invitation to special Black Label events, the Borgata Buffet for only $10 comp dollars and use of the special Amphora Lounge (which has a small but well-presented buffet and an open bar).
Since my play does not come close to Titanium level requirements (about 5,000 to10,000 comps dollar per year) I cannot tell you what the benefits are. However, I did once stick my head in their private lounge (Tesoro) and it was quite impressive. But what I really like is the philosophy of the top tier —the Borgata takes care of their big players, but without making everyone else feel like the great unwashed.
Is their direct mail competitive?
Atlantic City invented casino direct mail and the Borgata is no slouch in this area. Once a month I get a specialized color brochure detailing bonus slot, room and entertainment offers, plus filling me in on their latest promotions. It is easy and fun to read, and easy to store until needed. Plus I will probably get a postcard about a special promotion or an invitation to a special event.
What I won't get through is piece after piece after piece of mail (three out of every five days a week) telling me something about the casino I do not care to know. I like that, my postman likes that and Al Gore probably appreciates it too.
So in a line: I like the Borgata, I like their games, I understand their club and I like the benefits I receive, which is why I can say that My Borgata is my favorite slot club in Atlantic City.