Moving On Up
Incredible Technologies is turning heads on slot floors with its Prism VXP moving cabinet and a collection of strong games
By Frank Legato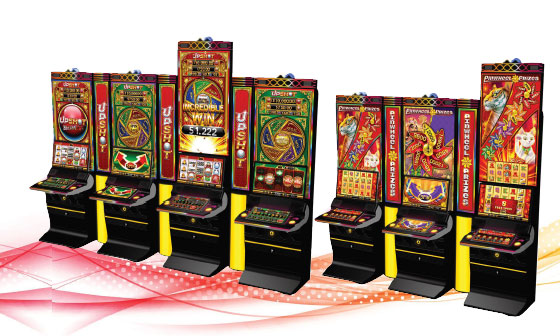 In casinos around the country, players have been stopping in their tracks at the sight of a slot machine that's like nothing else out there.
You may have seen it. Maybe through crowds of curious onlookers. It's a slot machine that moves. The slot and its cabinet, from supplier Incredible Technologies (IT), presents three screens to the player—the main 27-inch 4K touchscreen landscape monitor is augmented by an 18.5-inch button deck, the largest in the business, which doubles as an extra touchscreen monitor for use in various bonuses and game play. But sitting behind the main game screen is a giant 55-inch flat-screen 4K monitor.
During bonus game play, the 55-inch monitor physically rises, using a commercial-grade motor to smoothly move into position for game mechanics, adding 13 inches of height to the entire grand display.
They call it Prism VXP. The VXP stands for "vertical expansion."
Three game groups on the unique setup have been released this year, with a fourth about to be launched. The first two to be released were UpShot and Pinwheel Prizes, each with two titles.
Following that are new versions of two of the supplier's most popular slot titles. Ultra Rush Gold X, a hold-and-re-spin game group, is out in casinos now with two unique titles. At press time, the launch was imminent for Leonidas, a revival of the company's Greek-themed hit. There also will be two titles for that game family.
According to Kelsey Sullivan, marketing manager for Incredible Technologies, players are definitely taking notice of the novel game setup. "The rising screen is really what catches them off guard," she says.
"Sometimes when they're sitting up close, they don't realize it because the graphics are so smooth— sometimes it even takes a friend sitting next to them or someone walking by to say, 'My gosh, your game just got taller!' And once they see it, they're playing to hit that bonus feature again, to experience the first game with physical movement on a slot floor. It's super exciting."
One remarkable aspect of the Prism VXP cabinet is that it was designed during the COVID-19 casino shutdown period. "Everyone was working from home, working on new hardware remotely, which was quite a task," says Dan Schrementi, president of gaming for Incredible Technologies.
"We had started developing it before COVID. It was such a physical cabinet with the motors inside making the game monitor literally go up and down vertically—and all of that was designed in people's basements through COVID. At one point, we had to get weights to mimic TV screens to test these motors out, because nobody had done anything like this before. It's amazing going from that to having it ready to launch at the [Global Gaming Expo trade show in October], and then seeing it live in the field."
Of course, it was only launched after IT's engineers were confident that the commercial-grade motors would hold up on the casino floor. Schrementi says that meant running prototypes constantly, 24 hours a day. "We've had some that have been running for over a year in test mode in our office," he says. "We've learned a lot about how to make the cabinet last and how to make it work. The cabinet's been a big hit since we launched it, and that's near and dear to our heart, knowing it was designed during such a complicated time.
"It challenged our team in new ways; it challenged all our people to do things we've never done before. And the markets have reacted really well."
As new games continue to roll out on the format, the feature enabled by the motor will become more active. "The game's going to start going up and down in attract mode," Schrementi says. "And, the game features themselves are going to use the motor more. This fall, we're going to ramp it up and really integrate more features using the motor."
The Games
The features in the inaugural games seem quite active themselves.
The Pinwheel Prizes game family includes base games Cat & Tiger and Majestic Oasis, both 40-line games. Each game features five pinwheels on the top monitor displaying credit prizes. Scatter symbols increase the value of the pinwheel wedges in each of the different- colored pinwheels, and the higher values remain until three scatter symbols trigger a spin of one of the pinwheels for a bonus award.
The free-spin round in each game triggers the VXP feature. The reels expand into a double set with 40 additional pay lines for eight free spins. In Majestic Oasis, the free-spin round features a lock- and-spin mechanic on the top reel set. Pinwheel scatters lock in place and stay until three fill a reel to trigger a spin of the corresponding pinwheel.
The UpShot family consists of initial games Brilliant 7s and Prosperity Rising. Both are 25-line games with a pinball-style bonus initiated on the 18.5-inch touchscreen button deck. In the interactive UpShot Bonus, pinball springs appear on the button deck and the player pushes them to launch virtual pinballs at the expanded monitor, which displays four levels of moving targets.
As the bonus moves to the next level, the credit values increase leading up to the top level, where wheels dart across the screen. If one is struck, players get to spin the wheel for a guaranteed progressive or jackpot prize.
There also is a free-spin bonus, with "Wild Upgrade" scatter symbols. When one of these symbols lands, a second three-by-five reel set appears over the main screen. The VXP display elevates with each Wild Upgrade awarded, with the chance to add up to three extra reel sets.
UpShot Prosperity Rising places the interactive bonus events in an Asian theme. In the 10-spin free- game round of this game  a separate pinball bonus is triggered by only one UpShot scatter symbol
The player launches one pinball for credit awards, added wilds, or a wheel spin for progressive and jackpot prizes.
"We've watched people play this in the field, and they really get into the shooting part of the game," comments Sullivan. "It's really interactive and fun, and it definitely gets a crowd going, especially with the raised monitor."
For the third game group, Incredible Technologies continued a practice that has been one of the supplier's hallmarks—taking themes and features that have already proven to be hits with players and renewing them. The Ultra Rush game family has been a big hit for IT, with players flocking to Ultra Rush and Ultra Rush Gold, which feature fantasy Asian warrior characters and a lock-and-spin bonus feature.
The new version, Ultra Rush Gold X, takes that hold-and-re-spin bonus to a new level with a vertical expansion of the reels.
"The Ultra Rush Gold brand is a recognizable game on floors, and it's really resonated with players," says Sullivan. "We've taken the Ultra Rush Gold feature and upgraded it with the cabinet expansion, and we're really excited about that."
The base game is a five-reel, 30-line format with three rows of symbols. Five scattered bonus symbols—there are three different symbols that can work together—trigger the Ultra Rush Bonus. The triggering symbols— pearls, gold pearls and wheels—lock in place for three free spins. Each time another of the scatters lands, the spin count returns to three. Three spins without any scatters ends the feature, awarding the accumulated bonus. Filling the screen with the symbols triggers a wheel spin for a guaranteed progressive.
That's how the original game worked. For the new "X" version, the big monitor physically moves upward to add more rows of symbols to the reel grid. Each symbol with a green arrow adds a row of symbols, with the motor moving the big monitor upward. If you pick the 5-cent or 10-cent denominations from the multiple-denomination lineup, the grid can rise to nine rows. That can result in huge credit awards in the lock-and-spin feature.
The other hit title being reborn in the Prism format is Leonidas. The original, called Leonidas: King of the Spartans, features free-spin bonuses that include wild reels and other extras. The new version, Leonidas: Return to Sparta, features free spins with locked wild symbols, and a VXP feature that raises the monitor with each spin to add an extra row of symbols.
When the bonus is triggered, the VXP display rises to reveal a "mega-wheel." The player spins the wheel for an enhancement that applies to the free games—additional free spins, wild stacks, 2X wild symbols, or a jackpot bonus.
With each free spin, wilds are added to the reels as arrows fly onto the screen. Leonidas's shields appear on the reels and lock in place as wild for the remaining free spins.
If players land on Jackpot Spins, at the conclusion of free spins, Leonidas observes the prize options and randomly slashes prizes with his sword. Players then spin the wheel for the remaining prizes—one of five progressive jackpots.
"Leonidas was one of our hit titles when we came out with the U23 cabinet, so we're bringing back some of the recognizable game play and features," says Sullivan. "And even during testing, players have recognized it right away; they loved the original, and we kept a lot of what made the original great in this new one."
Leonidas is the next game launch, and the current games can be found in around 35 states, according to Schrementi. However, IT is just getting started with this unique format. The Prism is meant as a core cabinet, and the new Prism Flex Edge provides 105 degrees of movement to allow for a variety of bank configurations, so you're likely to find these anywhere on the floor.
Schrementi says there is a ton of new content ready for the format. "COVID slowed down the industry a little bit with content releases, us included," he says. "We've got a lot of content stacked up in the background. I'm excited to see where we go."
Wherever it goes, it will be with features you won't see from other slot suppliers.
"We're not the biggest company in gaming; we have to do things that make us stand out and try things that are different," Schrementi says. "And we try that not only on our software, but we try really, really hard to stand out in any way we can in our hardware.
"And with Prism, we've got a game that we know is not going to get copied for a while. We know that players can identify it. And we're only just getting started on trying some new, innovative, exciting things on that cabinet."
"It really is a head-turner," says Sullivan. "A stop-you-in-your-tracks thing."