MONEY RAIN
Incredible Technologies finds success by daring to be different
By John Grochowski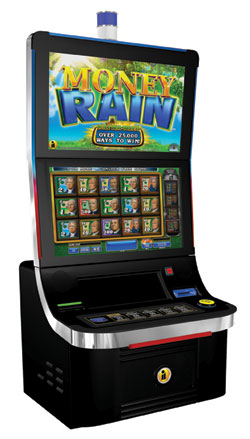 Incredible Technologies has always dared to be different, something that's been apparent from the time it was previewing its first slot machines in 2009, before a 2010 rollout. But what's really remarkable is that IT is not only different, it's successful to the point that other, more established slot manufacturers have had to sit up and take notice.
"At our first [Global Gaming Expo], people from other manufacturers would stop by our booth, and do you know what they said?" Richard Ditton, co-founder executive vice president of Incredible Technologies, said at the company's Vernon Hills, Illinois, headquarters. "They told us, 'We've seen a lot of new manufacturers, but you're the only one we've seen with something worth stealing."
Much innovation has come from IT since it added slot machines to long-standing success with coin-operated amusement games, including the mega-popular Golden Tee golf. It's had successful games—notably Crazy Money—and it's had some growing pains in finding the math models that keep players coming back for more.
Now it has a certified hit in Money Rain, a top performer in IT's strongholds in California, the Midwest and the South. IT is in its early stages of entry into Nevada markets, and the push into the East is only a short time ahead. But in markets where Incredible is established, Money Rain has drawn raves from players and operators alike.
"Now we have a core game," said co-founder and CEO Elaine Hodgson. "It's out there, making several times the floor average [in revenue]. It's a proven product."
Money Rain also is a game that dares to be different—very different.
"Seemed like a bit of a stretch of the standard slot machine," Ditton said. "Rather than spinning reels, have an old type of railroad display. Split cards flip down [in what's called a 'split flip display'] like old railroad station clocks. I used to love to watch the clocks flip at Union Station [in Chicago].
"The game makes a cool rainy sound, and in the free spins you have the catchy music, 'Money rain, money rain, money rain. It has a scatter math model, not a left to right evaluation.
"There were some edges of resistance, people saying, 'What are you doing? You have to have a standard reel display.'"
To which Hodgson chimed in, "Not me!"
At first glance, Money Rain looks to be a standard video slot display with five reels, each three symbols deep. Symbols are color coded pastiches on U.S. currency—the $1 bill features George Washington and has a green border, the $2 bill has Thomas Jefferson and a blue border and so on.
One surprise comes in with winning combinations. Then, you get a smile from the presidents on the $1, $2, $5, $20 and $50 bills as well as from Alexander Hamilton on the $10 and Benjamin Franklin on the $100.
"On real dollar bills, the presidents look so unhappy," Ditton said. "When you have a win, Washington gives you a little smirk. Some players don't see it right away, but when they do see it, they love it. When have you ever seen George Washington smile?"
Something Different
Several differences in game play give Money Rain a unique, fun feel:
The reels don't spin, per se. Instead, it's as if each symbol is on a hinge, and the bottom of a new symbol becomes detached from the top of the old, and swings down to reveal top and bottom of the new symbol. That's the split flip display.
All symbols are scatter pays, rather than using paylines. You're simply looking for enough matching symbols anywhere on the screen, rather than forming paylines from left to right.
Off to the right of the main display, there's a bonus reel. When dollar sign symbols appear on the main reels, the side reel spins and lights up from one to four currency symbols, which then fly over to the main screen. If the side reel lands on the $100, then you'll see some extra Ben Franklins on the main game, creating extra big winners.
Three or more storm clouds symbols launch the Money Rain free spins bonus. Values are increased for winners, bills and gold coins rain down the screen, and you just might find yourself singing along, "Money rain, money rain, money rain."
It's a game chock full of entertainment, but one even Ditton wasn't certain would work.
"I didn't think there was a chance of making this a successful game," he said. "The math is too weird. It was created, I thought, like a movie. There are elements of music, elements of suspense. You don't know what's coming. It's like having a present, but not knowing what's in it, and then the game opens if for you."
Hodgson credits Ditton, saying, "Richard is good at analyzing what makes players happy. Money Rain is fun. It makes you laugh."
Figuring out what would please players in graphics, sound and game play is something Incredible has done since its beginnings in 1985—the company celebrated its 30th anniversary in June. It started off producing games for early home computers, such as the Commodore 64, then got involved in pinball through Stern Pinball and started on the path to coin-operated amusement games by developing video hardware for Capcom Bowling.
IT had its big breakthrough in 1989 with Golden Tee Golf, the most popular coin-op game of all time. A megahit in bars, restaurants and arcades, it also proved enormously popular online an in home game versions.
Golden Tee remains successful, but the coin-op market has long been declining, and that prompted IT's entry into casino games,
"Golden Tee has been sustaining even though coin op has been declining," Hodgson said. "In casinos, we were late to the party compared to some, but we were still having success in coin op. We started sending games out in 2010. We had a cool game in Crazy Money, but we had a lot to learn. Some games didn't do so well.
"Now through Richard, we have a good handle on the math. We already had the graphics, but the math was hard to learn. Richard is a mathematician by training."
Early Incredible games used a "Magic Touch" format, in which players could choose their game volatility. Basic gameplay and graphics would be the same, but you could touch the screen to choose "win often," "win steady" or "win big." Did you want frequent small winners? Fewer small pays but a better chance at a big jackpot? Something in between? You could choose your experience.
Right from the beginning, IT showed a willingness to play with the reels. Crazy Money features coin and currency symbols, but some of the currencies were aligned diagonally instead of horizontally, creating extra diagonal paylines. Cars was another attention grabber. Reels didn't spin top over bottom, as usual. Instead, car symbols formed traffic that moved from left to right—essentially a side-to-side reel spin, while you looked for matching cars, trucks and motorcycles to line up.
"Cars brought us a lot of interest," Hodgson said. "It had its day, but it wasn't long lasting. All Mixed Up did do fairly well. People came to the booth to see what we would do next."
Today, IT has branched out, with a variety of styles of play. That includes the high-denomination market, games with larger bets than the penny-per-line play that draws most of the action on casino floors. High denomination players generally demand higher volatility, games that emphasize gambling and big wins over entertainment value. There's now a high-denom version of Crazy Money to appeal to those players.
Adaptation has been part of the learning process that included finding math models that attract players. Do you win often enough to keep you interested? Do you have enough of a shot to win big? Do the bonus events keep you coming back? That's all in the math. So is the big question from the other side: Does the game make money for the casino.
"We realized players want different experiences," Ditton said. "Anybody will have a good time on any game if they win a lot of money. But when they don't win, we want them to say at the end of a session, 'I lost some money, but I had a good time.' It's like going to a movie. You pay your $20, but if had a good time, then the movie is successful."
There's something competitors can take away from the IT experience, too, beyond all the creativity and innovations in these games with a difference.
"They can see that a new company can jump over the hurdles and make a product that works," Hodgson said. "That casinos will embrace a new competitor in the mix, and that you can do interesting things that work, and not be afraid to take a risk."
And most important of all, Ditton said, is finding "what gives players a good time. A lot of games seem like work. We want them to have fun."