Misha Matorin details a life in the circus and beyond
By Tim Wassberg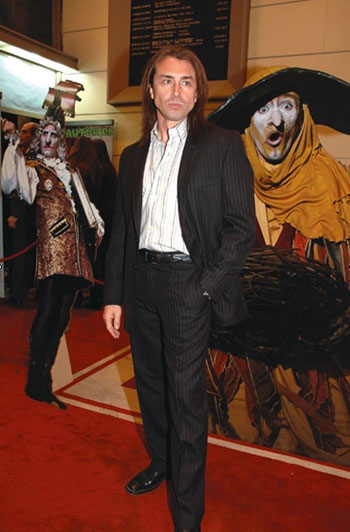 Misha Matorin knows a thing or two about the circus. Growing up in the Moscow Circus before progressing onto his own producing gigs and performances (and before ascending up to Cirque du Solei Alegria and later Mystere in Las Vegas) he both performed and taught the difficult cube act. The journey has taught him much. Currently President of Dreamcast Entertainment, having creating his own brand of cirque style shows that heighten the experience, Matorin brings his newest production Lunaro to the Beau Rivage Resort Casino in Biloxi, MS, a property he has worked with for years in continuous collaboration with MGM Resorts. Matorin spoke with Casino Player about the path, focus and the building of his legacy.
Casino Player: Where did the love or passion for doing these types of shows begin?
Misha Matorin: I grew up in a circus family so I had no choice. I wanted to be something else, be a firemen or policemen. There was no luck. Circus, that's it. So, at age 10, I was sent to the circus school in Moscow. Circus is in the blood. Everything circus. This transition to be a performer happened very smoothly, actually. The knowledge, and the fact that I've been around these people since age zero, it really helps and everybody pretty much knows me in this industry.
How do you decide what artists and skills you want to highlight in your shows?
We have worked with so many different circuses besides the Moscow Circus. We worked with the Mongolian Circus. And we work with most European circuses. It really helps to know what's in the market. And especially now, circuses in a lot of countries are struggling. They used to be state-supported, like the Chinese and Mongolian circuses… they were subsidized, and they flourished. And then, all of a sudden, there was this free economy. It became like a private enterprise. And it's really not that easy to find a good quality acts to be performing for MGM.
We have done several shows at Beau Rivage as well as at Gold Strike, which is also an MGM property. I performed with Cirque du Soleil starting in 1994. But just before that, I was producing a contract job for the Moscow Circus inTaiwan. I was going to retire anyway from performing when I got a call from Cirque. I'm like, "Wow. That's a good opportunity to retire with an amazing company." And I worked for five years and I toured with Alegría and then when Alegría was supposed to go to Japan, I really didn't want to go. I just told them, "Guys, I just want to retire. I'm done. I don't want to go. I want to go to Las Vegas." And then, all of a sudden, they just sent me a contract, and it's there in Treasure Island for Mystere." And I was very, very happy.
And since'96 I've been in Las Vegas. And then because I always wanted to produce, and I produced before, I was new here on the block. They knew me as an artist, but obviously not as a producer. So, I started just doing the corporate events in Vegas. And the corporate events at the time were really a hard thing. Companies spent lots of money on a big production, and not just DJs. There was a band and a show. So, I had amazing opportunities to work for these big companies like IBM and, with the budgets, I was able to really do what I wanted to do. To do the full-blown, real production shows. And it happened. But it was like one-night stands. You put lots of effort and do a very cool set-up, very fast.
But there had to be a spark point to make the leap…
Yes. So one day we had a corporate event in MGM Grand, in the ballroom, and one of the vice presidents of entertainment, happened to see this show, and he said, "Wow, I'm buying this." The first show that I did was called Balagan. And then we got a contract. We got very, very lucky. Extremely lucky. And since 2003 we've been doing shows at the Beau Rivage. I've produced nine shows there. But the theatrical circus that I did in the beginning… I didn't want to perform in a big top or at a big theater. I just wanted to perform in a real theatre.
With this contract at Beau, it really gave us the opportunity to clean things up and make it more presentable. More original music. Original choreography. Costumes. Everything. The concept of the show was very European. Very theatrical. And then we got so many offers. We toured with the show, with Balagan and Taganai in Spain two times. Bangkok. Kuala Lumpur. Hong Kong. It was a great time. It had flying acrobats and it had the storyline. And then with Beau Rivage, every year we're producing a new show for them. We decided instead of – you know, in the circus, it has a ring? We replaced the circus ring, and put seats in there, and we just had a stage. We did the shows on the stage and it was great. And now the cast's getting bigger. And with that, the audience there is growing. It has to be MGM quality. We're bringing amazing stars to the theater, so we really have to maintain the level of our production.
And with the current show Lunaro what's the approach? A homage to film?
So now, we're doing some characters, all beautiful costumes, but we're not tying this up with strict thought – but even now, it has a little bit of storyline going. With "Lunaro" I wouldn't say movie. It's not a movie, really. It's a character. It's like we have pirates and aliens…all of them come from books as well, before the movie. But also, we have a challenge that every Friday, we have to remove our show from the room and give it to the headliner. And some headliners are easy, like comedians. Great, just put the chair in. No bother. But like a big band they bring big production. So, we have to clear the ring. They set up the concert, and the next day, Saturday, we have to do two shows. So, we have to bring everything back, check everything and do the show. But the good thing is that we've been working on this for a while, so there is connection. Public relations, advertising, the whole casino, they really, really help. And I guess they really like us.
They really didn't get involved in the beginning and I basically did what I wanted. And that was a good thing for a long time, but then they started getting involved. They wanted to be a part to a certain degree. And it was fun actually to work closely. If you don't have support, if you don't have understanding of the team and relationship, it can turn into the nightmare for everybody. But the people there are absolutely amazing. Many of these people for many, many years [including the artists] they know – sometimes I don't even have to say anything. Like when we were doing rehearsal, I say, "Okay cast, great job. I love it! Let's do it again." And when people hear that speech, the crew goes, "Let's do it again." I feel it's such a team building process. They feel they belong to something, and we feel we belong to them too.
But creative is mostly on me. And if something is wanted… let's say two years ago, we had a show that was called Allusa, which is all USA. It was an election year, and I felt like we needed to do something patriotic. We did something that didn't really exist in the market, a patriotic show, and one that was not so corny. We were able to make this concept where we just said, "Okay let's just try to remind people what was great about, for the last, say like 70 years in this nation. Man on the moon, the disco era, even World War II," the things that our generation remembers, and can relate to. And it was well received.
It is very important to know your audience…
The audience, the demographics at Beau Rivage are very different from Las Vegas. It's mostly grown-up people. You don't see a lot of millennials there. But every show we do is a family event anyway because it's customer creation [in that] we're developing the customers. The first kids who came to my shows in 2003 now they have their own kids. They had fun. They remember that. So, they bring their own kids to see our show which is simply amazing. But it has to be different. First of all, we can't afford to bring in something goofy. It has to be in America's Got Talent or have gotten some medals and awards in international festivals. Every year you start scratching your head and say, "Okay. What am I going to do next?"
So, one act what we do in Lunaro – for example, people love Pirates of Caribbean – so I said, "Well, let's have pirates. Let's just do pirates." We have this cool crossbow act with dancers and we're shooting arrows – it's stylized. I would say that the acts are stylized in a way that somebody's going to remember the book. Every good book has some kind of mythology and we try to bring this kind of multi-culture to the stage because it's the power of the show. But what happens in Mississippi is slightly different. What works in Vegas is not going to work there and we know that. We listen to the crowd and when we approach the next year, we like to emphasize certain aspects. For example, this year, I said, "We have to bring female comedians." We never had a woman comedian. And this year, we found one. So, we always analyze what we've done and how we want to change.