Meet The 2015 WSOP Champ
Joe McKeehen Wins World Series of Poker Main Event
By J. Phillip Vogel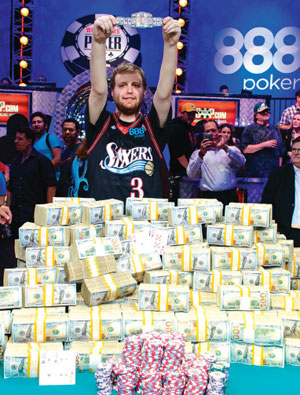 He's no ordinary Joe. Philly's Joe McKeehen, 24,became poker's world champion in November, leading wire to wire at the final table to capture his very first World Series of Poker (WSOP) gold bracelet and the top prize of $7,683,346. The chip leader as he began the final table, the North Wales, Pennsylvania resident managed to extend his lead during each of the three days of final table play, until he was the only player left.
From an event that began back on July 5 with 6,420 hopefuls—who each ponied-up the $10,000 entry fee and received 30,000 in starting tournament chips—McKeehen, wearing a Philadelphia 76ers jersey on the final day, similar to past winners, ultimately outlasted them all, capturing each of the 192,600,000 chips in play and claiming the multi-million dollar first place prize and the Josten's-crafted half-million dollar WSOP gold bracelet. The total prize pool up for grabs in the event was $60,355,857.
McKeehen used his chip stack throughout play to his advantage, putting fantastic pressure on his opponents time and time again. He ended play in July by knocking out the noted professional Daniel Negreanu in 11th place, and then proceeded to knock out the 10th, 9th, 8th, 7th, 4th, 3rd and 2nd place finishers on his way to poker's top crown. The runner up was 25-year-old Marlton, New Jersey resident Joshua Beckley. Beckley's terrific run finally ended, but he leaves with an impressive $4,470,896 for his efforts. McKeehen's A-10 bested Beckley's pocket fours, when a ten came on the flop, giving McKeehen a pair of tens—and Beckley couldn't improve on the turn or river card.
McKeehen, a well-respected poker pro, finished runner up in a WSOP event in 2014 for $820,863, and now has his signature breakthrough victory at the WSOP, joining the esteemed list of Main Event champions and WSOP gold bracelet winners. With the victory, McKeehen, despite his young age, has now won nearly $11 million playing poker for a living.
"I was just focused and I didn't want to get ahead of myself, I have been that way the whole tournament because it was working," said McKeehen shortly after the victory when asked about his calm demeanor throughout. "I feel pretty good now of course."
The 2015 WSOP attracted a record 103,512 players from 111 countries to its 68 events, generating a total prize pool of more than $210 million. For more information on the World Series of Poker visit www.wsop.com.