Making Sense Of The Madness Las Vegas
The wildest betting extravaganza of the year descends on Las Vegas
There is nothing in the universe to rival the manic intensity of March Madness. From sun-up to sundown, frenzied bettors are wagering and watching hoops, watching hoops and wagering. The betting menus are endless.
It seems like only yesterday that the Duke Blue Devils were celebrating another victorious March Madness title game, a 61-59 squeaker over the Butler Bulldogs. But on that day in 2010, while the Blue Devils were cutting down the net as their delirious fans went crazy—and Bulldog fans hung their heads—it was a different scene in Las Vegas.
Here it was the Butler supporters who were celebrating, as the 7 ½  point underdogs had easily covered for bettors. Meanwhile, those with tickets on the chalk ripped them up and cursed, having lost on another overhyped favorite.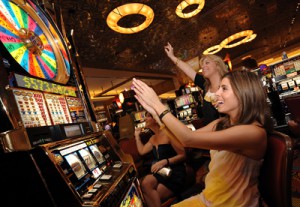 That was then, this is now. The most anticipated betting buffet of the year, the annual NCAA Men's Basketball Tournament, takes center stage this month. You can tell what's on tap as the city's bookmakers have a little more spring in their step, and Cheshire cat-like grins on their faces. They envision overflowing sports books, two-fisted betting and wall-to-wall action.
For some obscure reason, the NCAA is constantly tweaking the Big Dance. After raising the number of teams from 64 to 65, where it remained for the last 10 years, now it's going to 68 teams with four "play in" games before the tournament, the nominal first round.
But for the multitudes who descend upon Vegas to wager on the first and second rounds, Thursday through Sunday, March 17-20, there is nothing in the universe to rival the manic intensity of March Madness. From sun-up to sundown, frenzied bettors are wagering and watching hoops, watching hoops and wagering. The betting menus are endless—sides, totals, first half, second half, all manner of propositions, futures bets—all spaced among eight overlapping games played at four locations in the a.m., then starting over again in the p.m. That illustrates how the sheer amount of fast-paced action separates this tournament from any other sporting event.
As sports books overflow with all types of players, from the sharpest wise guys to the rankest squares, you'll hear lots of "inside" tips, well-intentioned advice and slam-dunk winners coming from hustlers and other self-anointed "experts." But unless you know and trust the source, it's best to ignore the chatter.
As Casino Player goes to press well before the seeds are announced, I cannot offer specific selections for this year's matchups. But I can provide some general pointers that should help you get more bang from your March Madness bankroll.
* Seek value. With the huge number of betting options posted, oddsmakers will inevitably make a few gaffes and simply overlook some things. For instance, you might have better insight into the severity of an injury on a team you follow closely than what is reflected in the line. If so, pounce! If you have a reliable method of rating teams, and the line on a game varies significantly from yours, go for it!
* Fade the public. Certain teams and coaches have a strong public following, regardless of their record or capabilities. Bookies force knee-jerk bettors to pay a premium to back their favorite team by inflating the line. Look for such overlays and bet against them. The public is right sometimes, but more often wrong.
* Motivation, yes; overconfidence, no. In the course of doing fundamental handicapping, look for situations in which a team is especially motivated—and bet on them. Conversely, seek out matchups in which a team takes the dog lightly. A graphic example of this occurred in this year's NFL Wild Card weekend. Defending Super Bowl champ New Orleans was a 10-point favorite on the road at Seattle. The Saints took the Seahawks lightly and were blown away 35-24.
* Look at halftime edges.When looking for chinks in the bookies' armor, halftime bets can give you a huge advantage. Being able to watch the game closely, and focus on which team really is stronger today, is a luxury the books don't enjoy. They're simply too busy. So, most halftime sides and totals are posted based on the closing numbers for the game. There will be times when the halftime lines are wildly off
The wildest betting extravaganza of the year descends on Las Vegas.