MADE MAN
Motivational speaker and former mafia capo narrates A Mob Story at the Plaza
by Tim Wassberg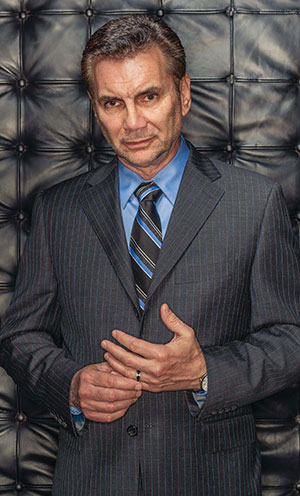 Michael Franzese is the real deal. Having been a capo or "made guy" in Colombo crime family in the 70s and 80s in NY, he has lived and lived again. Now distant from that life and touring the world as a motivational speaker, Franzese is now narrating and helping to create the show A Mob Story at The Plaza providing unparalleled authenticity to the telling of the mafia story of Las Vegas.
Casino Player: Can you talk about your involvement in wanting to tell this specific story, obviously because of your experience and background?
Michael Franzese:  Jeff Kutash, I had hired him back in 1984 as choreographer on a film that I was producing back then in Florida called Knights Of The City. So Jeff choreographed that, and one of his dancers that he brought to work in the film, I fell in love with, and happens to be my wife of 33 years. So Jeff introduced me to my wife.
After we finished the film, he said to me, "Mike, the music is so great, the dance is so great, I want to create a show out of this. I want to take it to Vegas." He said, "Do I have your blessing?" I said, "Sure. Go ahead." So, he takes it to the Riviera. Splash was actually born out of the choreography that he did in our film. And we maintained – unfortunately, I had a lot of issues in my own life back then. I ended up taking a plea and going to prison for 10 years on a racketeering case. But we stayed in contact, and when I got out, we maintained some level of contact.
And then about three years ago, he came to me and he says, "Mike, I want to get something going again in Vegas. What do you think if we do something mob related?" I said, "Sounds great." And we came up with the idea—and I got to give him the credit, it was mostly his creativity. He said, "Let's do something about Vegas. There's never been a story about The Mob in Vegas." And I said, "You're right. Let's do it." And I had a bit of a relationship with the Mob Museum at the time and I saw we were starting to gain traction. So I said, "This could really work." And we developed the story together over the past two and a half years.
Now looking at the actual Mafia story of Vegas, because you were mostly based in New York… you probably had a lot of integration with Atlantic City. Can you talk about how you saw the mob story of Vegas and how it needed to be told?
Actually, I started coming out to Vegas back in the late 70s and back then, I would come with a bunch of guys and the New York place was really The Dunes at that time. And I got friendly with Morris Shenker and knew Morris' history, and the fella that ran the casino then was a guy by the name of Bob Amira. So I started coming down to Vegas quite frequently and knew pretty much the history of it. I used to go to the Leaning Tower of Pizza (when it was there) and met a few of the guys. So, all of my personal knowledge and experience came from the 70s and 80s on. But obviously I knew the story and when you're in that life, you hear a lot of things and I knew how Vegas was born, obviously and who the main players were. I think my involvement in this show is really authenticity. To authenticate the fact that these guys were real and how this system goes. How it was born and what happens out of Cleveland and Chicago and New York. And we're integrating a little of my story in there.
I don't know if you know this but I've been a motivational speaker now for the past 20 years. I speak all over the world and I was amazed to find out just how intriguing my former life was to people all over the world. You don't realize it when you're a part of that life. It's just your life and you're doing your thing. I've been everywhere from Singapore to Australia and everywhere in between and the fascination with this life, and the fact that people can talk to somebody that was really a part of it, it's been a really successful journey for me. And hopefully we can take this to the stage. Because when people know that it's a "real guy" talking to them? And you know, I am that guy.  It means something. So that, coupled with the great job Jeff has done, I think it's brilliant in putting this show together. We hope we really have something.
When people think of the life and organized crime, they see the lifestyle but also the strategy, the leadership, and the very hard choices that need to be made. I think a lot of people admire that confidence and that goes into the motivational speaking as well.
I tell people all the time, we survived and prospered under some very difficult conditions for well over 100 years in America and the reason for that, in my opinion, is that we integrated every fabric of society from The White House right down to the guy on the street in the numbers business. And we were into business in a heavy way, we were into politics in a heavy way, we had a lot of political strength, and we just–there was a way about us that we knew how to work things like that in life. We were very disciplined, we were very structured. And the discipline and the structure and the authority, I think, is what held it all together for, at least, through the mid-80s, when I think things started to really collapse.
Was there a big difference for you in terms of Vegas versus Atlantic City since AC was closer to you in NY?
Well, you know, Atlantic City wasn't attractive to me, because if you go to Vegas, you're not going to want to be in Atlantic City, you know? I wasn't a gambler, myself. And the other thing is that, because it was Atlantic City, it's such a big concentration of us guys there. Everybody had their hand in the place, everybody was looking to be around there. And the only involvement I really had with Atlantic City was when we were going to unionize all the security guards, and I had a deal with Nicky Scarfo to do that. We never got it done because we both had problems at the time, but I kind of stayed away and shied away from Atlantic City. It wasn't attractive to me. I'd sooner get on a plane and come to Vegas, which I did quite often.
You weren't into gambling, but you obviously like entertainment and the entertainment business.
Yes. Absolutely. And listen, in a few-mile radius, to me, there's no better entertainment, no better hotels, no better gambling than there is in Vegas. And I haven't been to China, so I don't know what they have there, but I'm sure I'd still like Vegas better.
So with The Mob Story at The Plaza, will you actually be there for the show or just narrating via voice recording?
I'm going to be there [on site] narrating the show for at least a couple of months. I have a commitment to the hotel, and then we'll see how it goes from there. It's been extremely difficult for me because I have a pretty active speaking schedule, so we're trying to schedule things around my appearances. Right now, we're going to be on at least four nights a week and possibly five. We're really juggling it, but hopefully, my appearance can add to something there and then, hopefully, if the show does get off the ground, somebody could take my place and I can just enjoy it.
Can you talk about being at The Plaza and the reason it was the right place for this show?
I'll tell you this, we went to three different places, one of them being Steve Wynn, and I'm not going to mention the others. But they all wanted the show. Everybody was intrigued with it. At the end of the day I just thought The Plaza was the best fit. Number one I really, really like the ownership there. I mean I got very, very close with Jonathan Jossel and his whole crew. They're very supportive of the show. I think they're going to go all out to help us market it. The other thing that was attractive to me is the fact that the Mob Museum is three blocks away, and they're now attracting 1,000 to 1,500 people a day. We're in some kind of a co-marketing relationship with them. And it would be hard for me to believe that a good percentage of those people that are going to the Mob Museum would not want to come three blocks away and see our show. Oscar Goodman, who I've known for quite some time, is an ambassador to the show, and he loves it. So I think we're in the perfect spot.
Now, have you seen some of the rehearsals yet? I get the impression it will be told in dance and music?
Well yes. I mean we're telling the story obviously musically. And the music I think is fantastic. I'm going to lay something on you, you may laugh, but Jeff is getting up there in age, and when he said to me, "We're not going to have original music, but I'm going to select the music." I've got seven kids and they're into music, all of them." So I said, "Well let's see what Jeff brings us, because if this is going to be some old school Frank Sinatra thing, I think we're going to end up passing on it." But I've got to tell you, the music is fantastic. The kids love it. It's such an eclectic mix. We have 180-degree video screens, and we're going to be telling the story both projection-wise, and we've got an amazing set that we've put together with different scenes coming in and out. So we're telling the story in a lot of different ways.
Tell us about people's continued connection to you over the years?
Well, I found out transparency in life is very important. Audiences are not stupid. People that probably come into that room will have not so great thoughts about me and I don't blame them. Listen. They know the life that I've led but I'm very transparent. I speak from the heart and it's been fortunate that I can connect with a lot of people. I did lead that life but I also have a family. I also have issues with my family like everybody else and we talk about all these things. And for me, I tell people straight up, "Listen. I should be dead or in prison for the rest of my life." That's what I earned having spent 20 years on the street every day in violation of both God's laws and the laws of man. I mean, there's no way to sugarcoat it. It's who I was. And I may not have been the worst guy there because I told people all the time, "Look.T here's times when I was told to do things that I was uncomfortable doing. It wasn't something that I enjoyed but I did it anyway" You probably know I'm a person of strong faith. I think God had a different purpose for my life. And there's got to be a reason why I'm still here. I mean, I don't have to sell my former associates short—they were pretty upset with me—because you don't walk away from that life. But for some reason, here I am 20-somewhat years later and still alive to talk about it.
Can you sort of talk about heart and family and the importance of that in the entertainment business where it is cut throat and that kind of loyalty is important?
I think it's important. My family is totally involved in this. My wife, my daughter, my son is managing the show. I have another daughter doing the accounting on it. It is a family affair in that sense for me. And it's strange—I'll tell you a story. When I was a kid, my father was in prison and my mother—I sort of was the dad to my three younger brothers and sisters because I was the oldest. And one day she tells me, "I want you to take the kids and see The Sound of Music. I was young and I said, "Ma, I don't want to see a musical. I'm not into that?' She said, "No, you're going to take them. "And I listened to her. I went to see The Sound of Music and I came out of there… and until today, it was the greatest movie I ever saw in my life. I just loved it. And from that point on, I love musicals. So this thing is not only a business deal for me. It's a labor of love. So we love it and my family loves it. They're all involved in it. And yeah, I think things are going to come through.