Luxor Hotel and Casino Scores Touchdown with New Residency: The Terry Bradshaw Show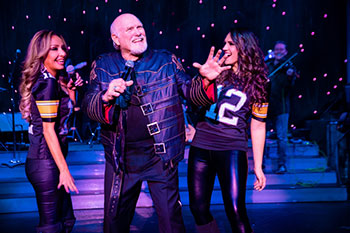 Following his celebrated shows in Las Vegas and Atlantic City in 2019, The Terry Bradshaw Show will kick off a residency at Luxor Hotel and Casino in March.
The man behind it all, NFL legend and iconic entertainer, Terry Bradshaw, chronicles his life through the musical, comedy, and storytelling production. The residency is set to debut inside the Atrium Showroom at Luxor on Thurs., March 19, with all shows scheduled to begin at 7:30 p.m.
In the production, Bradshaw entertains the crowd with his dynamic singing ability, endearing personality and charisma in a 70-minute show that recounts his life's journey. The production showcases Bradshaw's vocal talents, award-winning storytelling style and the same straight-shooting humor that has made Bradshaw an all-time favorite as an Emmy Award-winning co-host and analyst on FOX NFL Sunday.
The talented team behind The Terry Bradshaw Show includes musical direction by Smokin' Joe Escriba. The show was written by Jon Macks with original songs by David Goldsmith and John Kavanaugh. Development and production of the show was provided by Anita Mann Productions, with continued production by Bradshaw Enterprises II.
Upcoming Shows include:
March 19, 20, 21, 22 & 29
April 5, 19, 20 & 21
May 3, 10, 13, 14, 15, 16, 17, 24 & 31
June 3, 4, 14, 21 & 28
July 5, 8, 9, 10, 11, 19 & 26
Tickets for all performances are on sale with prices starting at $65.99
(not including applicable taxes and fees). VIP tickets are priced at $249.99 (not including taxes and applicable fees) and include premier seating plus a meet-and-greet and photo opportunity with Bradshaw following the show. Tickets may be purchased at the Luxor box office, online at mgmresorts.com/luxor or by calling 702.262.4400.