Our 13th Annual Guide to the Best Slot Paybacks in the Nation
by Frank Legato
It has been a dozen years since Casino Player first gave recognition to the casinos that had shown themselves to be the most generous in the nation. It was 1994 when the magazine first issued awards to the casinos with the "loosest slots."
Welcome to the 13th edition of our annual "Loosest Slots" awards. This is where we tell you the casinos and regions in North America that have, for the past year, given their players back the highest percentage of the money put into their slot machines.
As we do every year, we first mark the occasion with the story of how the awards—and the concept of "loose slots"—got started. Players, in fact, began referring to slots as "loose" or "tight" in response to information first published by Player. Shortly after the magazine published its first issue in 1988, our editors decided to take the information publicly reported by regulatory agencies (only two at the time, in Nevada and New Jersey) on slot "hold" or "win"—the percentage of slot wagers kept by the casino as profit—and presenting it in a way that would be useful to slot players.
CP took the reported hold percentages and reversed them to show the "payback percentage"—the percentage of slot wagers returned to the players in jackpots. The regulatory agencies reported the information to the public every month, so we began publishing monthly charts showing slot payback in Nevada and Atlantic City. The charts grew as the industry grew, to include every new riverboat and Native American jurisdiction as their payback numbers became public.
Before long, players were referring to casinos with low slot paybacks as "tight." Generous casinos inevitably became known as having "loose slots."
It didn't take long for the casinos to get over their initial misgivings about having their generosity logged by a magazine, and to start considering "loose" as a potential marketing hook. Billboards began to herald "loose slots" as something to differentiate one casino from another.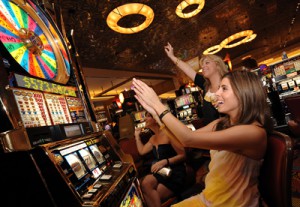 And, when Player began tallying up each year's actual payback numbers for annual "Loosest Slots" awards, the awards themselves became badges of honor, to be shouted from billboards and advertisements.
Annual calculations of the loosest slots by casino and jurisdiction are recognized as a much better gauge of casino payback policy than examining the charts from any single month. It takes several months for slots on the floors to reach payback numbers similar to their theoretical settings. One month's actual numbers will often reveal short-term aberrations—such as a single-month percentage exceeding 100 percent, for instance, if there happened to be several large jackpots.
Four or five months offer a much more accurate picture of slot payback, and a year's worth of actual numbers gives a fairly accurate picture of a casino's payback policy.
The numbers you find in the following pages will show you where the loosest slots are in 2006, based on the percentage numbers reported over the past 12 months. Before we give you this year's highlights, there are questions that our readers always ask concerning this subject which we feel should be addressed up front.
First, a word on the nature of payback percentage: It is a long-term number that does not reflect the odds of any one player of winning or losing in the short term. A 100 percent payback percentage does not mean you win every time. It means that, over time, that machine will return as much in jackpots as it takes in wagers. The flip of a coin is 100 percent payback. Over time, it will come up heads as many times as it comes up tails.
Next, the percentage numbers reflect both regular slot and video poker percentages. The casinos are not required to separate video poker percentages from slot percentages in their reports to the state regulators, so this is viewed as proprietary information. However, as our video poker experts have reported time and again, the casinos with the highest overall percentages are almost always the same casinos with the highest-returning video poker pay tables.
Nevada and a few other jurisdictions publicly report their percentages by region rather than individual casino. In the case of Nevada, the sheer number of casinos makes individual casino listings impractical, so the state breaks the numbers into regions including Reno/Tahoe in the north, and six sub-regions of Clark County in the south—Las Vegas Strip, Downtown, Boulder Strip, Laughlin, North Las Vegas, and Balance of County.
Next, it is possible that the jurisdiction in which you play is not included in the listings—particularly if the casinos you frequent are Native American casinos. Not all casinos are required to report their hold percentages publicly, and if they are not required to make those numbers public, the casinos view the percentages as proprietary information, and will not reveal them to us or anyone else.
Finally, no, pennies are not yet broken out in our payback percentage charts. The penny phenomenon hit the slot business so quickly that the regulatory agencies have not yet caught up. Though they are probably played by at least as many players as choose the nickel denomination, the agencies have not yet broken their payback numbers out of the "Other" category that includes dimes, half-dollars and two-cent denominations. We can only report and analyze what is made public. When penny numbers are made public, you will have them.
A New Day
So who gets the crown as having the loosest slots in 2006? Not who you may think. This year's survey reveals some firsts.
For the first time in more than a decade, our survey shows that the loosest slots in America are not in Nevada, and that the loosest slots in Nevada are not in Clark County.
For years, we have been reporting the loosest slots in the nation can be found in the locals casinos surrounding Las Vegas—in the northeast suburbs ("North Las Vegas" on the charts), along the Boulder Strip, and in other off-Strip areas of Clark County.
A survey of percentages for the past 12 months shows that the loosest slots in the nation are in Illinois, at the Casino Queen riverboat casino in East St. Louis. Casino Queen has been in the Top 3 in our survey before. This year, the riverboat casino hotel beats them all, returning 95.13 percent of all slot wagers to players in jackpots over the past 12 months.
Casino Queen was the only place in the nation to record overall slot payback percentage for the year that exceeded 95 percent. Congratulations to these folks for giving more back to players than anyone else.
No. 2 on our Loosest Slots list was in Nevada, but not in the Las Vegas Valley. This year, the second-loosest slots in the nation—and the loosest in Nevada—are in the Reno/Tahoe area, with 94.96 percent of wagers returned to players. That was enough for Reno to squeak by our third-place finisher nationwide, the Boulder Strip—the group of properties along Boulder Highway in southeast Las Vegas that includes Sam's Town, Boulder Station and Arizona Charlie's Boulder.
There were few surprises elsewhere in our survey this year. In Atlantic City, Borgata turns in the highest payback again—the third Loosest Slots award in the resort's three years of existence—returning 92.51 percent of wagers. Close behind were Trump Plaza at 92.25 percent and Trump Taj Mahal at 92.15 percent.
Everywhere else, there were repeat winners: President in Missouri; New Orleans in Louisiana; Cripple Creek in Colorado; Mohegan Sun in Connecticut; Casino Queen in Illinois; Argosy in Indiana; the Gulf Coast in Mississippi; Prairie Meadows in Iowa; and Lac-Leamy in Quebec.
A few tidbits within the numbers: Although failing for the second year in a row to reach our top three (after six years as Number One), North Las Vegas does have the loosest dollar slots in the nation, returning a hefty 96.49 percent of wagers to players last year. The highest annual payback number on our chart was 97.25 percent, returned by $5 slots at the Lakeside Casino Resort in Iowa. The "lowest loosest" number was 89.22 percent, returned by nickel slots at Foxwoods.
As always, our Loosest Slots results are certified by the Ventnor, NJ, accounting firm Rimm, Lavinsky, Horowitz and Pollard LLC.
To all of our Loosest Slots winners, congratulations from Casino Player. You have proven you know how to give slot players a fair shake.
Atlantic City
5¢
Borgata 90.74
Trump Marina 90.33
Trump Taj Mahal 89.93
25¢
Harrah's 92.63
AC Hilton 92.19
Showboat 92.18
50¢
Harrah's 94.15
Trump Plaza 93.02
Trump Marina 92.40
$1
Trump Taj Mahal 93.98
Trump Marina 93.35
Bally's Park Place 93.23
$5
Trump Plaza 95.77
Trump Taj Mahal 95.15
AC Hilton 94.80
Overall
Borgata 92.51
Trump Plaza 92.25
Trump Taj Mahal 92.14
Connecticut
5¢
Foxwoods 89.22
Mohegan Sun 89.20
25¢
Foxwoods 91.00
Mohegan Sun 90.21
$1
Foxwoods 92.44
Mohegan Sun 92.13
$5
Foxwoods 94.34
Mohegan Sun 93.76
Overall
Mohegan Sun 91.48
Foxwoods 91.46
Colorado
5¢
Cripple Creek 93.54
Black Hawk 93.16
Central City 92.84
25¢
Black Hawk 94.99
Cripple Creek 94.99
Central City 94.64
$1
Central City 95.53
Cripple Creek 95.30
Black Hawk 95.27
$5
Black Hawk 95.83
Cripple Creek 95.46
Central City 94.53
Overall
Cripple Creek 94.29
Black Hawk 94.15
Central City 94.04
Illinois
5¢
Casino Queen 93.18
Alton Belle 92.72
Jumer's Casino 92.31
25 Cent
Alton Belle 95.03
Casino Queen 95.02
Jumer's Casino 94.94
$1
Casino Queen 96.25
Alton Belle 95.39
Harrah's Joliet 95.29
$5
Alton Belle 97.14
Casino Queen 96.94
Empress Joliet 95.81
Overall
Casino Queen 95.13
Alton Belle 94.11
Grand Victoria 93.83
Indiana
5¢
Caesars 90.47
Belterra 90.24
Argosy 90.17
25¢
Trump 93.64
Belterra 93.42
Caesars 93.32
$1
Argosy 94.70
Trump 94.58
Majestic Star 93.95
$5
Argosy 96.55
Trump 96.36
Caesars 95.40
Overall
Argosy 93.32
Caesars 92.53
Belterra 92.44
Iowa
5¢
Mississippi Belle 2 93.00
Diamond Jo 92.29
Prairie Meadows 92.06
25¢
Diamond Jo 94.48
Isle of Capri Bettendorf 94.29
Mississippi Belle 2 94.07
$1
Prairie Meadows 95.76
Argosy of Sioux City 95.58
Rhythm City 95.28
$5
Lakeside 97.25
Argosy of Sioux City 96.45
Isle of Capri Marquette 96.25
Overall
Prairie Meadows 93.69
Diamond Jo 93.20
Dubuque Greyhound
Park & Casino 93.08
Louisiana
5¢
New Orleans 91.24
Baton Rouge 91.07
Shreveport/Bossier 90.03
25¢
New Orleans 93.03
Baton Rouge 93.03
Lake Charles 91.99
$1
New Orleans 94.66
Baton Rouge 94.22
Shreveport/Bossier 93.76
$5
New Orleans 95.83
Baton Rouge 95.25
Shreveport/Bossier 93.78
Overall
New Orleans 92.78
Shreveport/Bossier 92.40
Baton Rouge 92.25
Mississippi
5¢
Coastal Region 92.23
South River Region 91.76
North River Region 90.38
25¢
Coastal Region 94.34
South River Region 93.39
North River Region 92.76
$1
South River Region 95.70
Coastal Region 95.23
North River Region 95.20
$5
North River Region 95.94
South River Region 95.80
Coastal Region 95.69
Overall
Coastal Region 93.76
North River Region 93.33
South River Region 93.15
Missouri
5¢
Harrah's N. KC 92.22
Ameristar St Charles 91.44
Mark Twain 91.29
25¢
Isle of Capri KC 93.98
President 93.88
Argosy Riverside 93.75
$1
President 95.63
Argosy Riverside 95.63
Isle of Capri KC 94.85
$5
Argosy Riverside 97.23
President 96.63
Isle of Capri KC 96.36
Overall
President 93.25
Isle of Capri KC 92.63
Argosy Riverside 92.62
Nevada
5¢
Mesquite 93.81
Boulder Strip 93.50
North Las Vegas 93.15
25¢
Boulder Strip 96.32
North Las Vegas 96.24
Balance of County 95.08
$1
North Las Vegas 96.49
Boulder Strip 96.17
Reno 95.84
$5
Laughlin 96.31
Balance of County 96.25
Reno 96.01
Overall
Reno 94.96
Boulder Strip 94.95
Balance of County 94.91
Quebec
5¢
Charlevoix 91.41
Lac-Leamy 90.78
Montreal 90.70
25¢
Montreal 91.59
Lac-Leamy 91.57
Charlevoix 91.08
$1
Lac-Leamy 94.38
Montreal 93.78
Charlevoix 93.52
$5
Lac-Leamy 95.23
Montreal 94.85
Charlevoix 94.24
Overall
Lac-Leamy 92.76
Montreal 92.57
Charlevoix 92.3
Loosest Slots.