Loosest Slots in the Southwest
Strictly Slots certifies loose slots at Desert Diamond Casinos
By Karrie L. Zukowski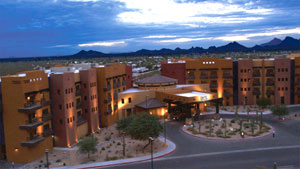 Desert Diamond Casinos & Entertainment has long taken pride in being one of the premiere gambling and entertainment destinations in the southwest. With three locations in Southern Arizona (Tucson, Sahuarita, and Why) and having recently celebrated its 30th anniversary, this Tohono O'odham Gaming Enterprise operation has for decades assisted the Tohono O'odham Nation, investing in the future of its people and all of Arizona.
Now Desert Diamond and the Tohono O'odham Nation have something else to celebrate:  It is the only casino in Arizona to earn Strictly Slots magazine's prestigious "Certified Loose Slots" program.  "Players—especially our readers— are savvy about the games they play, and how they use their bankroll" said Strictly Slots Editor J. Phillip Vogel. "They know how slots work—intimately. And in today's climate, when for many, finances are tight, they are looking for the very best deals. We're proud to work with casinos like Desert Diamond that go above and beyond to offer their players the most for their gambling budget. By certifying their slots through our program, they are making a clear statement to players. And slot players know, if we certify the machines, they can trust the advertised payouts. "
This month, Strictly Slots verified paybacks on nearly 70 different slots and video poker games located throughout the Desert Diamond Casino. Double-checking information provided by Don Ayers, Director of Slots at Desert Diamond, with both on-the-floor machine data as well as through the various slot manufacturers involved, we were able to certify that the long- term payback of these games met the criteria of the Strictly Slots' Loose Slots Certification Program. "Certifying these machines is a detailed procedure," added Vogel. "If we weren't absolutely certain the data is correct, we would never give our seal of approval."
Knowledgeable players can often figure out the game's payback just by looking at the payout schedule—such as with games like video poker. But when a casino uses Strictly Slots to certify its slot machines, they are making a conscious effort to give information directly to their players that they would not be able to obtain from any other source. "There are a lot of myths out there about loose slots," said Ayers. "By having Strictly Slots come in and independently assess the probability of winning here, we wanted to end the confusion once and for all. I believe the certification speaks for itself and leaves no doubt that Desert Diamond Casinos is the place to play for slots."
Among the machines certified as loose were: Triple Bonanza Progressive, Double Diamond, Triple Diamonds, Four Times Diamonds, Triple Red Hot 7's, Mystic Lamp, Triple Star, Tabasco and Silver Stars, Sizzling 7, Multi Game Poker, Jacks or Better, and Super Times Pay Poker to name a few. The denominations included ranged from 1 cent to $5.  "It's easy to spot these Certified Loose machines," said Vogel. "As per Strictly Slots' specifications, all certified games must be clearly identified via signage. If you see Strictly Slots' name on a game, you can trust we have checked it out for you, and it has met our high standards."
The Loose Slots Certification Program was created by Strictly Slots magazine several years ago to provide casinos with a competent third-party verification method regarding slot playbacks. "The certification program is very special to us," said Glenn Fine, CEO and Publisher at Casino Player Publishing. "For fifteen years, Strictly Slots has been committed to arming players with the most detailed strategies and tips to maximize their gaming experiences, and our writers search across the country to report on the casinos that offer their customers the best promotions, amenities, and, of course, opportunities to win. We're thrilled to include Desert Diamond Casino among the elite group of properties that are willing to back up their claims of loose slots with verified facts."
In addition to having "Certified Loose Slots," Desert Diamond Casinos always has the newest machines as well. In fact, they are usually the first to have the latest titles such as Moby Dick, Wild Wild Gems, Willy Wonka and the Chocolate Factory, Lord of the Rings: Return of the King, Plinko and The Wizard of Oz: Haunted Forest.
Beyond The Slots
Desert Diamond Casino (located at 7350 South Nogales Highway) not only offers loose slots, but 148 rooms including 11 suites, with luxurious, quality amenities and warm personalized service.  All rooms are non-smoking and attractively decorated with contemporary décor with furnishings and textiles in Tucson desert palettes of beige, sand, ivory and black.  The spacious and comfortable accommodations offer a complete array of modern amenities including double pillow top mattress with premium linens, 46" HDTV with cable and movies on-demand, large work desk, complimentary wireless internet access, hardwired data port, dual line speaker phone, voicemail, in room safe, refrigerator, coffee maker and more.
Desert Diamond features more than 1,800 gaming machines and around-the-clock blackjack and poker tables that include Texas hold'em and Omaha hi/lo split.  They also have a 300-seat bingo hall with high-stakes bingo and daily keno drawings, for the bingo and keno enthusiasts.
For a great meal, there are multiple options to choose from.  The Steak House is a classic chop-house-style dining experience with everything for bone-in rib eye to coconut panko colossal shrimp.  The Diamond Buffet offers variety at a fare price with special buffets like Sunday Brunch and Seafood Dinner buffets.  And for quick bites, the food court features the newest dining experience, Classico Pizza, and The Diamond Grill.  Serving loaded pizzas, soups, salads and sandwiches so quickly you won't miss a moment of the fun.
To keep the excitement alive, there are dance parties and live shows with big name entertainers at Monsoon Nightclub.  To slow things down a bit, there are two relaxing, intimate lounges right on the gaming floor. Great places to stop in for a drink, watch the game, or discuss your winning strategies with friends.
And to commemorate the Desert Diamond experience with a one-of-a-kind souvenir, the Desert Diamond Casino Gift Shop offers the latest in jewelry, purses and accessories, matching all tastes and styles, plus a large assortment of souvenirs, sundries and gift cards.
The Righteous Brothers' Bill Medley Live in the Diamond Center
Acclaimed singer/songwriter Bill Medley of the Righteous Brothers is coming to the Diamond Center Tucson, Arizona for a special concert on Saturday, June 7, 2014.  Bill Medley is a seminal figure in the history of American music. He is perhaps best known as half of the unmistakable duo, The Righteous Brothers, with Bobby Hatfield. Their raw emotional rhythm and blues sound essentially created the genre "blue-eyed soul."  In the mid-1960s, the Righteous Brothers became a fixture on Top Forty radio with hits like "You've Lost That Lovin' Feelin," "Just Once in My Life," "Unchained Melody," and "(You're My) Soul and Inspiration," creating an ultra-dramatic take on Sixties pop romance.
The partnership of Medley and Hatfield lasted four decades, though Medley explored his solo options apart from the duo on occasion. On March 10, 2003, The Righteous Brothers were inducted into the Rock and Roll Hall of Fame. The induction came just months before Bobby Hatfield's unexpected death. After a period of mourning, Medley made the decision to continue touring as a solo artist. Medley shows no signs of slowing down anytime soon, keeping to a rigorous tour schedule so he may share his love of music night after night with all of his loyal fans.
Tickets start at $20 and go on sale to the general public April 19 at 10 a.m. Arizona Time through Star Tickets. Tickets are also available at the casino Rewards Center, which offers a 10 percent discount to Diamond Rewards members.  Active, retired or veterans of the military who have the casino Tribute Card also receive 50 percent off a pair of tickets, offer only available at the Rewards Center.  Doors open at 3 p.m. and the show starts at 4 p.m. All seats are reserved.