LOOK FOR THE EXTRAS
Slot makers copy each other on the trendy bonus features, but the best add a unique touch that defines a game
By Frank Legato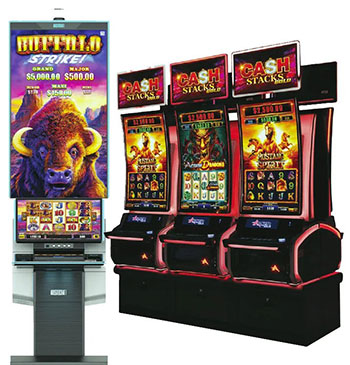 In the business of developing slot machines, imitation has always been a sincere form of flattery. Put another way, it is a normal occurrence that once a slot-maker comes up with a smash-hit play feature, other slot manufacturers will come up with their own versions of that same play style.
Take the hold-and-respin feature. It was first invented by Scott Olive, the star game developer for Aristocrat in the early 2000s whose HRG Studios now makes games exclusively for Aristocrat. Aristocrat's "Hold & Spin" feature, which holds cash symbols in place and continues free spins as long as cash symbols land, first appeared in the Aristocrat smash hit Lightning Link.
That was nine years ago. Since then, every single slot manufacturer has introduced its own version of the hold-and-respin feature.
Slot-makers copy game mechanics and style all the time. But the best of them infuse a recognized game feature with something that makes it unique to that game.
That same Aristocrat Gaming is one of those slot-makers, and more often than not, it's one of Aristocrat's own familiar features that is being infused with new life. As in Buffalo Strike!, the latest game in that legendary Aristocrat video-slot franchise. The game has the essentials that fans have come to expect from a Buffalo title— namely, "Stampedes"—where buffaloes run across the screen and dish out credits and wilds and multipliers. This game has three different Stampede events, in fact.
But what makes this latest version of Buffalo unique lies in the two free-game features. Accumulating buffalo symbols on the reels in the free spins earns more reel sets—up to four, with all those Stampedes and wins on four screens at once. An indicator on the screen logs how many more buffaloes are needed to unlock the next reel matrix. The remainder of the free games play out on all unlocked screens, results on each contributing to the overall bonus.
The "Super Free Games" bonus starts with all four reel sets active.
Other trending bonus styles are just beginning to see unique presentations. One such game is Incredible Technologies' Power Push Jin Gou. There have previously been two games—one for standard casino play and one for Class II slot machines—that have used the bonus round to simulate the mechanical coin-push machines familiar from carnival midways and, a few decades ago, in casinos.
But IT's new Power Push turns this into a spectacle with its unique PrismVXP cabinet. That's the one with the huge moving portrait monitor behind the 27-inch main screen. Central to the Power Push game is that large screen, which raises into place thanks to an electric motor. High-resolution graphics and color depict a platform filled with gold coins, and when game actions and bonus events cause coins to fall on that platform, the game employs a simulation of actual physics to show the pile disturbed to release another coin to the player, representing a credit award. It makes for a unique—and exciting—bonus event.
Finally, there are some slot-makers who are redefining the hold-and-respin bonus itself. As with the new Ainsworth slot series Ca$h Stacks. Ainsworth's Hold 'N Stack feature is different than others in that there is no reset of the number of free games. (For instance, a free-spin meter returns to three when each cash symbol lands.) Ainsworth's version of the hold-and-respin awards additional free games as it proceeds, and can continue for much longer than others, as frequent cash-on-reels symbols land and lock.
The Ca$h Stacks game—there are two base games; Ca$h Stacks Mustang Spirit to be followed by Action Dragons—adds four jackpots into the mix, awarded by locking in a stack of cash-on-reels symbols. Values displayed at the top of each reel increase with every spin. Landing a stack— coins on all symbols on a reel—locks in the award at the top, and the player keeps spinning until no symbols land for the remainder of the spins, or all 15 reel spots display coins. The values underneath each coin are revealed at the end of the feature, and are added to the value on top of each stacked reel.
The feature begins with five free spins, but extra spins can be awarded throughout the bonus. When three of five reels achieve stacks, the top Major and Grand jackpots appear over the remaining two. When the Major is secured, the remaining reel is topped by the Grand, awarded with all reel spots displaying coins. In the higher-denomination versions of this game— there are $1 and $2 selections—those top two awards are $10,000 and $15,000, respectively.
Playing this game when that feature lands, you're cheering for stacks, timed to maximize the awards, and you're watching for those ultimate jackpot stacks. As with the other games, it has that twist that makes it unique.
It may be a hold-and-spin feature—or a coinpusher or a buffalo stampede—but the best games take that popular feature and make it their own. That's what makes slot play fun.