Let's Spin
Gaming Arts takes the bonus wheel to the next level
By Frank Legato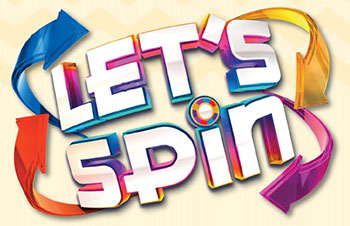 It's been scarcely three years since Las Vegas-based Gaming Arts, a long-successful bingo supplier, began selling casino slot machines. Since then, however, the quality of the games has been apparent as the company has progressed through different slot styles and genres.
That's because of the people brought in by company founder David Colvin and CEO Mike Dreitzer. The team developing the company's slots is headed by Keith Kruczynski, who was a longtime game development director for the former Bally Technologies; and Jean Venneman, a respected slot veteran who led development efforts at both IGT and Scientific Games.
Kruczynski, who is vice president of game development and design at Gaming Arts, says that from the start, the focus has been on creating games that not only have good play and win potential, but games that are fun.
And fun is what the games definitely have been, from the original "Pop'N Pays" series to the hilarious Hamster Libre, to a parade of other unique titles.
That Hamster game—you guessed it, there are hamster characters running to spin a wheel—joined the persistent-feature Inferno Wheel as Gaming Arts' early games to feature a wheel-spinning bonus. This year, the wheel game rises to new heights with Let's Spin, a new game series that represents, as much as anything does, Gaming Arts' maturation as a slot supplier.
For one, it's the first game series on Gaming Arts' new VertX Grand cabinet, the manufacturer's first portrait-style, single-screen cabinet. It's a beautiful, ultra-modern cabinet that features a 49-inch vertical monitor beaming out ultra-bright, high-definition 4K graphics for a striking presentation. It's built for comfort, with button panels, a cellphone charger and twin play buttons strategically placed.
"We're very excited to be launching our first portrait cabinet and 49-inch ultra-bright LCD monitor," says Venneman, who is chief commercial officer of Gaming Arts. "It highlights all of our wonderful graphics incredibly well."
Most of all, the cabinet offers a play experience that makes the most of its two inaugural games, Let's Spin and Let's Spin Vegas. Both offer a new kind of wheel experience, the latter wrapped in a classic Sin City theme. "This is different," says Venneman, who knows a thing or two about wheel games—she led development of the original Wheel of Fortune while at IGT in the mid-1990s. "This is a concentric wheel, and it cascades as the feature is associated with the reels below."
Multipliers Upon Multipliers
Let's Spin is definitely not your average wheel game. The base game is a five-reel, 243-ways-to-win game, which Kruczynski says he favors because the wins—triggered by adjacent symbols, with no pay lines—are easy for players to understand, immediately. "We have some line games out there, but we tend to gravitate toward the ways design," he says. "That's been our focus, because one of the most frustrating things when I first got into the industry was not knowing how you won when there are [multiple] pay lines."
This particular setup offers 243 possible ways to win on each spin. "I like the player to be able to understand it," says Kruczynski. "If you design a game the right way, players can pick up on what's important really quickly."
The reel symbols are classic—cherries, 7s, card suits and fruit symbols, with icons such as dice and slot machines added in the Vegas version.
On top of the reel set are four concentric wheels, each with slices showing multipliers from 1X to 5X, plus icons representing four levels of progressive jackpot— a Mini, a Minor, a Major and a Mega, the top prize resetting at 100,000 credits times the denomination—$1,000 on the penny version of the game. The jackpot values go up as more wheels are activated. (The Mini is available on the first wheel, the Mega on the second, the Major on the third, and the game's top jackpot on the outermost wheel.)
The wheel is triggered frequently, by a simple combination on the reels—a "Let's" symbol on the first reel and "Spin" symbols on the second through fifth reels. When a player hits "Let's" on the first reel and "Spin" on the second, it activates the first concentric multiplier wheel. If that first symbol is landed and "Spin" symbols land on reels other than the second, those symbols stick on the screen for three spins, giving the player extra chances to land multiple wheel spins.
The "Let's" symbol on the first reel displays a credit amount. Up to four "Spin" symbols on adjacent reels cause the corresponding wheels to spin, and multiplier symbols that land are multiplied together and applied to the credit amount. For instance, a 300-credit "Let's" symbol with wheel multipliers of 3X, 2X and 5X would yield a bonus of 9,000 credits— three times two times five, for a 30X prize.
According to Kruczynski, the frequency of the wheel spins is jacked up in the free-spin bonus, in which three bonus symbols trigger 14 free games (the feature can be retriggered within the free spins). "In the free games, it's actually pretty frequent that you trigger all four of the wheels," he says. "And the multipliers are multiplying each other."
Let's Spin was tested by the entire Gaming Arts team, from engineers all the way up to founder and CEO Colvin, Kruczynski says. "Some had family members come in and play to provide feedback, and that's been outstanding."
Kruczynski says the best part of Let's Spin is the anticipation. "With that giant wheel, and it being easy to understand how you trigger it, there is excitement and anticipation with that persistent feature," he says. "Once you have the 'Let's' symbol, the 'Spin' symbols stay on the screen for three spins, so the player sees that only one more symbol on reel 2 will really knock it out of the park."
According to Venneman, Let's Spin debuts August 5 at the Colusa Casino Resort in Northern California, followed closely by the Pechanga Resort Casino near San Diego. It was pending final approval in Nevada at press time.
However, there is much more to come from Gaming Arts' new offerings.
The Pub Series
Let's Spin and Let's Spin Vegas are only the beginning for Gaming Arts' new VertX Grand cabinet. Right behind those games are what is called the "Pub Series," a fun group of games themed according to styles of pubs around the world.
First up will be Kaleigh's Pub, celebrating the Irish bar; and Anastasia's Tavern, with a Russian vodka theme. Then will come Isabella's Tequileria, with the Mexican tequila vibe, and Sophia's Cellar, depicting an Italian wine bar.
Each game includes clever features centered around the main character, who does things like filling up your glass for four spins in a persistent wild feature. Shot glasses pop up to award multipliers.
Kruczynski says his inspiration for this series came from his Bally days, when the game Heidi's Beerhaus was one of his favorite creations. "One of my best memories was of walking around the casinos when Heidi's Beerhaus came out. As soon as you got that music playing, people really gravitated towards that. And it got me thinking, there are not enough slot machines that celebrate being at a bar, because drinking and gambling go hand in hand."
All of the title characters in the Pub Series are fun, and the game designers even had fun creating them—they are based on Gaming Arts team members. ("Sophia," in fact, is based on Venneman.) "We had an opportunity to showcase our own people, so we had fun with it," Kruczynski says.
Each of the Pub Series games also features original, customized "toe-tapping" music behind all the features.
"For all the games, we spent a lot of time, energy and creativity on composing the songs and orchestrating them," Kruczynski says. "It was all done in-house. And these tunes are so catchy, it's fantastic."
It all goes back to fun, starting with Let's Spin and Let's Spin Vegas, and continuing on with all the pub-themed games.
"Fun for the gambler has been our M.O. since day one," says Kruczynski. It definitely shows.
Slot Type
Five-reel, 243-ways-to-win video slot; wheel bonus with multipliers; free-spin bonus; four-level progressive jackpot; penny through $50 denominations
Payback % Range: 85%–96%
Average Hit Frequency: Approximately 40%
Top Jackpot: Progressive; resets at 100,000 credits times denomination