Kelly Clarkson Announces Las Vegas Residency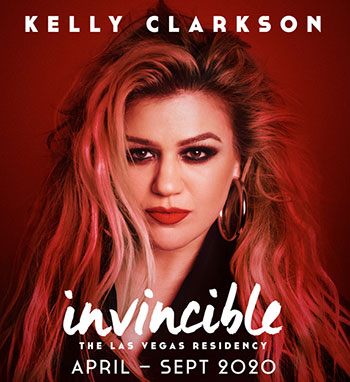 On Nov. 1, GRAMMY Award-winning global superstar Kelly Clarkson announced that she will be headlining a brand-new Las Vegas residency, Kelly Clarkson: Invincible, opening on Wednesday, April 1 at Zappos Theater at Planet Hollywood Resort & Casino.
Designed exclusively for the Zappos Theater, Kelly and her longtime band will immerse fans in a one-of-a-kind up-close music experience that rocks through her nearly two-decade long catalog of award-winning smash hits. Clarkson will also offer VIP Experiences that bundle premium tickets with exclusive show perks like a stage-side bar. A limited number of meet and greets will also be available for purchase.
"I've always loved performing in Las Vegas and the high energy of the crowds there," said Kelly Clarkson. "So many of my musical idols have had, and still have, incredible residencies on The Strip, and I'm so excited to create my own!"
The 16 performances going on sale are: April 1, 3, 4, 10, & 11; July 29 & 31; August 1, 5, 7 & 8; and September 18, 19, 23, 25, & 26.
General ticket prices begin at $59 plus applicable tax and fees. Tickets may be purchased online at KellyClarkson.com/Vegas or in-person at the Planet Hollywood box office. All shows begin at 8 p.m.