Keeping it Simple
Cash-on-reels features, "what you see is what you get," and other slot styles prove that "simple" is on a roll
By Frank Legato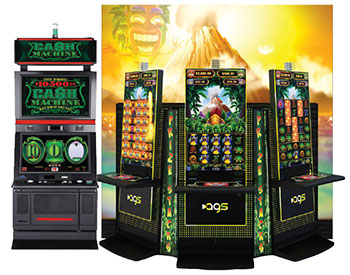 Thirty years ago, slot machines were quite simple. Not counting video poker, the vast majority of slots back in the 1980s posed a simple proposition: Pull a handle or push a then-newfangled spin button, watch three reels spin, and hope for matching symbols.
Of course, once the 21st century got rolling, slots became a lot more complicated. Now, you were watching for combinations on often-convoluted, zigzagging paylines, while looking for triggering symbols that would send you into a second-screen bonus, where you would pick icons on the screen, or climb a bonus ladder, or spin a bonus wheel.
By 2015 or so, things began to get even more complicated. In came hundreds of ways to win on a scatter format, or looking for symbols to fill a pot at the top of the monitor—and then another symbol to collect the pot—or going through a series of three-spin cycles in any of a dozen so-called "persistent-style" features or hold-andspin scenarios.
However, on many of the newest slot machines these days, "simple" is a thing again. Even though many of the newest games feature hold-and-spin features, free games and other modern bonus styles, there is a new breed of games in which being simple to understand is a main selling point.
The most immediate example that comes to mind is the game Cash Machine from Everi, that looks like it could have been on a casino floor in the 1980s. It's in dollar and higher denominations, which typically are returning wins like the old reel-spinners, mostly with a payback percentage north of 95 percent.
But this game's even more simple than those old reel-spinners.
That's because you don't have to sort through bars, or red 7s, or cherries when the reels stop spinning. All the reel symbols are numbers. The prize is the combination of the numbers you see on the payline. Using the dollar version as an example, a result of blank, 5 and 0 pays $50. 1-5-0? Make it $150. There's even a double-zero symbol on the last reel for bigger payoffs. 5-0-00 returns $5,000.
Better yet, symbols on the fist reel include a 10—the dollar game's top jackpot is $10,500, won by landing 10-5-00.
They call it "What You See Is What You Get." Simple. And lucrative.
This year, Everi has come out with a new version of the game called Cash Machine Jackpots, which adds a bonus wheel over the reels in a cabinet called Skyline Revolve. That's simple too. Again using the dollar version as the model, the bonus wheel contains credit awards of $40, $60, $80, $100, $200 and $1,000, plus three progressive jackpots—resetting at $300 ("Minor"), $1,500 ("Major") and $15,000 ("Grand").
The reels are the same as the original, with one addition: A "SPIN" symbol has been added to the third reel. Land the SPIN symbol, spin the wheel, collect anything from $40 to $15,000-plus.
Simple. Lucrative.
Traditionalists among slot players no doubt love this game, but "simple" has become a thing for penny video slot players as well. These days, many of the multi-line screens or "ways-to-win" screens display symbols that are just credit amounts. No pirates, no buffaloes, just credit awards. (Well, some can have pirates or buffaloes in the background, but always with the credit award.)
Similar to the what-you-see-is-what-you-get feature, the cash symbols that land adjacent on paylines or ways-to-win screens return the total of the credit awards displayed.
In the trade, they call it "cash-on-reels." Increasingly, the slot manufacturers have been using these cash symbols in persistent-style bonus sequences that are very easy to understand. Typically, the cash-on-reels symbols will lock in place for three free re-spins. As long as at least one cash-on-reels symbol lands, the re-spin count returns to three. You accumulate cash until a losing spin, or until all the spots on the screen display cash-on-reels symbols, which usually results in either a large award or a progressive jackpot.
Games from a variety of manufacturers use this feature. Monopoly Money Grab from Scientific Games, Green Lighting and Lucky Lightning from IGT, and Wild Wild Buffalo from Aristocrat all have this feature.
The latter game, Wild Wild Buffalo, is on Aristocrat's imposing Neptune Double cabinet. Two giant, curved monitors form a cinematic effect. This bonus variation combines cash-on-reels symbols with random 2X and 3X multipliers.
An interesting twist on this type of game feature can be found in AGS games in the Prize Stacks series, starting with sister games Tiki Jungle and Tiki Shores. In these games, tiki symbols stacked on the first four reels combine with a gold tiki symbol on the fifth reel to change the tikis into cash-on- reels symbols, and they cascade down the screen, paying as additional symbols appear from the top of the screen. The reels actually expand in one version of this, stretching those stacks of cash- on-reels symbols even higher.
What all of these games have in common is that the bonus is simple— credit awards, multiplying and filling up the screen in front of your eyes.
What you see is what you get. Simple.