Join the Party
Aruze follows up its blockbuster community games with the multi-tasking "Players' Party"
By Frank Legato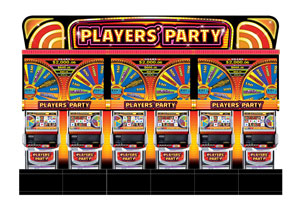 Consider this the next level of community play.
Aruze Gaming has won over many players during the past few years with "Paradise Fishing" and its sister game "Amazon Fishing." Both of those games are normally easy to find—look for the crowd. Players flock to these games, which are normally arranged in groups of six against a wall, all games appearing in front of a huge wall-mounted display formed by three large LCD video monitors.
The fishing games have been runaway hits for Aruze, if only because of the comaraderie that results in the bonus rounds. If one player triggers the bonus and "catches" a fish, all players on the bank go into a community bonus, each using a joystick mounted on the slot panel as a fishing rod to catch bigger fish for bigger bonuses—with a "Real Feel" technology that causes fishing-line-like tension on the player's "rod" when he snags a fish.
Both of those related fishing games are part of what Aruze calls "G-Link," a series of games that link video slots in a bank for common bonus events. According to Kelcey Allison, chief operating officer of Aruze Gaming America, the company's engineers have successfully completed the "third generation" of G-Link, in a game they hope will match the popularity of the two fishing games—but with no fishing.
Welcome to the "Players' Party," an impressive six-game setup that is packed with bonus features, video wheels, and a five-level progressive jackpot. "It's a totally new spin, and it has nothing to do with fishing," Allison says. "What it does have is a five-level progressive feature per device, 10 bonus features, and a communal bonus on three giant wheels which are displayed above the six-game configuration. We're very excited about it."
A button replaces the joystick—and with all the features on this game, that button gets a lot of use. Some features in the remarkable collection of bonus games are triggered through special symbols on the main reels, with others triggered by the giant video wheels on the elaborate video display. On the main reels, you will find symbols depicting roulette wheels, dice, bingo balls and blackjack hands.
When one of these symbols forms a bonus trigger for any player on the bank, the game launches into a communal bonus for the entire bank—instead of fishing with the other players, you'll be playing craps, blackack, roulette or bingo with the other players on the bank. That many more possible community games means that much more communal fun at the game—this setup will draw crowds for any of a number of events.
The other symbol on the main game that players should watch for is, of course, the wheel symbol. That takes you to the giant "Big Chance Wheels" on the top box, on which you are spinning for bonus credits, free games with multipliers, free games with wild symbols or stacking symbols, or the "Progressive Challenge," a mini-bonus game that leads to one of the five progressive jackpots—a "Mini" resetting at around $15; a "Minor" resetting at around $50; a $500 "Major" and the "Grand" jackpot, resetting at $2,000.
All Together
As with the dice, roulette and other bonuses, triggering the big wheel benefits all on the bank—all of the wheels on the big screen will spin, and all players win bonuses based on where their assigned wheels land.
Allison says there are more than 100 of the behemoth Paradise Fishing games still out there drawing crowds in casinos, so rather than trying to replace those with updated fishing games, the company decided to go with the same format but a completely different game.
"We wanted a third generation of this format," Allison says. "There have been a lot of Paradise Fishing games out there for four years. We wanted something completely different as a refresher for that premium game."
Allison says the company went about designing this new premium game very carefully, working not just with casinos, but with the players themselves. "A lot of the customer base with whom we did our focus groups are very excited about this third generation, and the fact it is not a fishing game," he says. "This is a totally new element to that format.
"For players, this is putting fun back into gaming. One of the things we love about Paradise Fishing is that it gets people talking and crowds moving, and creates a really good hot zone, so we're excited about Players' Party taking that to the next level."
According to Allison, Players' Party will be launched this October, so look for it in a casino near you this fall.
It won't be hard to find. Just look for the crowds. •