Join The Club in Las Vegas
In Las Vegas, the benefits of getting a players' card are bigger than ever
By H. Scot Krause
Las Vegas is going a little crazy right now with player sign-up promotions, and this a very good thing for newcomers.
Last month in our sister publication, Casino Player, I reported about a very strong new member sign-up rebate promotion at the Riviera Las Vegas. The promo is still going strong at press time. Previously, I had reported that the Palms Las Vegas had upped the ante on the Tropicana's $200 rebate promotion (which is also still going strong) by giving a $500 rebate. Then the Riviera topped that. This month, the Palms has come back and evened the score by upping their new member rebate promo to $1,000!
The trick is to visit at the right time while these promotions are in effect, and just remember that you're only eligible if you've never been a member of the club previously. (I wish I could start all over with some of my memberships!)
Las Vegas is going a little crazy right now with player sign-up promotions, and this a very good thing for newcomers. It's worthwhile for newbie Las Vegas visitors (especially if you and your spouse can come and sign up separately) to plan a special trip just to take advantage of all these offers, because they can pay for your trip—and then some! The only downside is that most of the rebates are not offered in a single installment, so you may need to make an additional trip or two to collect all of the rebates owed to you.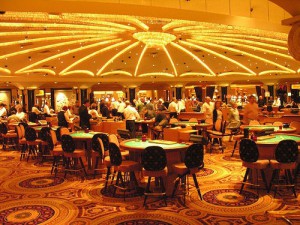 My final bit of advice is to act quickly on these if you can. There is just no telling how long a promotion will last. Even when it's advertised with an end date, casinos have occasionally pulled the plug on promotions sooner than expected. The Hard Rock, for example, cancelled one promotion (offering a $500 loss rebate) prematurely.
At the Palms, I haven't seen any changes to the rules—they simply doubled their previous offer and raised the rebate to a $1,000 max. There are ten levels of rebates in all, ranging from $50 to $1,000. Rebates are awarded in three installments. The "You Play We Pay Slot Rebate Program 2012" is available to first time new club members only, and isn't available to Las Vegas residents. The Free Slot Play Rebate Schedule is awarded in 3 installments, with the first coming your way after the first 24 hours. The second rebate is awarded beginning in 14 days, with up to 6 months to redeem, and the third installment is awarded after three months, with up to one year to redeem. The rebates vary by your actual losses, based on your play within the first 24 hours of signing up. But you forfeit your rebates if they are not claimed within the timeframes, and rebates may only be claimed 14 days apart.
As an example, on the low end, if your first day's losses are $50, the disbursement would be $15 for the first installment, $15 for the second, and $20 for your final installment. On the high end, a loss of $1,000 would result in $300, $300 and $400.  To view the complete schedule and all of the rules, visit the Club Palms booth or the website at www.palms.com.
Elsewhere in Las Vegas, other new member sign-up bonuses can be found at Westin Casuarina (up to $50 loss rebate); The Cannery and Eastside Cannery (up to $100 loss rebate); Plaza and Las Vegas Club (rebates and gifts); and the Venetian/Palazzo (gifts and free slot play). Several other properties, including Golden Nugget and Treasure Island, give you a chance to win cash or free slot play when you sign up.
Primm's Got Promos, Too
Take a 45 minute drive outside of Las Vegas on your way to California, and you'll run into Primm, NV. Here, you'll find three Primm Valley Resorts which are also offering  new member sign-up promotions. Join the A-Play club at Primm Valley, Buffalo Bill's or Whiskey Pete's (they share one slot club), and you'll receive 20X points on the first day of sign-up. The limit is 1,000 points ($1,000 coin-in), which means you can earn up to $50 cash back. See the players club for complete details.
More Summer Promotions
You can win a three night stay at Sam's Town Hotel and Gambling Hall. One winner is selected each month to win a 4-days/3-night stay, through September 27, 2012.  The prize package includes a $50 dining credit and two movie tickets to Century Theater. Enter the contest online at www.samstownlv.com. Check under the "What's New/Promotions" tab.
Play the slots with your player's club card inserted at the LVH (Las Vegas Hotel, formerly the Las Vegas Hilton) for chances to win randomly awarded free slot play. Winners will be selected while playing between 10 a.m. – 9 p.m. on August 6 and 27, September 3 and 24, November 11 and 22 and December 20 and 25.
Station Casinos and Fiesta Casinos in Las Vegas are running Senior Days on Wednesdays in August. If you're age 50+ you can join in on $30,000 in free slot tournaments (first entry is free) and enjoy half-point dining from 6 a.m. to 6 p.m. at select restaurants.  Plus, you'll earn multi-points for your play: 10 Boarding Pass bonus points for every dollar played on slots, and 6 Boarding Pass bonus points for every dollar played on video poker.
Play your favorite games with your Player Rewards Club card at Casino Arizona and Talking Stick Resort to earn a chance to win one of 48 cruises for two, or free slot play. Earn 3X entries on Mondays and Tuesdays, plus 3X entries on drawing days (Wednesdays, Thursdays and Fridays). Drawings will take place at Casino Arizona (101 & McKellips) on August 8-10 and 22-24, and at Talking Stick Resort (101 & Indian Bend) on August 1-3, 15-17 and 29-31.
On Mondays through August 27 at Mohegan Sun in CT, Mondays are Ca$h Da$h Giveaway days. Play your favorite slots from 11:00 a.m. – 8:00 p.m. for your chance to win. At the top of each hour, one winner is selected to enter the Cash Cube, which is stuffed with $5,000.  If you're selected, grab all the cash you can within 60 seconds, and it's yours to keep.
H. Scot Krause is a gaming industry analyst, researcher and journalist. He is a former entertainment director and a 17-year resident of Las Vegas.  His work is regularly featured in Casino Player, Strictly Slots and Gaming Today as well as other gaming publications, including the annual American Casino Guide Book. Questions or comments for Scot may be addressed to: krauseinvegas@cox.net