JACKPOTS IN JEOPARDY
That Big Win Doesn't Always Pay
By Sean Chaffin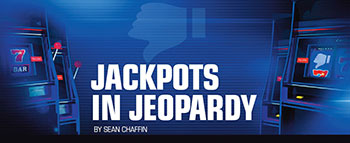 Sometimes a jackpot isn't really a jackpot. Despite every- thing on a machine saying a player's a winner, sometimes that same players heads to the door empty handed – and probably pretty angry.
In August 2016, Katrina Bookman was playing the slots at the ResortsWorld Casino in New York when she thought she had hit it big – $43 million to be exact. It would have been the biggest slot machine score in history. However, the casino informed her that the jackpot was a "machine malfunction," and was instead offered a steak dinner and $2.25.
Instead she rejected that offer and filed suit against the property and machine manufacturer, arguing that the game should have "maintained properly." The casino argued that the machine malfunction was legitimate and that it was confirmed by the state gaming commission. A ruling hasn't been handed down yet, but based on past rulings, she probably shouldn't go ahead and buy a new house with her expected winnings.
In 2001, 90-year-old Pauline McKee was playing a penny machine at the Isle Casino Hotel in Iowa. After some spinning the machine announced that she had won a $42 million bonus.
Casino management gave McKee a free room while the machine was quarantined and investigated by the state gaming commission. The commission ruled there had been a hardware error and that a bonus shouldn't have been awarded.
The machine's manufacturer had previously informed casinos that it might award a bonus in error and that the mechanism should be disabled. Her luck in court wasn't quite as good as her luck at the machine had been that night.
"By playing the machine, the court ruling stated, McKee entered a binding contract governed by the rules and pay table, which could be displayed on the machine by pressing a button," the Gilbert bankruptcy law firm notes. "There are no rules mentioning any bonus, so the court concluded that McKee was only entitled to the $1.85 winning."
The jackpot was half the property's annual revenue and could have bankrupted the casino. McKee was left without her jackpot and seemed to realize that maybe the malfunction had been legitimate.
"I had my doubts from the start, because that's a lot of money for a penny machine," she told reporters at the time. "I was hoping to help my children out financially, but it wasn't meant to be."
These cases certainly won't be the last times this scenario plays out in a casino and machine malfunction jackpots pop up pretty regularly. Unfortunately, players don't have many options in these scenarios, especially when gaming commissions agree with the casino's ruling. Courts tend to favor the casinos in most of these instances as well.
Properties also have another card up their sleeves in this instance – namely a disclaimer placed on almost every machine that says something like: "Malfunction voids all pays and plays."
Players must be aware that each spin at a machine is a chance at a jackpot, but that the jackpot malfunction warning is real and does come into play on occasion. Casinos argue that they have no reason to cheat a gambler and in fact have ample security to not only look for cheating players, but those who steal from other players (which does happen).
In 2010, an Alabama man experienced a bit of legal limbo after thinking he had hit it big. After dropping $5 into a machine at the Wind Creek Casino in Montgomery, Alabama, he hoped for the best. Most of us probably don't really anticipate winning that huge jackpot, but this was his lucky day. Or was it?
The machine showed that he'd won a $1.4 million jackpot. However, the casino made him wait a day and then declared that his win was no good. The machine had "malfunctioned" and his jackpot was void.
The casino is owned by the Poarch Band of Creek Indians and the "winner" sued in tribal court. His suit was dismissed on grounds of sovereign immunity. He tried state court but was rebuffed, seven years later, when the state's Supreme Court ruled it wasn't the proper venue and should be adjudicated in tribal court. The court was stuck because gambling isn't technically legal in the state – only on tribal lands.
Out of legal options and possibly out of money to spend on attorneys, the legal wrangling with the casino was over – no jackpot, no bonus, no cash. The only winners? His legal team.
Sean Chaffin is a freelance writer in Crandall, Texas. His work appears in numerous websites and publications. Follow him on Twitter @PokerTraditions. For story assignments or ideas, email seanchaffin@sbcglobal.net.