It's Official: TournEvent has Champion
Multimedia Games crowns the nation's first ever best slot tournament player
By J. Phillip Vogel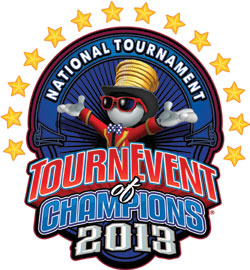 Following a whirlwind tour that included 77 casinos, crossed 17 states and spanned some 30,000 miles, Multimedia Games, Inc., has finally found the nation's #1 slot tournament player. Maria Lindell, who represented Grand Casino Mille Lacs in Onamia, Minnesota, was crowned champion of the 2013 National TournEvent of Champions, a first-of-its-kind nationwide slot tournament.
"On behalf of Multimedia Games, I'd like to congratulate Maria for her thrilling victory as well as all the finalists who joined us in Las Vegas to help make the 2013 National TournEvent of Champions a resounding success," said Patrick Ramsey, President and Chief Executive Officer of Multimedia Games. "With approximately 1,000 participants, family members, friends, employees and partners in attendance, the final event was filled with incredible energy that created an unmatched atmosphere fitting for this unique event."
For her efforts, Lindell was awarded the top prize of $100,000 in cash and the championship ring on September 25, 2013, during the final event at Lagasse's Stadium at The Palazzo in Las Vegas and was recognized as the nation's best tournament player from a field of nearly 200,000 initial entrants nationwide.  The three top winners from the final event included:
1st Place – $100,000 – Maria Lindell representing Grand Casino Mille Lacs
2nd Place – $50,000 – Sheila Ewing representing Newcastle Casino
3rd Place – $25,000 – Lawrence Cason representing Lucky Star Concho
Ronda Weizenegger, General Manager of Grand Casino Mille Lacs, added, "At Grand Casino, we are always looking for opportunities to bring exciting new promotions and special events to our guests. We are thrilled that Maria not only won the Grand Casino Mille Lacs event, but went on to win the top prize at the National TournEvent of Champions Finals."
Linda Trinh, Director of Marketing and Promotions for Multimedia Games, concluded, "The Multimedia Games promotions team created history, as our traveling bus brought the excitement of TournEvent to casinos across the country.  We saw an incredible outpouring of enthusiasm among players and casinos for the National TournEvent of Champions and believe the event generated a significant buzz at each of the 77 host casinos.  We again congratulate Maria on her victory and hope she joins us next year to defend her title as nation's best tournament player, as we kick off the 2014 National TournEvent of Champions in May 2014."
That's right, folks. You may not have one this year, but it looks like 2014 will bring an even bigger and better TournEvent series. Multimedia Games Inc. is already busy planning the launch of the 2014 National TournEvent of Champions, ramping-up the tournament experience, fun and available cash prizes.  Beginning in May 2014, casinos across the country will be bringing the excitement of the National TournEvent of Champions to their casinos and give their players a chance to compete for over $500,000 in guaranteed cash prizes and a trip to Las Vegas for the championship event on October 1, 2014.  This year, two TournEvent of Champions busses will crisscross the nation in search of the country's top tournament player, while bringing the best of tournament entertainment to casinos nationwide. Stay tuned.
For more information visit www.tourneventofchampions.com or follow the tournament on Facebook and Twitter to find out more about the TournEvent of Champions.