ISLAND TIME
PokerStars Platinum Pass event breaks records in the Bahamas
By Sean Chaffin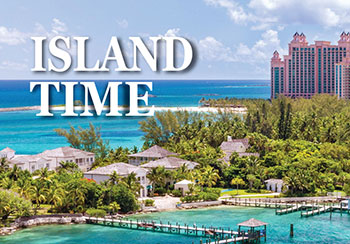 The weather in January is perfect in the Bahamas – cool breezes, plenty of sunshine, and temperatures in the 70s and 80s.It's ideal for tilting back a frozen drink or lounging at the beach or pool to escape the winter cold. It's apparently also a perfect time for playing some poker.
It was a special celebration in January at the PokerStars Caribbean Adventure (PCA) as the largest online poker site in the world celebrated the 15th anniversary of brand ambassador Chris Moneymaker's historic World Series of Poker Event win in 2003, and did so in style.
PARTY IN PARADISE
The company went over and above in 2018, giving out hundreds of Platinum Passes throughout the year and added the $25,000 PokerStars No Limit Hold'em Players Championship to its annual signature live event at the Atlantis Resort and Casino in Nassau, Bahamas.
As part of the promotion, Moneymaker toured the country handing out passes to winners of $86 tournaments as part of Moneymaker Tour. That's the same amount he spent in a qualifier on the site in 2003 to win his seat into the World Series of Poker Main Event. The win helped kickstart the poker boom and his everyman poker story resonated with fans.
Platinum Pass winners earned $25,000 for the buy-in to the PSPC as well as $5,000 for their trip and accommodations at the Atlantis. The passes became the talk of the poker world and highly coveted. Beyond tournaments, the site also allowed its ambassadors to give out passes in unique promotions and contests.
Jackie Burkhart is an example of one of those winners. The dental hygienist from Boring, Oregon, is a recreational player and turned into a Platinum Pass success story. She won her way into the tournament after winning PokerStars ambassador and bestselling author Maria Konnikova's #mypokerstory promotion in mid-October.
Burkhart submitted a story about how she learned the game from relatives at an early age and what poker means to her. Titled "Shuffle Up and Deal," the tale also chronicles a bit about her mother's battle with early-onset Alzheimer's, and how her mother still plays poker with some help from family and friends.
Before the event, Burkhart pledged 10 percent of any winnings to the Alzheimer's Association. The nice part of this story? Burkhart ran deep and ultimately finished 38th for $86,400, a nice score in an event that attracted 1,039 entries and a massive prize pool of $26.5 million. Free cash, free trip to paradise (literally Paradise Island, Bahamas), and an unforgettable experience – it couldn't have been better for Burkhart.
"It's been amazing," Burkhart said during the event. "I've started every day with the goal of just having fun, and just playing my best and each hand as it comes. I'm playing it like it's a freeroll because it is. I sold a little bit of action, so I'd love for the people who believed in me to get some money back."
No doubt those investors were happy to see some winnings too. Along with some fun at the tables, Burkhart, her husband, and their 9- year-old son flew in four days early for some fun in the sun.
"We did every single water slide multiple times," she says. "We saw the dolphins. We did about everything."
SMASHING SUCCESS
PokerStars launched the promotion as a way to highlight Moneymaker's big win, bring some publicity to the PCA, and offer something unique and interesting for players and fans. The company spent over $9 million on the effort and added $1 million to the first-place PSPC payout, for a total of $5.1 million.
Company officials were pleased with the reception and turnout. Initial turnout estimates were 700-800 players, but the tournament smashed those expectations.
"I told them this could be a thousand because we're putting so much money into this thing," poker legend and PokerStars ambassador Daniel Negreanu says. "If you're a pro or semi-pro that's a grinder, you'd be a fool not to hit this one because it's the best value tournament of the year – and the lead-up and the whole hype around it with all these cool stories. Essentially, we created maybe not 300, but 60 solid Moneymaker storylines of guys who might make it deep.
"That's the whole goal of this thing, to kind of recreate in a lot of ways, the MoneyMaker effect. So, it's been a smashing success on every measure. We exceeded the numbers, we had some fun celebrities here. We wanted to elevate the entire PCA this year with a real bang."
A common theme the last few years has been trying to bring the fun back in poker and Negreanu believes the PSPC accomplished that. The event became the biggest $25,000 poker tournament in history and featured a unique contrast of pros and regular Joes who may not have even played in a tournament before. Those elements made for a unique atmosphere in the tournament.
"You've got people that have never played a $150 tournament that were in this event," he says. "They've never put up 150 bucks and now they're in a $25K. So, there's a lot more nervousness, but a lot also much more enthusiasm. At the player party before I met with all the Platinum Pass winners, and it was cool to see how excited they were just to be a part of it."
TAKING THE TITLE
In the end, a Platinum Pass winner fittingly won the championship. After five days of action featuring players of every skill level and nationality, Spanish poker pro Ramon Colillas walked away the winner and became a new millionaire. Colillas earned a Platinum Pass after winning the site's Spanish championship leaderboard.
"A lot of players were saying this was the most important tournament in history, so now it's only about happiness and enjoying the moment," Colillas said after his victory.
Winning second wasn't too bad in this event either, with runner-up Julien Martini taking home $2.97 million. The results were perfect for the PokerStars marketing team with 43 Platinum Pass winners making it in the money.
"We couldn't have scripted a better outcome for the tournament and PokerStars congratulates Ramon and all of the competitors for making this an historic event," PokerStars director of poker marketing Eric Hollreiser said. "Ramon's victory is a reminder that with a dream, some talent and a little luck, poker can change your life. We're proud to have created a special experience for more than a thousand players, but especially for those like Ramon who had never previously dreamed of playing in such a tournament."
Sean Chaffin is a freelance writer in Crandall, Texas. His work appears in numerous websites and publications. Follow him on Twitter @PokerTraditions.