INNOVATIVE GAMES AND AN EVOLVING INDUSTRY
AGS Continues To Expand Its Popular And Exciting Game Portfolio
By John Grochowski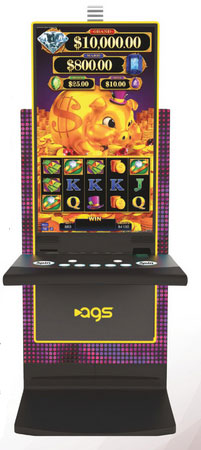 The nationwide expansion of the casino industry that began at the end of the 1980s has brought big opportunity for game developers. Companies have sprung into existence to fill the constant need for creative, interactive, fun new games that keep the customers coming.
One of the most notable of those innovative newer game makers is American Gaming Systems, a fastgrowing, publicly traded company with roots in tribal gaming. Today, it has a wide range of slot and table games it provides to Native American and commercial casinos alike.
That players love AGS' products is evident in statistics that show the games out earn house averages.
"Every quarter, there is a survey done of casino operators called the Eilers- Fantini Slot Survey," said AGS Chief Marketing Officer and Executive Vice President- Investor Relations julia Boguslawski. "In their most recent survey, for the third quarter of 2018, AGS again did very well. The survey showed that our ship share exceeds our floor share, meaning that orders for AGS products continue to accelerate. We were named the No. 5 supplier with respect to new game offerings that we showed at the Global Gaming Expo in October.
"And for the seventh quarter in a row, we had the highest score in casino-owned game performance at 1.70x house average. In the same Eilers-Fantini third quarter survey, our premium games were the second-highest-performing in our industry at 2.08x house average."
There's pressure on developers of premium games to earn well above house average because they typically involve sharing revenue between the host casino and the game maker. The premium games are among the biggest, brightest, glitziest games around and they attract players, so casinos turn floor space over to them. But the operators really love high-earning house-owned machines where the casino buys the game and then keeps high revenue.
AGS is strong in both categories and aims to continue that with a roster of new games that include two in the popular Xtreme jackpots format and a new addition to the Fa Cai Shu family that includes a money tree feature that players love to shake down.
Here's a look at each:
RAKIN' BACON XTREME JACKPOTS
A cherubic pig in a gold coin-filled room is a central figure in this five-reel game with a multilevel progressive that's packed full of player-favorite features, including free spins, multipliers and scatter pays.
As the wins add up, the golden pig gets fatter and fatter, until the player wins the Free Game Bonus and the golden pig explodes to reveals a pick screen. That screen gives you the chance to choose three different reel layouts for up to 3125 ways to win.
Additional free spins can be won during the Free Game Bonus, making this game even more potentially lucrative. During the randomly awarded jackpot Pick feature, you touch and select icons until you match three of a kind, which awards a guaranteed jackpot pay.
SHOU HU SHEN XTREME JACKPOTS
The Asian-themed Shou Hu Shen is based on the good luck and guardian lions along with four progressive jackpot levels. Together, they promise fun and the chance to win big.
Featuring fireworks and sparks animations that add excitement to gameplay, Shou Hu Shen can award massive progressive jackpots. The jackpot Pick Bonus is randomly triggered any time a Wild symbol lands on the reels during base-game play. Players touch and pick from 12 Lucky Fu symbols until they get three matching progressive symbols to win one of the four jackpots.
During the Free Games Bonus, which is triggered by three or more Bonus or Wild symbols in any position on each of reel one-three, the number of free spins that can be won depends on the reel configuration selected by the player- 243 ways to win gets 15 free spins; 1,024 ways to win gets 10 free spins; and 3,125 ways to win gets five free spins.
EMERALD PRINCESS
The second game in AGS' Fa Cai Shu family again features the lucky money tree that brings the chance for fun and fortune.
Among the features are a three-level progressive jackpot, Free Game Bonus, and a jackpot Bonus. During base-game play, three or more bonus symbols award eight free spins. The jackpot Bonus may be triggered randomly during any base-game spin in which one or more Wilds appears.
A Nudge Feature may be triggered randomly on any base-game spin in which one or more Wilds appear. When you win the Nudge, all Wilds on the screen will form full stacks of Wilds.
Three or more bonus symbols awards the Free Game Bonus, and during the free spins, the Nudge is in full force- any Wilds on the screen nudge to form full Wild stacks. Free spins can be retriggered, adding anticipation to gameplay.
The jackpot Bonus is randomly triggered if one or more Wilds appear. During this feature, the player touches and picks from 12 coins until they match three coins to win one of the three jackpots or another Free Game Bonus.
For players who venture over to the table games pits, AGS has intriguing games there, too. One is Criss Cross Poker, in which two five-card hands expand chances to win. Cards form a cross, and players can win across, down, or both. There's also a The 5 Card Bonus bet wins with a pair of 6s or better using just the five community cards without the player's own two cards.
With Royal 9 Baccarat Progressive, AGS has the most successful baccarat progressive in the industry. It pays when the banker or player hand contains a King. Queen, or jack with a 9. Standard baccarat rules apply for settling main game bets, while the Royal9 Bonus bet is optional.
AGS was launched in Oklahoma in 2005, and its primary early task was to fill the need for Class II slots in the state's burgeoning group of tribal casinos.
In defining games for Native American casino play, Class II designates player-banked games such as bingo. Class II slot machines are basically electronic bingo games with slot reels and bonus events as a user-friendly interface.
Results are determined by an electronic draw of bingo numbers. Games have a bingo logo on the screen or glass, and you can watch the numbers being filled in. The process is fast enough that today's Class II slots move roughly as fast as slots with random number generators. Without looking at the bingo display, you'd never notice the program difference between Class II games and Las Vegas-style slots.
The Las Vegas-style games, in which each has its own random number generator, are designated Class III in tribal gaming regulations. AGS still produces Class II games, but now has grown into a strong provider of RNG games in both tribal and commercial casino markets.
'We are so proud of our roots in the Class II market," Bogulslawski said. "AGS was born in Oklahoma City, Oklahoma in 2005 with a focus on delivering games that delighted players in Oklahoma's Class II tribal gaming markets. Since then, while we continue to manufacture all of our Class III and Class II North America slot products in Oklahoma, we have grown exponentially and now offer our games and mobile applications to commercial and tribal Class Ill and Class II customers across North America and in expanding markets around the globe."
Game manufacturers must obtain licensing in each market they serve. In 2018, AGS added Alberta, British Columbia, Pennsylvania, and Ohio. The company not only is a player in mainstream markets such as Nevada, irs a supplier in specialty areas such as the video gaming market in Illinois bars, restaurants, truck stops and service organizations.
AGS has met the learning curve in every step as it worked its way into Class 111/RNG slot markets.
"We certainly learned a lot as we broadened our reach from primarily being a Class II supplier into also supplying the Class Ill tribal and commercial casinos," Boguslawski said. "For one, we learned that what works well in Class II markets typically resonates with players in Class Ill markets- a good game is a good game, whether it is driven by a bingo outcome or a random number generator. Class II games are now virtually indistinguishable from Class Ill games, and from a game-development standpoint, it is easy for us to offer the majority of games for our Orion and ICON cabinets in both Class Ill and Class II versions.
"Our games, whether they are Class II or Class Ill, are rich with features that player's love- multi-level progressives, pick features, free games, multipliers, wilds, engaging animations, win celebrations, and more. We have game-development studios in Atlanta, Austin, Tel Aviv, and just recently open one in Australia. We believe we have the best game developers in the business, and we're already excited about the great games coming out of our Australia studio- in particular Eastern Dragon and Eastern Princess from our Fa Cai Shu series."
Boguslawski sees big momentum for AGS' table games division, too. "The number of installed table units grow 30 percent year over year to 3,06S units. Our table products business has just as much momentum as our slot division. The number of table products we have installed grew by more than 30 percent year-over-year to 3,065 units. The company recently received GLI approved for its Dex S shuffler, and the STAX table-game progressive won the Best Table Products award in the Gaming & Technology Awards 2019. The AGS Super 4 Blackjack Progressive is one of the most popular and fastest-growing blackjack progressives, and the Royal 9 Baccarat Progressive is a leader among baccarat progressives."
AGS also is making its presence felt online with its Interactive division.
'We offer players a play-for-free, interactive social gaming experience that they can take anywhere through our four social casinos Lucky Play Casino, Wild Vegas Casino, Golden Wins Casino, and Vegas Fever," Boguslawski said. "These social casinos, which you can download and play on your Apple or Android mobile devices, offer hundreds of proven, player-favorite AGS casino games to entertain players, as well as other casino classics like video poker, blackjack, and bingo.
"In addition to the social casinos, we offer a Social White-Label Casino solution for gaming operators, and are just entering the real-money gaming business following our acquisition of Gameiom Technologies earlier this year."
A big part of coming so far, so fast is in corporate culture, and Boguslawski said AGS excels there, too.
"We believe AGS has the best culture in the gaming supplier space," she said. 'We are employee focused, and pride ourselves on working hard, but playing hard too. Despite our growth, we try to stay nimble and empower our employees to make decisions. We are also passionate about teamwork, keeping things real, embracing change, being professionally honest and forthright with each other, and embodying a spirit of service to each other and to our communities. When we are hiring. we first look for a strong cultural fit even before experience; culture is key to our strong momentum."
Looking to the future, Boguslawski sees tremendous opportunity for AGS to continue to grow. That includes not only licensing and entering new markets, but growing the company's footprint in areas where AGS currently has small numbers.
"As we enter more and more markets in the U.S. and Canada, the number of players who get to our experience our games increase, and as such, more players are fans of our games," Boguslawski said.
"Our industry-leading game performance, expanding suite of cabinet options, focus on innovation, continued success in table products, and wide range of product offerings really sets us up for longterm success."
Those product offerings include an expanding range of slot machine cabinets and platforms. In 2019, AGS is launching its Orion Upright cabinet. The Orion Upright has dual 27-inch screens with high definition displays, giving AGS' slot games a bigger, brighter look. The multi-colored LED displays AGS incorporates into all its platforms are there. And there's an option for a 21.5-inch LCD game-topper, a package that's sure to catch your attention.
The Orion Upright joins a lineup that includes the ICON, Orion Portrait, Orion Slant, and Orion Upright platforms as well as AGS' Big Red jumbo cabinets.
Boguslawski is bullish on table games, saying, "Our table progressives are on fire, and we look forward to the continued penetration of our STAX five-level progressive, which just recently won the 'Best Table Product' award, as well as our new Bonus Spin Xtreme progressive side bet for roulette, blackjack, baccarat. Chase the Flush, Criss Cross Poker, and Premium Hold'em."
As for online play, Boguslawski said, "We've also recently entered the real-money gaming space with our acquisition earlier this year of Gameiom Technologies. Through our remote game server and game aggregation platform, we deliver a growing library of more than 600 games to the world's largest online operators. In early 2019, we're excited to add AGS' proven land-based game content to our real money gaming portfolio so players who love playing our games in casinos will be able to play them online."
But the main attraction for any game maker right now is in the slots, and there, AGS is top notch. If you want to find out for yourself in the year ahead, be sure to look out for Rakin' Bacon Xtreme jackpots, Shou Hu Shen Xtreme jackpots and Emerald Princess.