Mayweather vs. Pacquiao expected to eclipse all previous records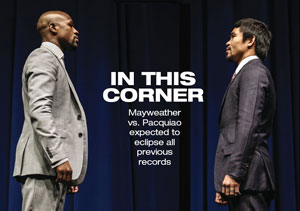 "Manny Pacquiao and Floyd Mayweather have been the two most prominent fighters in the sport of boxing for the past decade, and fight fans around the world have been clamoring for them to face each other. And now, on May 2, in what everyone believes will be the biggest boxing event of all-time, fight fans have been granted their wish. "
Sports fans will be treated to the fight that has captured the attention of the entire world when boxing's pound-for-pound king Floyd "Money" Mayweather steps into the ring to face eight-division world champion Manny "Pac-Man" Pacquiao in an epic welterweight world championship unification bout.
The much-anticipated mega-fight will take place Saturday, May2 at the MGM Grand Garden Arena in Las Vegas with the pay-per-view telecast co-distributed by SHOWTIME PPV and HBO Pay-Per-View beginning at 9 p.m. ET.
Superstars Mayweather and Pacquiao will compete in an event that is expected to eclipse any and all pay-per-view, live gate and closed circuit records and rival legendary and memorable prizefights in the sport's history such as the "Thrilla in Manila," the "Rumble in the Jungle" and Sugar Ray Leonard vs. Tommy Hearns.
"Since the fight was announced, the response from the public has been unbelievable, and it's even more clear that this is the fight the fans want to see," said Mayweather. "I'm grateful that Manny Pacquiao and I were able to make it happen. This will be the biggest event in the history of boxing. I can't thank my team enough for their support from day one. I'm more motivated than ever to put on an unbelievable show, and I'll be ready for May 2."
"I will be ready for my date with destiny on May 2," said Pacquiao. "I am very happy that Floyd Mayweather and I can give the fans the fight they have wanted for so many years. They have waited long enough and they deserve it. It is their mandate. It is an honor to be part of this historic event. I dedicate this fight to all the fans who willed this fight to happen and, as always, to bring glory to the Philippines and my fellow Filipinos around the world."
"Manny Pacquiao and Floyd Mayweather have been the two most prominent fighters in the sport of boxing for the past decade, and fight fans around the world have been clamoring for them to face each other," said Ken Hershman, President HBO Sports. "And now, on May 2, in what everyone believes will be the biggest boxing event of all-time, fight fans have been granted their wish. May 2 will be a signature moment for the sport of boxing and HBO Sports is thrilled to be a part of this spectacular event. I know the fighters and their teams will be primed to excel and we plan to work closely with everyone involved to deliver the same level of performance from a broadcast perspective."
One of the most decorated fighters in the history of the sport, the undefeated Floyd Mayweather (47-0, 26 KOs) is an 11-time world champion in five weight divisions and is universally recognized as the #1pound-for-pound fighter in the world.
With his trademark speed, defensive prowess and ability to read his opponents Mayweather has amassed wins over 20 world champions in his already legendary 19-yearcareer. In addition to his in-ring accomplishments, Forbes, Fortune and Sports Illustrated have named Mayweather the world's highest-paid athlete multiple times. His events average more than one million pay-per-view buys per fight, which is the highest average of any boxer in history. Manny Pacquiao (57-5-2, 38KOs), the lone congressional representative from the Sarangani province in the Philippines (he was reelected to a second term, running unopposed in 2013), is the only fighter to win eight world titles in as many different weight divisions.
A three-time Fighter of the Year and the Boxing Writers Association of America's "Fighter of the Decade," Pacquiao's resume features victories over present and future Hall of Famers, including Oscar De La Hoya, Ricky Hatton, Marco Antonio Barrera, Erik Morales, Miguel Cotto, Shane Mosley and Juan Manuel Márquez. From 2008 to 2010,five of his seven victories were world title victories in five different weight classes, from 130 to 154 pounds. No active boxer has sold more live tickets in the U.S. than Pacquiao, who is also credited with more than 13 million domestic pay-per-view buys. Pacquiao regained the WBO welterweight title last year, on April 12, via a scintillating unanimous decision over Timothy Bradley Jr., avenging his controversial 2012 split decision loss to the undefeated two-division world champion.
" Like boxing fans worldwide, we're very excited that the Mayweather vs. Pacquiao fight has come to fruition," said Richard Sturm, president of Entertainment and Sports for MGM Resorts International." We are thrilled to have the opportunity to host this championship fight at MGM Grand, home to the sport's biggest events. This May weekend will prove to be one of the most electric weekends Las Vegas has ever experienced."