IN THE ZONE
Creating New Sounds With Rock Legend Joe Walsh
By Tim Wassberg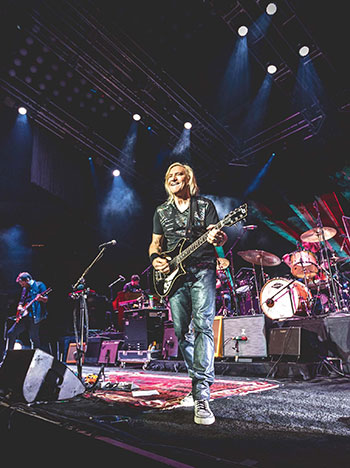 Joe Walsh knows the thrill of performing but also that of innovation. As a solo artist, member of The Eagles and a collaborator with many including Tom Petty and Ringo Starr, this rock virtuoso understands the soul of a guitar but also the connection with the audience. Walsh spoke with Casino Player about a lifetime of experience, creating new sounds and the joy of being onstage.
Casino Player: Can you talk about music from your point of view as a unifying force?
Joe Walsh: When l was young, naively, my generation thought we were going to change the world. And we tried really hard and that didn't quite work like we had planned it. But the one thing l have realized all these years is that music is a healer. Music can affect people. People come to hear music and they go home happy. And music can really be a healer in its message and just in its performance. I have just kind of dedicated myself to doing that.
You've done so many things, played with so many people. Can you talk about collaboration, but also the essence of performing? I mean obviously you've been with james Gang, The Eagles, as a solo artist, and then played with Ringo, Tom Petty…
There is a place, I guess we say "in the zone" when you perform live on a good night. When you have command of your craft and everybody is focused, there's not a better feeling. And it's a profound feeling. And musicians who experience that – and it only happens once in a while -just do it. On that special night, there's nothing like it. So about one out of every seven shows, you have that night, and the rest of the time you're chasing it (laughing). You keep trying to get there and just all of a sudden, everything is working.
Can you talk about smaller shows versus larger venues? The shows you're doing in Vegas are more intimate. Can you talk about how that changes the dynamic?
You have the best of both worlds here because I'm in a very successful band, and that's a whole thing by itself. And it's wonderful to play a very large venue that's packed. The energy is overwhelming. But in the old days, when I wasn't famous yet, I loved to play small intimate places because first of all, the interaction with the audience, the quality of that is up dramatically from a big venue where they/re watching on a screen. And also, it sounds great and everybody has a good seat (laughing). You don't look like ants. And I tell you what, that's when I'm at my best.
When I'm looking at everybody and everybody's looking at me. It reminds me of the old days and it's all good.
You have done so many different things with a guitar and so many people, jimmy Page of Led Zeppelin for one, have said they really admire your style. Could you talk about that and figuring out what sounds right?
One part of my obsessive-compulsive condition that I was born with, is that I love to get inside guitar amplifiers and rewire them. I love experimenting when I plug this into this. And what will this do if I try that? I've been in the studio many times and said, "Okay. Here's what I want to do, I want to plug this into this and I want to try this." And whoever I'm working with says, "Walsh, you can't do that." And that's the wrong thing to tell me (laughing). So, I've always been that way. I have a pretty good understanding of electronics. I've been a ham radio operator since I961. And guitar players who don't know the inside of their amp are really missing out. There's a whole world of knowledge there that you can apply to just playing to get sounds that nobody else can.
I've come up with some pretty amazing sounds that nobody else has come up with. And I'm amazed too… because I had no idea what I was doing. But if you pretend like you know what you're doing in the guitar world, everybody thinks you know what you're doing (laughing).
Now is there a song that just comes to your head that you did that with?
Oh sure. The middle of Rocky Mountain Way. It's an effect where it sounds like your guitar is talking. That's something that I discovered in Nashville from a guy who invented it in the '50s and he showed me how to do it. There's a country singer who was tremendous. Her name was Dodie West. She's passed but she was huge in her day as a country singer, and her husband was a crazy inventor and guitar player. He showed me this device he had in his garage, and he says, "Here, you take this. See what you can do with it." That's one example. If you listen to "Rocky Mountain Way", the whole middle of it is like, "What the hell is that?" And that's exactly what I said when I first tried it.
Can you talk about the balance between what you write and when you play it live?
Songwriting is a craft where you never know it all. But there's stuff that works and there's a process to get started. I found that a guitar statement, a short statement, we call them "licks" – is the whole key to launching a new song. And by that, I mean – yeah, like the beginning of "Hotel California/', or the beginning of "Rocky Mountain Way," or the beginning of "Funk #49.". There's a whole bunch of them. "Sunshine Of Your Love" by Cream. That opening statement everybody hears and they know it. Everybody's favorite songs, in the first five notes [you] know what song it "Life in the Fast Lane, " everybody knows that song before the singing even starts. And that's the way to write a song. Now, my belief is when you go onstage, you open up. That's why you've got to leave some room to play it different every night. And I think that's one of the things I've learned… you can play it note for note perfect and that's one thing. But if you tell your band, "Let's do this different every night and improvise." And leave room for the band to actually just "spur-of-the-moment" play, with good players, there's a magic there that shows up. And I think that's the whole secret of live performances, especially in a small club.
When you were just starting out [in Ohio], was it "Okay. I want to be in the band. I want to do this."
The ambition was, being in high school and seeing The Beatles on Ed Sullivan, I had never seen anything like that. I had never seen four guys playing like one guy. And that was about the coolest thing I had ever seen. And I remember shaking up and down, and I remember my parents shaking their heads left and right. And ever since then l just wanted to be like that. I wanted to be like that. And that's what I do. That's the only thing I know how to do really. But I sure know how to do it at this point. It's what? 45 years later and I'm still trying to do it (laughing).
An Evening With Joe Walsh House of Blues Las Vegas Mandalay Bay Resort and Casino Nov. I6, I8 & I9 Doors: 7:30 p.m. – Show: 8:30 p.m.