HOLD-AND-RESPIN
Slot makers are taking popular features and using them in a new way
By John Grochowski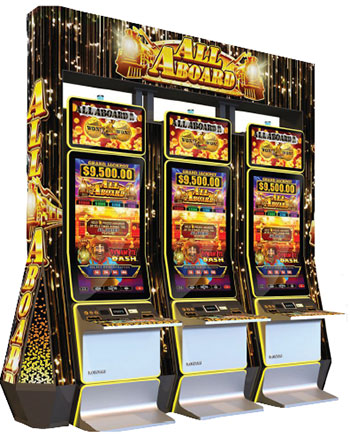 Whether you're a slot player, game maker or casino operator, versatility in game play is a prize to be treasured.
The fast-growing hold-and-respin segment has that versatility. It's been used for basic bonus play, in more varied bonus play that can lead to progressive jackpots, and even on the main reel spins.
You can see the effects of versatility all around the slot floor. IGT's Wheel of Fortune and Scientific Games' Monopoly slots, which originated in WMS Gaming days, are among the most versatile themes we've ever seen. There are enough elements associated with their game show and board game antecedents that dozens of successor games have kept us entertained.
The prize wheel itself, which originated in Anchor Gaming's Wheel of Gold and was adapted when IGT acquired the Wheel of Fortune brand, has been used by multiple slot manufacturers. It can deliver bonus credits, as in classic Wheel of Fortune, determine progressive bonuses, or even indicate which of several bonus events you play.
Likewise, pick-a-prize bonuses have been used in a multitude of ways, starting with picking fishermen on a pond in WMS' Reel 'Em In, the game that introduced Americans to pick 'ems. Pick 'ems have been used to award credits, progressives and unveil games-within-a-game.
In the case of Deal or No Deal, the pick 'em Suitcase Bonus was even used as the main game in one iteration. Atronic Gaming, which was successively merged into GTech, Spielo International and IGT, had its biggest hit in Deal or No Deal. Every successor game used the Suitcase Bonus, and eventually Atronic designed a game that used the suitcases from the get-go.
It's a rarity to see a bonus event so versatile it can become the main game, but we have seen that with lock-and-respin games.
Just to pick a few examples, let's look at hold-and-respin games in the basic bonus format, one that adds a little intrigue and progressive possibilities, and one that used the format on the main reels.
ALL ABOARD
Konami Gaming uses hold-and-respin in the usual bonus event method. In either of the two base games, Dynamite Dash and Piggy Pennies, landing six locomotive engines on the reels launches the feature.
Those engines lock in place and reveal credit awards. Then you get at least three respins. Anytime you land another engine on the reels it locks in place, reveals a credit award, and resets the respin meter to three.
The round doesn't end until three respins in a row bring no more locomotives. Then you win big as the credits from all the locked-in engines are tallied and added to your credit meter.
Should you get lucky and fill all 15 symbol spaces on the five reels with engines, then you win the big jackpot.
That's how the features work on most lock-and-respin games. The special symbols usually are circular, such as coins, casino chips or magic orbs— all the better to show off credit awards.
WHEEL OF FORTUNE MYSTERY LINK
International Game Technology uses hold-and-respin in a bonus that can lead to progressive jackpots.
Reel symbols include color-coded pointers that correspond to the five color-coded pointers on the wheel atop the game.
If you land six or more pointers on the reels, you go to a wheel-spin bonus. Each color pointer symbol on the reel activates that pointer color on the wheel.
The wheel determines how much your pointer symbols are worth. If the wheel stops with the red pointer at a 120-credit space, then all the red pointers on your screen display 120 credits. Every color you have active on the screen will add the credits indicated on the wheel.
The on-screen pointers then lock into place for respins. If you add more pointers on screen, you get more wheel spins to add credits. The round ends when three consecutive respins bring no more pointers.
If you have an exceptionally lucky run and fill all 15 spaces with pointers, an extra wheel spin can bring big prizes. The wheel flips to one where all spaces are progressive jackpots. You spin the wheel and win all progressives indicated by your pointers.
CASH FALLS HUO ZHU
Scientific Games uses hold-and-respin features that have become popular as bonus events, but Cash Falls Huo Zhu brings the anticipation and excitement to the main game.
With a pirate theme filled with cannons, skulls and swords, and treasure chests, Huo Zhu has an unusual fivereel look. The first two video reels are four symbols deep, the third and fourth are six symbols, and the last is seven symbols.
Coin symbols display credit amounts, and they lock into place on the main reel spins. Coins in each column stay locked unless you go three spins without accumulating more coins in that column. In that case, those coins disappear and you try again, but coins on other active columns remain in place.
If you fill a column with coins, the credits displayed are added and the cash falls to your credit meter. The coins in that column then disappear, leaving you room to try to win again. You'll win most often on the four symbol column, but there's room for the biggest prizes on the seven symbol column.
Hold-and-respin isn't the first bonus format to be used in the main game. As noted, Deal or No Deal made pick 'ems a main event. Wheel spins haven't been used as main games in the video era, but it's not hard to imagine how they could be. In the 1800s, there were slots with mechanical wheels divided into different colored wedges. Players wagered on which color would come up.
But versatility encourages game makers to try again and again. Expect hold-and-respin to have a good, long run.