HISTORY MAKER
15 Years after his World Series of Poker win, Chris Moneymaker talks online poker
By Sean Chaffin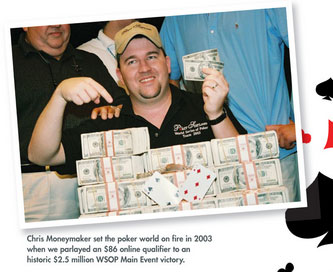 It's been an interesting year for Chris Moneymaker. Fifteen years ago, he helped kickstart the poker boom with his historic win in the 2003 World Series of Poker Main Event. It was an amazing victory for an "average joe" poker player after he qualified online by winning an $86 qualifier on PokerStars.
Moneymaker topped a field of 839 players and took home $2.5million. His unique last name struck a nerve in a game dominated by cash, and certainly helped catch headlines. He was instantly synonymous with poker and not only did the Main Event's popularity balloon after that, but other tours saw huge increases in the number of entries. Throughout the 2000s, poker could be found regularly on television channels ranging from the Travel Channel to ESPN to the Game Show Network.
To commemorate his championship, Poker- Stars has been running the Moneymaker Tour throughout the year. The company announced its Platinum Pass promotion earlier in 2018, in which players have a chance to earn a $30,000 package for its PokerStars Players Championship. The tournament features a $25,000 buy-in and will be held in january as part of the annual PokerStars Caribbean Adventure in the Bahamas at the Atlantis Resort. The package includes a tournament buy-in as well as six nights' accommodation at the resort and travel expenses.
Moneymaker has been crisscrossing the country to various casinos offering players a chance to play in Moneymaker Tour tournaments for $86 with the winner not only earning a nice cash payout, but also a Platinum Pass. The passes have become one of the most sought-after items in poker as players earn a shot at huge money in the Bahamas.
This month, Casino Player caught up with Moneymaker for some poker strategy advice when playing online. Online poker is now legal in New Jersey, Delaware, and Nevada with Pennsylvania expected to allow playing online soon and other states considering legalization.
Are there any tells a player can look for when playing online?
A tell is a physical or verbal cue that may give away the strength of an opponent's hand. While playing online may not offer a chance to view your opponent, there are some things sharp players should keep an eye out for.
"Bet sizing is the biggest thing to look for online when starting out," Moneymaker says. "One thing to look for is people limping in pots- these people in general are weaker players. In lower buy-ins you will see a lot of these players. Also, online poker is mostly math and frequencies, you need good fundamental poker to be successful."
What are some advantages to playing online poker versus live?
"There are several huge advantages, especially for beginners," he says. "There are lower stakes online than in live games. Players can play free-rolls or penny tournaments to learn and try different strategies. Also, you can play a wide variety of different games, such as Pot Limit Omaha and Seven Card Stud, that are harder to find in the live arena. Finally, it's easier to play online from a nerves perspective as you are not trying to conceal physical tells."
Along with those ideas, players also have a chance to play many more hands than they would in live poker. The more hands and situations a player sees, the more he can improve and learn from these situations. Online poker can be a real training ground for a player looking to get better.
What are some mistakes players tend to make more online?
"The most common mistake online is playing over your bankroll," Moneymaker says. "When playing live you've got to pull the cash out of your pocket, but when playing online the money can become harder to get attached to and people generally play bigger. One other huge mistake is not paying attention or doing too many things on the side taking away from you playing your 'A' game."
So if you're hoping for some success in that next online tournament, skip doing the dishes or working on some paperwork from the office. Poker success requires focus, stamina, and dedication.
What are some ideas on managing the bankroll for online players?
Making that money last is important with the goal to make winnings last for even more poker success. It's not easy, but Moneymaker has some nice ideas on helping to make that happen. "Getting a poker bankroll app is a great way to hold yourself accountable and play within your means more consistently,"  he says. "The biggest thing is being self-disciplined as it can be easy to lose control online."