Higher Bets, Higher Rewards
AGS seizes on a growing appetite for high-denomination, traditional-style slot games
By Frank Legato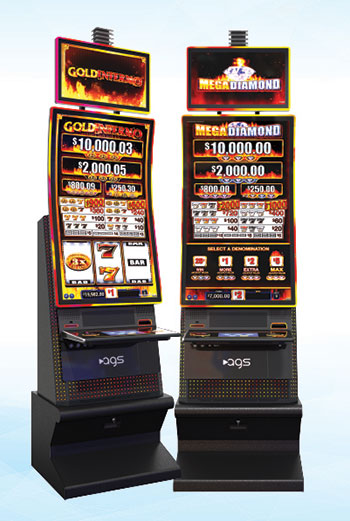 For many years, slot enthusiasts have been treated to a lot of new games that are feasts for the senses. Giant, curved screens, surround sound, and cinematic presentations have hosted an ever-more rich collection of game features, from hold-and-spin to collection pots to epic stories told in high-definition graphics. Players have flocked to these games, their huge credit awards made possible largely by the penny denomination.
Recently, though, there has been a surge in popularity for games that are just the opposite of these penny games. Simple three-reel games in higher denominations are making a comeback. And slot-makers are beginning to respond by reaching back to those simpler game features.
One of those manufacturers is AGS, which this year is highlighting a new group of high-denomination, three-reel video slots. Slot traditionalists will recognize the features—the three-by-three reel layout; bars, 7s and wild symbols on the reels; progressive jackpots; the complete pay table displayed above the reels.
"We saw the high-denomination segment as an underserved segment of the market, which is also a big reason players enjoy playing these types of games," comments Mark DeDeaux, general manager and senior vice president, slots for AGS. Both traditional low-denom video players and mechanical-reel players can appreciate and enjoy this video format with high-denom math and mechanics.
"We thought that we could take some of the traditional mechanical reel concepts, and add a little bit of new flavor to them," adds Steve Walther, AGS vice president of game development. "So far, the players have really gravitated towards these machines."
The fact that the new games are video slots allows for capabilities that were not possible with traditional mechanical reels. For instance, players can customize the games to their own liking, choosing between an older-style single-payline setup, a three-line version, a five-line version, and a nine-line version of the same title.
The denomination also is player-selectable, ranging from quarters all the way up to $5.
Finally, video allows for many of the more fun aspects of modern games—animated coin-shower celebrations for big wins, symbols that glow in a win, mapping out of the paylines to understand wins.
"Choosing to go with video was an easy decision, because we believe we have the talent and the expertise to perform really great high-denom games," DeDeaux says. "Customers who enjoy playing video games in general will enjoy this game. With the mechanics and the math behind it, we believe it will provide a great experience for traditional video players, and also appeal to the mechanical reel players, simply because the games at their core really are modeled after the mechanical reel game."
Adds Walther, "A lot of work went into making sure that the reel spins and the reel stops had just the right feeling to satisfy mechanical players and the right balance of video add-on to where it's not overwhelming or too flashy.
"It really is a fine line balance. The idea is we've created environmental effects in the game on video that just don't normally happen on a mechanical reel. Now players can not only get the same feeling from the video, but also get some of those environmental factors like seeing jackpots on the progressives getting a little bit 'hotter,' or having an environmental flame around the machine the more they play."
Inaugural Games
The first two games in the new high-denomination group—Gold Inferno and Mega Diamond—are in casinos now. Both are featured on the Orion Curve cabinet, which highlights 4K graphics on a 49-inch curved portrait-style monitor. Later this year, the company will release the games Platinum 8X8X8X and 8X Crystal Bells.
All feature the classic three-reel format with selectable payline configurations, and all feature selectable denominations including quarter, $1, $2 and $5.
The payline combinations, laid out on the top screen, are simple—single, double and triple bars; multiple "7" combinations; and special symbols to trigger any of four progressive jackpots.
Mega Diamond features no less than eight "7" combinations, with four different diamond combinations corresponding to the four progressive jackpots—mixed diamonds returning a prize resetting at $250; and three combinations of like-colored magenta, blue and red diamonds returning progressives resetting at $800, $2,000 and $10,000, respectively.
Gold Inferno combines "7" combinations with wild symbols and wild 2X and 3X multiplier symbols. Mixed multiplier and wild symbols return the $250-plus progressive; three wild symbols, $800; three 2X wilds, $2,000; three 3X wilds, $10,000.
Walther notes that the progressive levels remain the same, regardless of the denomination chosen.
One unique feature of Mega Diamond is that many of the symbols will display "sub-symbol multipliers"—watermarks on certain 7 and bar symbols displaying 2X, 3X, 4X or 5X. Winning combinations including these sub-symbols are multiplied by any combination of the symbols; the multipliers multiply each other. For instance, the payout for a 7 combination including a 2X an a 3X multiplier will be multiplied by six.
The same applies to the wild multiplier symbols in Gold Inferno.
"These games are really wild symbol-chasing games," says Walther. "Base-game pays when you get bars or sevens with multiplier watermarks increasing your payment, so that's something that adds a little bit of a twist. The fundamentals behind the games are chasing wilds and chasing some of the multipliers. Each of the games has a variety in the way that multipliers are presented. And each of the different games has different functionality around each of the wilds."
You can expect the same kind of supercharged wilds and multipliers with Platinum 8X8X8X and 8X Crystal Bells. "Some of the line combinations can be even bigger than the top progressive, which is cool," Walther says.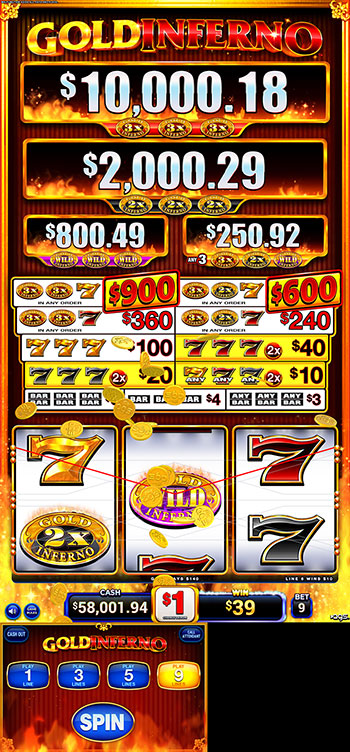 DeDeaux comments that so far, players have typically chosen the nine-line option on the games, but they are designed to appeal to the complete spectrum of slot players. "You can bet literally a quarter on the quarter denom, all the way up to $2.25. And then if you go all the way to the high end, you could bet a minimum of $5 all the way up to $45. These games can appeal to people with all types of budgets. It really gives players a lot of options as to how much they want to bet."
Walther adds that casino operators so far are following the traditional practice of offering higher payback percentages on the higher-denomination programs of the games. This is another advantage of offering the games in video—as you increase your bet to the higher denominations, you will see more of the multipliers, diamonds and other top symbols appear on the reels, something that would not be possible with mechanical reels.
"It is readily apparent as you change your denomination, the frequency of the symbols that you're chasing increase on the reels," Walther says. "Therefore, betting a higher denomination gives you a greater chance of hitting one of the four progressives."
DeDeaux adds that even the quarter versions are being set at a range similar to what traditional quarter games pay out. And the games themselves remain the same.
"It's important for players to know that if you're a quarter player and you want to play these games, it will typically pay like most quarter games in terms of your payback percentages," he says. "Yes, I have a better payback percentage if I'm playing $5, but I'm still playing at a competitive level—a fair payback percentage, as I would any other quarter game."
DeDeaux and Walther both say you should expect these games to spread quickly across U.S. casinos. The two inaugural games on the market are getting rave reviews from players.
"The player feedback has been resoundingly positive," says Walther. "They appreciate the ways that the reels spin, the way that they stop, the way the awards are determined. It has really been a validation of the work that we put into it."

 Gold Inferno, Mega Diamond
Game Type: Three-reel video slot, player-selectable payline configurations of one to nine lines; multiplying wild symbols; multipliers on select combinations; player-selectable denominations of .25, $1, $2 or $5
Payback % Range: 86.7%–97.65%
Average Hit Frequency: 29.7% ($1, nine-line)
Top Jackpot: Progressive; $10,000 reset