HERE TODAY, GONE TOMORROW
Players look back at some of their favorite games of the past
By John Grochowski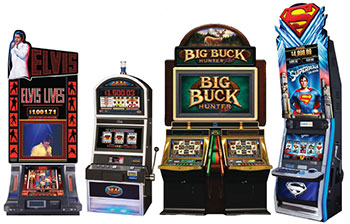 So many exciting new slot games, themes and ways to play are on the way that it seems there would be little time to get caught up in nostalgia.
Scientific Games has melded WMS Gaming's ever-popular Monopoly theme with Bally Technology's Hot Shot play mechanic to bring us Monopoly Hot Shot. IGT's Wrecking Ball in which you guide a demolition project looks like a blast. Konami Gaming gives us a different take with Beat Square, in which you tap lighted squares in time to music.
But for all that's new, there's room for a little nostalgia. I asked slot players who have written to me in the past if there are games of yore they wish they could still play.
RICH
Remember the Superman slots? I'm a sucker for superheroes anyway. I was a big comic book reader as a kid and I still see all the movies. So, when Clark Kent changed into Superman and flew up to add extra spaces to the reels, it got me every time.
LISA
Elvis was my guy. Mom was a big Elvis fan, and I got it from her. My friends all loved David Cassidy, but I was in love with Elvis.
The slots were such a hoot, especially the ones where you could get a juke box and pick your own songs for a bonus. You'd get video and trivia questions and music, and you'd be winning money at the same time. Wonderful.
ERICA
Saturday Night Live. I loved them. There were several with the original cast. I liked the one where the bonus was the Sense-0-Ring Toss games from the Coneheads. There were the images of Jane Curtin and Dan Aykroyd, and you'd rub their cones and toss the rings over them. I laughed every time.
CAM
You might not even remember this one. I only saw it in a few places. It was called Big Buck Hunter, and it came with a plastic rifle. In the bonus, you were basically in a shooting gallery. It was fun, and no real wildlife was harmed in the collection of your bonus.
PHYLLIS
For years and years, I've played Blazing 7s, and now in the last couple of years I don't see it anymore. The reel players will know what I'm talking about. The jackpots weren't huge, but you always felt like you could win them.
I don't know how many times I won the three Blazing 7s. It has to be 20 or more, over a long time, of course. They were for $1,000, $1,100 – it was a progressive, but not such a big one that nobody won. I was always careful to play when the jackpot was under $1,200 so I wouldn't have the tax form to sign when I won.
JACKSON
This one was here today, gone tomorrow, I think. I can't find anybody else who remembers it. But I loved The Three Stooges slot. It was a three-reel slot, but there was some Stooges video when you got to a bonus, and it had the right pictures on the reel and the sound effects.
I think my wife got a little tired of hearing "Nyuk, nyuk, nyukl" from me for days after every time I played, but that really wasn't that much. It was gone really fast.
CAROLYN
Yahtzee, the first time around when you used to be able to select dice to hold twice after the original roll, like in the regular dice game. There was some skill to that, and I loved it.
MARY
I still love the three reels and I'm grateful still be able to play Double Diamond — that's my all-time favorite. I guess if there's one I miss, it would be Doublejackpot. That was the game for me when I first started playing. There was no Double Diamond yet, but you could double your winnings if you got the Doubleiackpot symbols.
Others I miss are the ones where you had those bonuses on the little screen up top. You still played a three-reel game with Double Diamond or Red White and Blue, but on this other screen there would be 7s racing. If you got a blue 7 on the reels, it would advance the blue 7 in the race. It was a nice extra when one of the 7s won the race and you got the bonus.
VAL
I miss the Slotto games. Remember those? They were three-reel games and on top they had a blower with those numbered lottery-style balls. That's where you'd win your bonuses, on the Slotto part.
Some of them were really clever. I remember one was Popcorn, with the machine made up like an old-time popcorn wagon and the Slotto balls in yellow to mimic buttery popcorn. It was all kind of gimmicky, but fun.
FRANCIS
Piggy Bankin' — I loved that game. I guess it would pretty primitive now. It was three reels, and the bonus was just dots on a black screen.
There was nothing like it then. We didn't have all these different bonuses. When you got the reel symbol to break the bank and the animation would have a hammer shatter the piggy on the screen to give you the coins inside, that was exciting.
Maybe nobody notices it now, but maybe it could be retro chic. Anyway, I miss it.
LOUISE
Is it too soon to say I miss The Hangover? l know that's not that long ago, but I can't find it anywhere anymore. I wish casinos would have a classic games area where you could go play all the old favorites. I know I'd play.