GET AN EDGE
When opportunity knocks, answer the door
By John Grochowski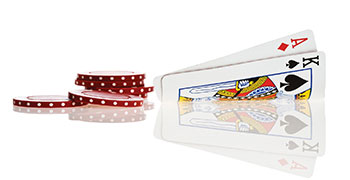 Sometimes a day at the tables is all about taking advantage of the opportunities presented, and not just in terms of strategy. Promotional tournaments, coupon plays and unexpected comps—they're all part of the game and worth retelling.
Wilf
Here are two stories in one. The Riviera in Las Vegas used to have a promotion that was a free blackjack tournament. There were free-play prizes if you've won your table, and some bigger prizes for the biggest wins, too. I think the table prize was $75, and you could also get $50 for a hand of six cards under 21.About halfway into the set number of hands, I was a little better than the middle of the pack at my table, and thinking I wasn't in bad position if I could  win a couple of big bets.
That's when the opportunity came, and I didn't really even recognize it. I got an Ace and three low cards that all added up to a soft 18. I think the dealer had a 10, and I was going to stand, and the dealer and the other players all told me, "No, you don't want to stand." I was pretty sure it was the right basic strategy move, but one guy said, "You have to go for the six under 21."
Well, of course he was right. The opportunity was there, so I went for it. I got the two more low cards, and they gave me a voucher to take to the cage for my $50 in free-play chips. I lost the hand, and I didn't win the table, but I had a prize anyway. Hooray!
The second story is what happened after that. The free play came in 10 special $5 chips. You couldn't cash them in, but they played just like regular chips at the table. If you won a $5 bet, you'd get a regular red chip in winnings and keep the free-play chip to bet again. If you lost, the dealer took the free-play chip.
I saw two guys leaving a $5 table, and went to sit down. The dealer said, "You might not want to play here. I've been red hot. I just cleaned those two out."
Well, I'm a stubborn old cuss and I don't believe that a hot dealer is always going to stay hot. This one did. I had free play for 10 $5 bets, and he won the first eight hands. It seemed like he was getting 21s any way you can—blackjacks, drawing a 5 to a 16, stringing together a bunch of low cards. He was just unbeatable.
Finally on the ninth hand, I got a blackjack. Huzzah! Then I got a 20 that beat him. But then I lost the next hand to lose the ninth chip, and lost the 10th chip right away.
My $50 in free play turned into $12.50 in my pocket, just like that. I wish I'd listened to the dealer like I'd listened to the players at my tournament table.
Morgan
On my first casino trip, I was an extreme low roller. I'd take $50 and walk the Las Vegas Strip, and see how far it would get me.
I absolutely loved coupon books. You know that little Slots A Fun casino next to Circus Circus? When I was doing this back in the '90s they had $1 blackjack tables, and the coupon book had a $2-for-$1 coupon where if you won a $1 bet, they'd give you $2.
That was right up my alley with the little game I was playing for myself, seeing how far I could make $50 go. I got my coupon book, won my $2 and moved on to some nickel slots.
When  I left, I saw all these people were throwing away these coupon books. They were everywhere. The trash can was full to overflowing, and the books were all over the sidewalk. I scooped up a whole bunch of them, and started tearing out the $2-for-$1 coupons.
I went back, bought in for $10 and started to play. I played a coupon, and an- other, and another. The dealer looked at me funny, but didn't say anything. On my fourth coupon, the pit boss came over and said, "OK, we're going to have to make this your last one, and I shouldn't really let you go that far."
But nothing ventured, nothing gained, hey? I won two hands and lost two, but because of the coupons, I didn't just break even. I won $2.That doesn't sound like much, but it was a nice little boost for my day.
Sami
It was a pit supervisor who taught me about comps. I'd been playing and playing and playing, four or five hours, kind of up and down, but not too bad. The pit supervisor had my players card, and he came over and said, "Why don't you take a break? I'll write you a dinner comp." And he did, to the coffee shop. I'd never had a comp before, and it wasn't all automated like it is now.
The next time I played, green chips, after between two and three hours, I caught a different supervisor's attention, and asked if she'd write me a dinner comp. She said she had to check, and she looked up my information, and gave me the comp. People get comps all the time, I know, and I get offers in the mail and in my emails now, but those first few times were almost as exciting as a winning streak.