G'day Mate!
The World Series Of Poker launches a bracelet battle down under
By SEAN CHAFFIN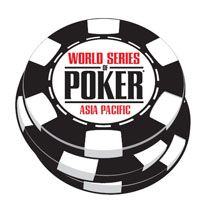 In April, the biggest poker spectacle in the world will travel to the world's smallest continent. The World Series of Poker is launching the WSOP-Asia-Pacific at Australia's Crown Melbourne April 4-15, featuring five bracelet events.
Along with the annual WSOP events now in Europe, South Africa (which began in 2012, but awards championship rings, not bracelets), and, of course, the United States, the series is expanding its brand to one of the growing hotbeds of poker. WSOP officials have confirmed several poker heavyweights will be in attendance, including "Kid Poker" Daniel Negreanu and 2012 WSOP Main Event champion Greg Merson. Poker pro Antonio Esfandiari confirmed to Casino Player that he will also be in Melborne, where he hopes to continue an incredible hot streak that included a massive win at the WSOP Big One for One Drop, a bracelet at the WSOP-Europe, and a fourth-place finish in December for $329,000 at the World Poker Tour Five Diamond World Poker Classic at the Bellagio.
"Poker Brat" Phil Hellmuth will also be in attendance, seeking to keep a remarkable WSOP roll intact (he added his 12th gold bracelet in a Razz event in Las Vegas, and then in Cannes, France, took home the Main Event at the WSOP-Europe for No. 13.) No doubt, he will be primed to add to his bracelet collection.
"It's been a long time coming, actually," said Seth Palansky, Caesars vice president of corporate communications. "Ever since Joe Hachem won the WSOP Main Event in 2005, we've seen a steady influx of Australians coming to the WSOP to play each year. They have been loyal and the poker scene really exploded there after his win. We have found a great partner in Crown, who already run Australia's most successful annual poker event, and our desire to tap the region with the WSOP brand led to the formation of WSOP Asia-Pacific."
As of late January, there were not many firm commitments of major-name players, but Palansky expected the notion of winning one of the first bracelets awarded in Australia to attract some nice fields.
"We know definitively that poker players from the rest of the world really love traveling to Melbourne and have great affinity for Crown Melbourne," he said. "With the addition of bracelets and plenty of players from throughout Asia, we expect to have a very successful series out the gate."
Crown Melbourne is Australia's leading integrated entertainment resort, attracting 18 million visitors annually. It's one of the largest entertainment complexes on the planet, with world-class gaming facilities, and is home to what has become one of the most prestigious international poker tournaments, the Aussie Millions, which is held each February and attracts some of the biggest names in the game. The casino also features one of the largest poker rooms outside of North America, as well as world-class restaurants and shopping.
"This exciting partnership brings together two industry leaders, and two strong brands, to create a premier poker event in this region," said Crown's CEO Greg Hawkins. "Our agreement firmly aligns with our objective of attracting the very best local and international players, all vying for a coveted WSOP bracelet. We are incredibly proud of what we have achieved with the Aussie Millions and look forward to featuring WSOP Asia Pacific on our poker calendar in April 2013."
Hachem's run to become the 2005 WSOP Main Event Champion, which saw him scoop up $7.5 million in prize money, kickstarted a poker craze Down Under. The Melbourne native has become an ambassador for the game in his home country. In recent years, Macau has also become a poker hotbed, with high-stakes rounders making the trip for nosebleed-level games against wealthy Chinese businessmen and other high rollers.
Hachem is excited about the chance at winning a bracelet in his own backyard. "It's thrilling to think the World Series of Poker is coming to Australian soil," he stated. "I know first-hand what a life-changing moment winning the WSOP gold bracelet was, and how it served as a catalyst for the growth of poker in Australia and Asia. It will be a dream come true to host a worldwide poker event such as this at Crown. I can't wait."
Palansky says Crown's agreement with the WSOP includes provisions for an international television production of the event, and it's expected to be shown globally on ESPN as well as being part of a packaged show in the U.S. WSOP officials say the events will cater to every level of player and will have a few unique and specialty events that should bring Macau's top players, as well as some celebrity involvement.
One of those specialty events is the first tournament, coined "The Accumulator." Players can buy in and play any or all of the three starting flights in this AUD$1,100 event, and the total chips they accumulate each day will be carried over to their Day 2 start. The unique start should make for great excitement and possibly some interesting player strategies. And certainly players will be hoping for good luck and good cards as they battle to become the first winner of the AUD$10,000 WSOP Asia-Pacific Main Event.
Other events which are not part of the bracelet tournaments, but are expected to attract major attention, are the AUD$50,000 High Roller NO Limit Hold'em With Rebuys event, and the Caesars Cup Invitational. No doubt, the High Roller event will lure some of poker's deeper-pocketed players looking for a nice payday, and the rebuy format only adds to the grandiose action.
The Caesars Cup features some of the best pros in the world in an international competition with players from "Asia-Pacific versus Europe versus the Americas." The format also offers some team dynamics in a game usually known for its self-reliant game play and rugged individualism. The Cup is modeled after the Ryder Cup, with five players from each region doing battle against each other in team and heads-up matches.
These new events in Australia are part of a larger goal of Caesars Corp. to bring the WSOP to players around the world, and expand the brand. The company is hoping to be "purposeful and deliberate" in its growth of the series; they intend to make sure the company's existing events are successful before attempting to tackle other markets.
"Our goal is to establish the worldwide grand slam of poker and use our platform to elevate the game through a series of major championships," said WSOP executive director Ty Stewart. "With WSOP-Las Vegas growing annually and WSOP-Europe poised for long-term success after five years, the time is right to turn our attention to the dynamic poker scene in Asia and Australia. Given Crown's success with the Aussie Millions Poker Championship, we couldn't ask for a better partner than Crown to establish the Asia-Pacific's definitive poker festival."
Below is a schedule of events for the WSOP Asia-Pacific. For live updates and to view live final tables, visit www.WSOP.com.
• April 4, 5, 6 First three flights of AUD$1,100 No Limit Holdem "Accumulator." (Event #1)
• April 7 – AUD$1,650 Pot Limit Omaha (Event #2)
• April 8 – AUD$2,200 Mixed Game Event (Event #3)
• April 9 – AUD$5,000 Six-Hand No Limit Holdem (Event #4)
• April 11 – AUD$10,000 Main Event (Event #5)
• April 13 – AUD$10,000 High Roller No Limit Holdem with Rebuys (non-bracelet event)
• April 14 – Caesars Cup Invitational: Asia Pacific vs. Europe vs. Americas (non-bracelet event)
Sean Chaffin is a freelance writer in Rockwall, Texas. His new book, RAISING THE STAKES: True Tales of Gambling, Wagering and Poker Faces, is available as an eBook and in paperback at www.RaisingtheStakesbook.com, Amazon.com, and BarnesandNoble.com. He is also editor of www.PokerTraditions.com, all about poker history, lore, and people. If you have a gambling or poker story idea, email seanchaffin@sbcglobal.net. Follow him on Twitter at @PokerTraditions.
**** SIDEBAR ****
National Heads-Up Poker Championship returns to NBC

Poker got a bit of good news in January recently as it was announced that the National Heads-Up Poker Championship will return to NBC and the NBC Sports Channel. The annual made-for-TV event is filmed at Caesars Palace in Las Vegas. It kicked off in 2005 with Phil Hellmuth taking the title. Erik Seidel won the most recent tournament in 2011.
After Black Friday (which saw the federal government shut down several major online poker sites), the tournament series was shelved, but thanks to the NHL lockout, the network decided to revive the series. The championship features 64 well-known pros, rising stars, and some wild card players, which really makes for some terrific poker on TV.
Spoiler Alert: When episodes begin airing in March on both channels, the final table should be especially great for TV—featuring Mike Matusow versus Phil Hellmuth for the title. Matusow won the third match in the best-of-three format for first place and the $750,000 first-place prize money.