GAMERS IN THE HOUSE
GameCo's Video Game Gambling Machines bring a new group of players to the casino floor
By Frank Legato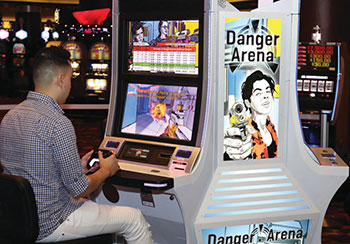 For the past several years, the casino industry has been dabbling in new looks and new types of games for the slot floor. The reason? Long-term survival.
It's no secret that younger players—anchored by the so-called millennial generation—are not enamored by the traditional slot machine. While their parents will sit for hours on end watching reels spin in a gambling-centric effort to beat the bearish house edge on the slots, younger players have an entirely different set of priorities for their entertainment.
They like social interaction. They like competition. And most of all, they like video games—the kinds of video games they grew up playing; the kinds of video games they play now on their smartphones.
This fact has been of particular interest to Blaine Graboyes, co-founder and CEO of GameCo, Inc., a New Yorkbased startup slot manufacturer, because it means the millennial generation—a massive group in itself, larger than the baby boomers it will eventually replace on the slot floor— comprise only part of a market that simply wants to see something different on the slot floor.
Graboyes says the concept for GameCo came as he was working to create events for the burgeoning eSports market—the tournaments between video gamers that have become a spectator sport to which millennials have flocked. "We were bringing those events to casinos," he recalls. "We would bring a few thousand folks to a casino for an eSports event, and they would walk right by the slot machines, because young people play video games; they don't play slot machines."
Graboyes says he learned that casino slot revenues had been declining, and he began speaking with casino executives about how to bring the "next generation of gamers" onto the slot floor. By "gamers," he is talking about video-game enthusiasts—not only millennials, but a wide swath of customers who love to play video games. "What I saw in the marketplace was that gamers were underserved," he says, "and there was a misunderstanding of who gamers are."
He says there is a pervasive misunderstanding that gamers are "teenagers in their parents' basement with no disposable income," which is far from the truth, as Graboyes' own research proves.
"The average gamer is 35, and they over-index for education and income," he says. "And they really want to be treated like a VIP." To capture that underserved market, Graboyes, along with co-founders Robert Montgomery and Cinnamon Booth, self-funded the launch of GameCo.
GameCo's patented new style of gaming machine is rapidly making its way across the casino industry. The company calls it the Video Game Gambling Machine, or VGM. It is an arcade-style console that is the same size as a normal slot machine—but instead of reel-spinning, it offers a variety of video games.
The VGM made its debut last fall at Harrah's Resort in Atlantic City, with a game called "Danger Arena." This is a first-person shooter game, in which the player uses an Xbox-style controller mounted on the VGM just as one would on a home video-game console. Each play typically lasts less than 90 seconds, and players win by using the controller to shoot robots—or "bots," as they're called—on the screen. The more dead bots, the more winnings. No spinning reels, no waiting for bonus rounds. Winning depends on the skill of the player, with the highest payout achieved for wiping out 10 bots.
The payback percentage is around 90 percent, and it is controlled by the fact there are around 10,000 different video scenarios built into the program, with varying levels of difficulty. Some bots are pushovers; others are practically indestructible. In the end, the difficulty of each game and the skill of the player combine to form the payout—a lot like skill in video poker or video blackjack affects the outcome of each play on those games.
Danger Arena was launched at the three Atlantic City Caesars properties —Harrah's, Caesars and Bally's—and subsequently was placed at the Atlantic City Tropicana.
In February, Danger Arena was joined on Atlantic City floors by the second GameCo VGM offering, Pharaoh's Secret Temple. This one plays much like casual games you may play on a smartphone. You touch the VGM screen much as you would the screen on your smartphone, on a puzzle-like field of gems. You match gems to collect treasures, "level up" to higher prizes, look for special charms to boost wins, and avoid Egyptian-themed traps.
Right behind that is Nothin' but Net, a simple basketball shooting game in which you use a bash button on the VGM panel to manipulate a basketball player on the screen to shoot a basketball at a net, with various angles and distances in different scenarios. Players choose a male or female player as the avatar, and skills are tested with a maximum of 16 chances. Players' virtual skill in making layups, jump shots, free throws and half-court bombs is challenged in a fast-paced game, which also includes bonus "Money Balls."
Skill Meets Variety
These three games are only the beginning for GameCo. Soon, players will find a wealth of video-game variety joining the traditional slots on the floor.
"As skill-based gambling offerings are introduced to casino players, continuing to broaden our VGM catalog with new games that address multiple video game genres is a top priority for GameCo," Graboyes says. "We are committed to providing unique and engaging content that will appeal to current casino players and attract new audiences, by developing a variety of relatable video-game gambling experiences that feature familiar entertainment based on popular brands from movies, TV, video games and casual-style games."
GameCo has already secured licenses for that next group of games. A license from Paramount will bring theatrical film brands to the VGM that include Mission: Impossible, Paranormal Activity and Ferris Beuller's Day Off.
"We're thrilled to be working with Paramount to bring these brands to the casino floor," Graboyes says.
These and other titles will stream into the marketplace in 2017, he says, with the release of 10 or more new VGM titles, including the Paramount titles and the latest license, from StudioCanal S.A.S.—Terminator 2: Judgment Day. GameCo plans to develop three new casino video games based on the iconic sci-fi film.
"It's exciting to introduce our celebrated film titles to fans and casino players in an engaging and interactive format," says Rand Marlis, president and CEO of Creative Licensing Corp. (CLC), which does the licensing work for GameCo. "GameCo's VGM brings films to life in an updated arcade format, whereby players have fun with a chance of winning big money."
"T2 is a world-famous classic film known for action, visual effects and memorable characters, so it's a great fit for the fast-paced experience we want to bring to casinos across the globe," says Rich Maryyanek, head of global business development for GameCo. "We are excited to be working with StudioCanal and CLC to bring the 'Terminator 2' brand to our video game gambling machines."
Rolling Out
GameCo's rollout of all these titles will soon arrive at a casino near you. The company's next market after Atlantic City will be the casinos of Connecticut, where the first three VGM offerings were expected to arrive this month. That will be closely followed by Florida.
After that, players can expect a rapid spread across the country. The VGM just received certification from Gaming Laboratories International under its GLI-11 category—the same category used for video poker, video blackjack and other games featuring an element of skill.
Jurisdictions across the country recognize GLI certification, so VGMs will soon appear in major Indian casino markets like California, Oklahoma and Kansas. Graboyes says jurisdictions in Latin America and Canada are on tap soon as well. By early summer, the company expects to add the biggest stage of all, Nevada.
By next year, the company will go international, with potential markets from Europe to Macau.
Along the way, the number and forms of games will continue to expand, including similar games grouped in multi-game configurations. "We'll release a sports multi-game, where you pick from a couple of sports," Graboyes says. "We'll release a casual multi-game. We want to create an assortment on the floor."
Graboyes says that even with only the first two games on the floors of Atlantic City, he noticed that players were treating them just as traditional slot players treat games. "Players want to bounce from game to game. They want to see different games, different genres and different brands on the floor."
Eventually, Graboyes predicts, gamers will have special areas where these skill-based video games will be featured. It's already happening in markets like Las Vegas, where the MGM Grand has launched the "Level Up" lounge, which includes skill-based slots along with other features designed for younger players—beer pong, bubble hockey, pool tables and a sports bar give the millennials the variety they crave.
Graboyes says his plan for GameCo is to partner with casinos to create more special spaces in which the VGM can thrive. "In terms of dedicated areas, we're consulting with a few casinos now," he says. "We are interested in being capital partners with casinos to build and operate these new spaces."
But for now, GameCo will concentrate on spreading the gospel of casino video games across new markets.
So fire up your controller, sharpen your aim and practice on your phone. You may soon encounter the future of the slot floor.