Gambling In the Cloud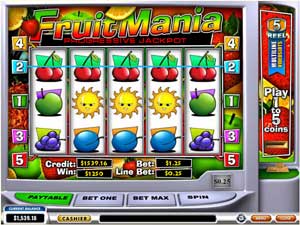 Server-based slot machines are now a reality. But are players ready?
By Bill Burton
I wrote an article about server-based slot machine more than five years ago. It was in April 2007 that the Nevada Gaming Regulators approved International Game Technology's (IGT) sever-based gaming system, following the field testing of 20 machines. The server-based slots, also referred to as "downloadable slots," were being touted as the future of casino floors.
I'd seen a demonstration of this technology a few years earlier at the Global Gaming Expo, the annual trade show for the gaming industry.  Although the commission approved IGT's system first, they aren't the only slot maker with sever-based technology. WMS and Bally's have spent millions of dollars in research and development of similar systems and they got approval shortly after IGT. Since that time, other gaming jurisdictions have approved the server-based slot technology, including California, New Jersey, New York, Connecticut, Indiana and Iowa.
Gambling In the Cloud – How It Works
Server-based slot games are connected to a central computer system. The slot machines on the casino floor are basically generic terminals. Different slot games can be downloaded into the slot cabinets. Slot managers will have the ability to change a slot machine's games, denominations, and bonus payouts from a central computer server, rather than requiring technicians to perform the work manually.
Instead of having to buy a slot game that could soon go out of favor with the players, the server-based system gives the casino the ability to replace an unpopular game with a new one in a matter of seconds. This would save the casinos the expense of buying a completely new slot machine when they want to bring a new game onto the casino floor. They would merely pay a licensing fee for the particular game they downloaded.
A Myth Comes True  – gambling in the cloud
For years, slot players have believed a myth: that casinos can change the payback of a machine with the flip of a switch. They worried that the casino could tighten the machines during busy times (such as weekends), and then loosen them up to pay out more during the week.
With a server-based system, this myth could actually become a reality, as casinos will be able to change the payback of the machines, along with the denomination of the game, through the server.
The one consolation for the player is that the casinos must also deal with the regulatory requirements of their home state. In most jurisdictions, casinos must notify the regulators at least 24 hours in advance if they want to tighten the payout percentages.
Also, casinos can't simply kick players off the slot machines if they want to switch themes. A machine must be idle for at least four minutes before themes are switched. No changes will be made while a customer is still playing the slots, or while any credits are left on the machine.
 A Slow Transition   
When the decision by the Nevada board was made in 2007, many gaming analysts predicted that the machines would start finding their way onto the casino floors and be in full swing by 2009.
In the article I wrote in 2007, I predicted that the proliferation of server-based slots would not happen by 2009 as some of the analysts forecasted. I did not think that players would readily accept this new technology of having the games residing on a server in some distant location. I had conducted an online survey for an internet site I wrote for, and I received hundreds of negative responses when I asked player how the felt about server-based games. The majority said they would not trust them.
My prediction proved to be correct for that time period. However, over the last few years  there has been a shift in the way people have come to look at server-based products, and it really only took a simple name change to make the idea more acceptable.
We're now in the age of "Cloud Computing or gambling in the cloud," which is nothing more than having your data stored on remote servers that can be accessed from different computers or any device with an internet connection. Many of us have an online e-mail account through companies like Yahoo or Google, and we can easily check our e-mail remotely when we are not at our main computers.
Accepting the Cloud
There is no definitive answer as to who originally coined the phrase "Cloud Computing" although many credit Google CEO Eric Schmidt with making it popular. And of course when Apple started offering their iCloud service, where you can store your digital music online to access from any device, this only brought wider acceptance to keeping data on remote servers.
Regardless who was the first to use the term Cloud instead of server-based, it was a stroke of genius. In our minds, clouds are soft, puffy objects floating around the sky.  It sounds friendly and non-threatening. In contrast, when you use the term "Server-Based" it evokes a completely different feeling. I would not be surprised if you start hearing server-based games being referred to as cloud-based games sometime in the future.
Regardless of what they're called, our overall acceptance of remote data will probably mean that we will start to see more of these games on the casino floors.
In a press release in January of this year, IGT announced that Barona Valley Ranch Resort and Casino in San Diego, California went "live" just before Christmas in 2011 with the first IGT server-based gaming system and machines ever installed. Lee Skelley, assistant general manager of casino operations at Barona Valley Ranch Resort & Casino said, "For the first time, an up-to-the-second slot experience, customized to the players' expectations, will become possible."
The new Revel Casino that opened in Atlantic City earlier this year also offers server-based slot games on their casino floor. This may be the start of a trend that was predicted over five years ago, and I believe you will see more expansion in the near future.
Of course, the final test of this new technology will lie in the hands of the players. If they do not accept and trust these systems, then other casinos will not be in a hurry to convert their casino floors. Only time will tell. However, if the games are fun and entertaining, I don't think the players will care if they are located in the cloud or not.
Until next time, remember: luck comes and goes, but knowledge stays forever. I hope you enjoyed this article of "gambling in the cloud".
Bill Burton is the author of "1000 Best Casino Gambling Secrets" and "Get the Edge at Low Limit Texas Hold'em," which are available online at www.billburton.com. He's also an instructor for Golden Touch Craps: www.thecrapsclub.com