Funny Money
Incredible Technologies reprises the beloved Archie comic-book theme in "Archie Money Funnies"
by Frank Legato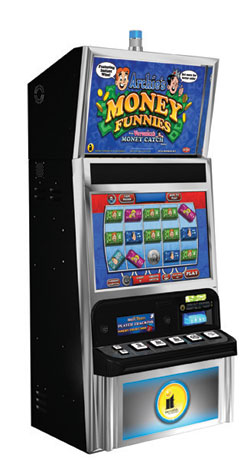 How's this for a day of work for a guy of the Baby Boomer generation? You're assigned to read through stacks and stacks of Archie comic books, and read about the history of the famous comic character. You immerse yourself into the Archie theme, and look at it from all angles, and decide what's the most fun about it.
Nice work if you can get it.
Ralph Melgosa actually got it, and got the above assignment after slot-maker Incredible Technologies decided to do a sequel to last year's "Archie in Riverdale Riches" slot machine. "I do my research," Melgosa, a game designer for IT, says of the assignment that has now yielded the new game Archie Money Funnies. "I'm a comic book nerd. I'm a huge comic book fan, and I read Archie comics as a kid. I absolutely jumped at the chance to do this game."
Most people of Melgosa's age—and a lot older, for that matter—read Archie as a kid. The character of Archie Andrews first appeared in the December 1941 issue of Pep Comics as typical American teenager Archibald "Chick" Andrews. As the story goes, MLJ Magazines cofounder John L. Goldwater wanted a story about a typical relatable teen that would create the same vibe as MGM's popular Andy Hardy film series with Mickey Rooney and Judy Garland.
Writer Vic Bloom and artist Bob Montana created the freckle-faced Archie Andrews as the Mickey Rooney-style character, but Archie's original love interest was Betty Cooper—unlike Garland, a blonde. Of course, as we all know, the brunette, rich girl Veronica Lodge, would come later, as one of a classic cast of characters surrounding Riverdale High, a high school somewhere in the Midwest.
(Riverdale was actually the section of the Bronx where Goldwater grew up, and the original Riverdale High location was Massachusetts, but Montana eventually drew it up as a typical Midwestern community.)
Within a few years, Archie Comics were so popular that Goldberg changed the name of his company from MLJ Magazines to Archie Comic Publications—its name to this day.
Generations have since grown up on Archie, and its spinoffs featuring Jughead, Betty, Veronica, Riverdale principal Mr. Weatherbee, and even Veronica's father, the "richest man in Riverdale," Hiram Lodge. There were animated Archie TV shows, and even a couple of animated Archies rock bands. (Remember the song "Sugar Sugar?")
Archie Comic Publications currently circulates no less than 16 individual Archie titles, from the original to Life With Archie, which covers the Riverdale gang's future—they actually will depict Archie's heroic death this July—and yes, even a zombie-themed Afterlife With Archie.
Melgosa of Incredible Technologies knew all this when he was charged with creating a follow-up game to IT's first Archie slot. He says his job was to bring the Archie theme to a new group of slot players without repeating anything from the first game. He started with a strong base game—a clone of IT's biggest hit, "Crazy Money."
Crazy Money features a lineup of different denominations of bills on the game screen, and matching bills are added up to form the jackpots. "The beauty of Crazy Money is that what you see is what you get," Melgosa says. "It's very clear to the player to see what they're winning. We wanted to simplify that, and Archie allows us to do that. It's a very colorful franchise, so we took the money and made it appear almost like Monopoly money—a more colorful palette, brighter in the presentation. We had a lot of fun with it."
Those colors will be familiar to any fan of the comic books—the basic red, blue and yellow of the comics are recreated for the slot game, as is artwork that recalls the man Melgosa calls the master, Montana.
The primary game in the five-reel, 15-line Archie Money Funnies is special in itself. For one thing, as you will read on the top-box screen, the odds improve as you wager more. According to Melgosa, the machine's game chip actually contains several game programs in each denomination, with different payback percentages. Just as you are switching programs when you pick a higher denomination in a normal multi-denomination machine, when you jack up your per-line bet in this Archie game, it switches to a program with a higher payback percentage.
Bottom line: The more you wager, the higher the return on this game. So go with the $1.50 max bet (in pennies) if you can afford it.
The other special primary-game feature is called "Angle Pays." Some of the game's highest-paying winning combinations come when matching symbols form certain angles on the game screen. "For the most part, we've reserved that for only the bigger bills on the screen," Melgosa explains. "So, when the player sees and feels that Angle Pay, he knows its going to pay big."
He says that as you play the game repeatedly, you get to intuitively know where those angle combinations may be, and watch for them. "After a while, you're looking for these angles to hit," says Melgosa. "Out of the corner of you're eye, you see a blue streak at a 35-degree angle, and you know it's going to hit big. It's a nice little visual cue we've built into the game."
Riverdale Bonuses
Of course, the characters of Riverdale are featured in the portraits on the game screen's bills, and the two bonus events add Archie characters and situations to the basic Crazy Money game.
The bonus events start with a mystery bonus in the primary game. The game takes what was a standard mystery bonus in the original Crazy Money and gives it a themed twist. Betty gives Archie a little smooch, and "whenever you hear that little kiss, a shower of hearts appears, and you're awarded a bonus," says Melgosa. "We added some light fun and character to the game."
The other bonus is a second-screen event called "Veronica's Money Catch." This one plays on the dynamic between Veronica and her rich dad, Hiram Lodge. It starts out with an actual comic strip, depicting Veronica begging her father to open up his "money bag" and giver her some dough to go shopping. Hiram, of course, gives in to his little girl, and you're prompted to open his money bag. It explodes in the living room, and you touch the screen to grab as much money as you can for the bonus.
"When the game is over, we took a panel of Mr. Lodge throwing Archie out of the house," says Melgosa. "He tells him that's enough fun for today, and throws him out and back into the main game.
"We took as many elements as we could within that Archie license and incorporated them into the game, and I think we've really filled it out well. We definitely wanted to incorporate the two girls in a big way, since they are always competing for Archie's affection."
Melgosa says the Archie Comic people were "fantastic" to work with, granting access to the complete library of Archie comic strips and comic books from the past.
Archie Money Funnies was approved in 15 states as of press time, with its popularity growing. Melgosa says with the multitude of characters available—and spinoff comics from Archie's Pal Jughead to Josie and the Pussycats—its safe to say that the two Archie slot games out in casinos now are only the beginning of IT's work with the theme.
That's fine with Melgosa—and with his kids as well. "I really loved working on this project," he says. "I have, literally, a stack of Archie comic books on my desk. One of my sons recently came up to the office, and he's been going through them cover-to-cover."
Yes, nice work if you can get it. •
Archie's Money Funnies
INCREDIBLE TECHNOLOGIES
SLOT TYPE
Five-reel, 15-line video slot; mystery bonus and interactive second-screen bonus event; multi-denominational
PAYBACK % RANGE
85%—94%
AVERAGE HIT FREQUENCY
Approximately 50%
TOP JACKPOT
6,400 times line bet
AVAILABILITY
AZ, CA, CO, FL, IL, IN, IA, KS, MI, MN, MS, NM, NV, OK