FULL HOUSE
Previewing the WSOP 2017 schedule
By Sean Chaffin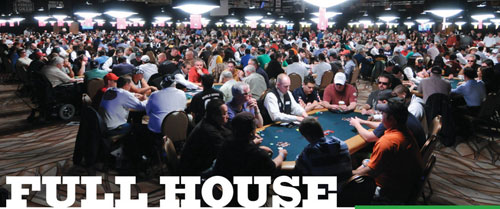 ALL EYES OF THE POKER WORLD LOOK to the Rio Hotel and Casino in Las Vegas this summer for the 48th World Series of Poker. From its humble beginnings of a collection of old school Texas rounders to the giant mecca of the card-playing world, this year's festivities feature 74 events and the bracelet hunters will be out en masse.
Events kick off on May 30 and run through July 17, and this year rounders will have plenty of games and buy-in options over the 50 days of card-playing action. In recent years, WSOP officials have created a two-tier buy-in system with lower buy-in events priced in the hundreds up to $1,500 for smaller-bankrolled players and $10,000 championship events that cater more toward professionals. Tournaments inside the 200,000-square foot Rio Convention Center include buy-ins ranging from a $333 buy-in online gold bracelet event on WSOP.com to a $111,111 High Roller.
"The focus of the schedule remains squarely on two core principles: the biggest prize pools possible and diversity in offerings to provide something for everyone," said tournament director Jack Effel. "The 48th running of the globe's biggest poker series promises to deliver on these core principles and ensure another action-packed summer at the Rio."
The WSOP has truly become an international event in recent years and the championship gold bracelet has become the biggest trophy in the poker world. Participants from over 100 nations attend each year, and more than 100,000 entries create the largest prize pools offered in all variants of poker.
The annual poker spectacle wraps up with the $10,000 Main Event beginning on July 8 with three Day 1 starting flights. As in previous years, the tournament will play down to the final nine players who then will return in November to play live in front of ESPN's cameras.
GROWTH CONTINUES
Last year's Main Event winner, Qui Nguyen took home more than $8 million in cash and the coveted championship gold bracelet. Nguyen outlasted a field that included 6,737 players. The entire WSOP attracted an all-time attendance record with 107,833 entries and over $221 million in prize money. Forty-eight events had prize pools of at least $1 million, with 25 reaching more than $2 million and a dozen events reaching $3 million. The average WSOP gold bracelet event in 2016 featured a $3.2 million prize pool with $555,475 awarded to the winner.
This year, Day 1 events begin with the annual $565 Casino Employees Championship (No-Limit Hold'em) and then the first open event, the $10,000 Tag Team No-Limit Hold'em Championship. The "tag team" concept was reintroduced last summer with teams of two to four players battling it out in a $1,000 buy-in tournament. That event returns on June 5, but organizers have also added a high roller version of the popular tournament with teams of two to four. Last year's first tag team event was won by poker pros Doug Polk and Ryan Fee, who took home $76,679 each. The event was well-received and marked the first team event in 34 years at the WSOP.
"This schedule reflects our continuing goal to broaden poker's appeal and encourage first timers and recreational players to come experience the WSOP for themselves," WSOP Executive Director Ty Stewart said. "With the new $365 buy-in Giant anchoring Friday nights, alongside a tent pole event awarding millions every weekend, we believe we have the offering to be well worth the trip. Plus, for the serious and high-stakes player, we remain committed to having the most diverse schedule of events of any tournament in the world. Whatever your game or bankroll, let the bracelet chase begin."
For players more comfortable on the online felt, another major addition is offering three online tournaments at WSOP.com. The $333 No Limit Hold'em event kicks off June 3 with a guarantee of $333,333 and the online $3,333 high roller is on July 1. Online rounders have one more shot on July 7 in another $1,000 event. All online events will offer unlimited re-entries for those looking to fire that second or third bullet for their shot at poker glory.
NEW TO THE SCHEDULE
As in the past, the WSOP also brings a few new events to the mix each year. Here are a few that stand out on the schedule:
June 9, 16, 23, 30, July 7 –"The Giant," a $365 No-Limit Hold'em event with weekly Friday night flights at 7 p.m. Each opening flight plays deep into the money and any remaining players are paid out an amount equivalent to the last paid place of the night. Players' chips are bagged and remaining prize pool carried over to Day 2 with a cumulative re-start on July 8. Players are allowed unlimited re-entry during each Day 1 flight.
June 12 –"The Marathon," a $2,620 No-Limit Hold'em event where players begin with 26,200 chips with extended 100-minute levels. It is a five-day event for those looking for long levels and some multi-day action.
June 20 – The $1,000 Super Turbo Bounty is quite the opposite of The Marathon. This one-day event offers 20-minute levels of No-Limit Hold'em plus a $300 bounty per player.
June 26 – The WSOP has added a $10,000 Pot-Limit Omaha Hi-Lo Split 8 or Better championship for those PLO fans with a nice bankroll and looking for big payouts.
June 30 —Mixed games are the rage and the WSOP continues to be the place to play other poker variants not often played at other tournaments around the world. The new $2,500 Mixed Big Bet event offers plenty of action with a three-day event the includes No Limit Hold'em, Pot Limit Omaha, 2-7 No Limit, No Limit 5-Card Draw, Big O, PLO Hi-Lo, and 2-7 Pot- Limit Triple Draw. Bring your A-game and a deep knowledge of poker for sure.
OLD FAVORITES
Management at the WSOP is always trying to meet player demand that just never seemed to wane since Chris Moneymaker's massive everyman win at the 2003 Main Event. This year there are five more tournaments than in 2016 and here is a look at few of the notables on the schedule:
June 2 – The $565 Colossus III looks to repeat the numbers insanity of the last two years with 21,613 entries in 2016 and 22,374 entries in 2015. Chicago's Ben Keeline took home a cool $1 million as last year's champ.
June 2 –The $111,111 High Roller for One Drop is back and along with a massive payout, the tournament also helps raise funds for the One Drop organization, which provides fresh water services for third-world countries.
June 11 –The $1,500 Dealers Choice 6-Handed tournament brings the fun of a home game to the WSOP. Players have the choice among numerous games to be dealt at the tables ranging from Texas Hold'em and Pot-Limit Omaha to more obscure games like Badugi and A-5 Lowball Triple Draw.
June 7 – The $10,000 Heads Up No-Limit Hold'em Championship always brings a big group of pros looking to earn a title in heads-up competition.
June 9 –Those with lower bankrolls looking for something other than Hold'em can get in on the $565 Pot-Limit Omaha. It should be a nice tournament at a lower price point.
June 10 – The $1,500 No-Limit Hold'em Millionaire Maker, of course with a guaranteed $1 million first-place prize, has been an interesting addition to the schedule and proven Last year's newest millionaire was San Diego poker pro Jason De- Witt.
June 16 – The $1,000 Seniors No-Limit Hold'em Championship has been a favorite and usually features a big turnout. Last year's winner was 54-year-old Texas restaurateur and 25-year military veteran Johnnie Craig, who took home $538,204 in a tournament featuring 4,499 entries. Players must be over age 50.
June 18 – Along with the seniors event, the $1,000 Super Seniors No-Limit Hold'emis also a fun event on the schedule for those over age 65, won in 2016 by James Moore, a 65-year-old physician and radiologist from New Hope, Penn., for $230,626. The event featured 1,476
July 1 – The $888 Crazy Eights No-Limit Hold'em 8-Handed offers a nice payout for first, $888,888, for a relatively low price.
July 2 – The $50,000 Poker Players Championship (6-Handed) has become a great test of skill for pros looking for a feather in their caps. The event tests players' skills at many poker variants including: Limit Hold'em, Omaha Hi-Lo 8 or Better, Seven Card Stud, Razz, Seven Card Stud Hi-Lo 8 or Better, No-Limit Hold'em,Pot-Limit Omaha, and Limit 2-7 Lowball Triple
July 7 –The traditional $10,000 Ladies No-Limit Hold'em Championship (ladies get a discounted price of $1,000) is a fun event for female players, although few men usually pay the full price hoping for a shot at a bracelet.
July 7 – The $10,000 Seven Card Stud Championship brings together those with high bankrolls seeking a title in one of poker's oldest formats.
July 8 – And of course, the $10,000 Main Event brings together hordes of rounders hoping for a big run, A-game poker, and a little luck to bring home the biggest prize in the game. Last year saw Qui Nguyen's aggressive style best a field of 6,737 players for a monster first-place prize of just over $8 million.
Whether you're on a Taco Bell budget or your bankroll is more filet mignon, there is something for everyone on the 2017 WSOP poker menu. Grab you card protector and lucky charm. And good luck!
INSIDE THE SERIES WITH BRANDON WITTMEYER
Brandon Wittmeyer, 32, has come a long way from playing low-stakes poker games in his garage and in the high school cafeteria with friends. The Chicago native now calls Las Vegas home and now refers to himself as a "professional gambler," and scored his first WSOP bracelet in 2015 in the $1,500 No Limit Hold'em DraftKings 50/50 for $200,618. He also added a third-place finish in a $2,500 No Limit Hold'em event for $215,964.
In February, Wittmeyer added a World Series of Poker- Circuit win in the $2,200 High Roller event at the Las Vegas Rio stop for $77,840 and his first circuit ring. Stacking Chips spoke with Wittmeyer about winning a bracelet and his thoughts on this summer's WSOP.
How did it feel winning that first bracelet?
I played my first WSOP event three summers ago and since that first event the goal has always been to win a WSOP gold bracelet. It didn't happen until my second summer playing in 2015. The feeling was surreal. I was the happiest I've ever been because even long before I ever played a WSOP event, I watched poker on ESPN beginning around 2002. From that moment the vision and dream was inside my head. So years later to actually win a bracelet was such a rush of joy and relief that I actually accomplished something I set out to do. It brought me confidence.
What are your plans for this summer? Are there a couple of events that really interest you?
My plans for the 2017 WSOP and other summer events is to play in roughly about 25 events or so. I think every poker player whether professional or amateur should be playing most weekend events.
The Colossus is a $565 buy-in with $8 million guaranteed on June 2 and provides tremendous value. The Millionaire Maker on June 10, which is a $1,500 buy-in and first place is $1 million guaranteed. Also, the Monster Stack on June 24, where you'll receive 15,000 in starting chips. July 1 offers the Crazy Eights which guarantees first place with $888,888 and the buy-in is only $888.
The $10,000 Main Event, of course, which begins on July 8, is the grandaddy of them all. This year WSOP.com is also offering three online bracelets which is another great way to play the game.
What advice would you give players playing in their first WSOP event?
Pick your events out ahead of time and make a simple plan. Have some goals to keep you motivated throughout the summer. Don't overdue it. Get plenty of rest and find some good food and balance while you visit the WSOP this summer.
Relax and have fun. The summers in Las Vegas and at the Rio in particular are exciting times. A lot of money is being awarded to all types of people from around the world. Try your best to be in on the fun and good luck.