FU NAN, FU NU… AND ORION
AGS combines Chinese culture with the attraction of its popular new Orion cabinet in Fu Nan Fu Nu, a game that's already drawing crowds
By Frank Legato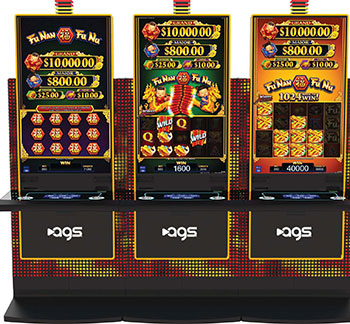 It's certainly shaping up that way for Fu Nan Fu Nu, a game that is helping slot-maker AGS debut Orion, a player friendly, marquee-style cabinet that is a work of art in itself.
Fu Nan Fu Nu plays out a traditional Chinese theme centered around the title characters, "Fu Nan" (Mandarin for "Lucky Boy") and "Fu Nu" ("Lucky Girl"). It is a game in the AGS "PowerXStream" format, a "ways-to-win" setup with no paylines and wins registered by adjacent symbols.
But the game itself can't be talked about without discussing the Orion cabinet. In fact, Fu Nan Fu Nu was the first game AGS designed exclusively for the new cabinet, which was introduced earlier this year.
Just about all the major slot manufacturers have been producing premium cabinets recently, most featuring tall, vertical screens, but none of them look like Orion. Its prominent feature is a striking 42-inch at-screen, high-definition monitor, which provides a huge, continuous backdrop for expanding reels, bonus features and any manner of interactive features on a touch-sensitive surface.
The monitor is set in portrait mode and enveloped in a ring of 498 game-controlled, full-color, emotive LED lights reflecting against a clean, chrome-base material to visually enlarge the cabinet. When placed in bank configurations, Orion's design creates a virtual billboard—an aesthetically pleasing display that grabs attention on the slot floor.
On Fu Nan Fu Nu, the marquee lighting surrounds a bright green backdrop on the monitor, displaying the two game characters riding golden dragons. Between them are two strings of firecrackers, which figure into one of the game's bonus features. Above the characters are four progressive jackpot meters, with the top one displaying a Grand prize that starts at $10,000. It provides a compelling visual, particularly when three of the games are lined up in the standard Orion bank setup.
"The color-scape of this game—that green and red color combination, warmer than other games on the market—has really been resonating with a lot of players," says Andrew Burke, senior vice president of slot products for AGS. "Then, the multi-level progressive is a mechanism players are familiar with, so it helps take down barriers to trying this game.
The jackpots are triggered through one of the two main bonus events.
"We designed the game to take advantage of that 42-inch monitor. Lots of things happening in the game use up that entire space. Reels are expanding, the bonus round takes over the whole screen, and there is always something happening within that entire playscape."
The Jackpot Pick Bonus is a picking event triggered at random when a wild symbol lands on the reels. Each time a wild symbol lands, sparks fly up to the top screen on the at vertical monitor tore up a random number of firecrackers displayed in the dual string. The string will continue to light until only the top two are unlit. Those two reworks at the top will remain unlit until the jackpot pick triggers, regardless of how many wild symbols land on subsequent spins.
When the jackpot round is triggered, all the reworks explode to reveal a picking screen. The player picks icons—each corresponding to one of the progressives—until matching three to award the prize.
There also is a unique free-spin event that allows the player to choose the volatility of the free games by expanding the reel array. When the free-spin round is triggered, the player chooses either 15 free spins with the normal three-by-five configuration (243 ways to win per spin), 10 free spins on a four-by-five array (1,024 ways to win) or five free spins on a five-by-five array (3,125 ways to win).
In an intriguing twist, 50 percent of the time either a "Big Win" or a free-spin trigger is going to land, then an animation will play that shows a message telling players that "luck has arrived," and then players will see either Fu Nan or Fu Nu riding the dragon across the screen, accompanied by a sound effect. This "pre-tell" happens right after the reels start spinning and ends before any reels come to a stop.
Fu Nan Fu Nu was released as the prominent entry in the first suite of Orion games—which was already hundreds of games into its rollout at press time. "It's been a fantastic title for us," says Burke. "The performance numbers have been through the roof, but more importantly, we're hearing consistently from operators that the occupancy levels of this game are also through the roof. We've been hearing stories of people waiting in line to play the game. That is partly due to the cabinet, but this game has been a hit."
The success of Fu Nan Fu Nu represents a wave of popularity for this particular style of video slot. Says Burke: "Asian-themed games are very popular in the market right now, and players are gravitating toward them, but the math on this game in particular is designed in a way that the players know they can win a ton of money if they get into the bonus round. There are not a lot of bonus rounds, but players have realized pretty quickly that once they get into this bonus round, they've got a real chance at winning something big."
Burke also notes that in addition to all the bonus-round advantages, ultimately, this is simply a fun game. For instance, AGS added "Easter eggs," as they're called in the trade, including a feature that lets you interact with the lucky game characters—rub the tummies of Fu Nan or Fu Nu, and they react. They squirm and giggle, in a fun little feature that you should definitely check out.
"We've heard a lot of great feedback from players about this slot – not only about the game itself but the cabinet," says Burke. "Players at Pechanga (in California) are actually calling it the 'Lite Brite cabinet,' referring to that old kid's game. People really like the ergonomics of it as well. It's very comfortable to play, and it doesn't block sight lines to the rest of casino."
No matter. You'll notice this game whether it's in the middle of the slot floor or against a back wall. "It really is like a piece of art," Burke says.
It's the art of Orion. And Fu Nan Fu Nu is the format's grand introduction.