From Tragedy to Triumph – Gulf Coast Gaming
Having weathered Katrina, Gulf Coast gaming enjoys record-breaking success
by Rob Wiser
It's been just over two years since Hurricane Katrina turned Mississippi's Gulf Coast into a national tragedy. All of its 12 casinos shut down in the wake of the storm, having sustained varying degrees of damage. Some were able to begin repairs immediately and reopen months later, while in other cases, entire complexes were reduced to rubble.
Since then, we've witnessed an extraordinary comeback. Not only have almost all of Biloxi's casinos returned—with gaming now allowed to be conducted onshore, instead of on floating barges—but they've returned bigger and better than ever. Meanwhile, many of their parent companies have been rapidly acquiring land for future expansions and developments.
There's no question that players missed these properties during their absence. Biloxi's revitalized gaming industry has been setting all-time revenue records; back in March, figures released by the mayor's office showed $86.2 million in gross gaming revenue in February, the largest figures the city had ever achieved for that month.
Recent months have seen the industry move forward by leaps and bounds. The Hard Rock Casino in Biloxi, which was smashed to pieces mere days before it was supposed to open, finally held its triumphant grand opening on July 7.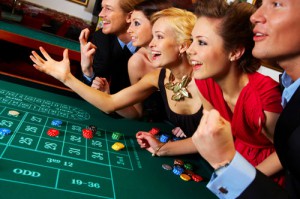 Only days earlier, on July 2, Treasure Bay Casino, whose former pirate ship gaming barge was one of the most shocking symbols of Katrina's devastation, opened its new hotel and casino. It now sports a completely new look, having abandoned its pirate theme.
The most ambitious new development has been announced by Harrah's Entertainment, which is building a massive casino complex, Margaritaville Casino & Resort, on the grounds where Grand Casino Biloxi and Casino Magic once stood.
Margaritaville represents a partnership between Harrah's and famed singer-songwriter Jimmy Buffet. The $700-million-plus project is the single largest investment in Mississippi since the hurricane, and will mark the first phase of a development that may ultimately cost more than $1 billion. Construction is now underway, with a target completion date of spring 2010.
Back in May, Buffet joined Harrah's Entertainment executives and Mayor A.J. Holloway and Gov. Haley Barbour at a conference, where they unveiled their plans for the resort. "Along with Jimmy Buffett, we plan to develop the next generation destination resort on the Gulf Coast," says Gary Loveman, CEO and president of Harrah's. "With this additional $700-million-dollar project supporting Mississippi's vital tourism industry, Harrah's financial commitment to the region will be nearing $1 billion, including the company's hurricane relief and recovery efforts for our employees."
"I have seen the best and the worst of times along Mississippi Sound, and as a survivor of storms myself, I feel an enormous sense of gratitude and good fortune to be part of the rebirth of the region by joining forces with Harrah's to bring the Margaritaville Casino & Resort 'down around Biloxi,'" said Buffett, who is a native of Pascagoula, Miss. and cut his musical teeth playing area nightclubs. "One of the essential elements of life along the Gulf Coast is the Creole belief that hard work and good fun go hand in hand. So, with that in mind I say, 'Let's get to work and let's let the good times roll again.'"
Months after the storm, as the resorts raced to rebuild and new developers swooped in, Holloway predicted that Biloxi could see as many as 18 to 22 new casinos within 10 years. Other industry analysts said that the area's number of hotel rooms could surge from its pre-Katrina levels of 20,000 to around 30,000, while doubling its number of employees to 30,000. Today, Holloway believes those amazing numbers are still possible. "I think all of those numbers are well within reach," Holloway said at the conference, "and I think we can do it without compromising our quality of life."
Margaritaville will include around 100,000 square feet of gaming space; 420 new hotel rooms and 378 renovated rooms; 250,000 square feet of retail; 66,000 square feet of convention space; a tropical-themed pool area with cabanas and a bar; and a full-service spa.
Meanwhile, Biloxi's other resorts are surging forward with expansion plans and introducing new amenities and attractions. Since the hurricane, the area's resorts have acquired more than 175 acres for additional development.