FAST MONEY
Aruze Gaming America injects new life into the world of multiple progressives with the reel-spinning "Rapid Shot"
By Frank Legato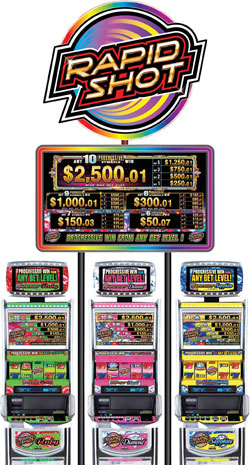 One style of slot game that's all the rage these days is the multiple-progressive game that uses the number of jackpot symbols appearing scattered across a reel screen to determine one of several corresponding jackpots.
Up until now, this has been purely a video slot gimmick. How-ever, Aruze Gaming America is changing all that with a new series known as "Rapid Shot."
Rapid Shot is a five-level progressive jackpot series that uses gems to trigger the progressives—the game title gem in the three in-augural games, Rapid Shot Ruby, Rapid Shot Diamond and Rapid Shot Sapphire. Like other games of this style, progressives are won through scattered jackpot symbols—the ruby, diamond or sapphire—corresponding to five jackpots. Unlike other games in this genre, this is a reel-spinning slot.
It's not just any reel-spinning slot, though. This is the Innovator With Radiant Reels series, the popular five-reel series that features large spinning reels—18.1 inches across, with each reel strip measuring 3.54 inches, the largest reels in the business for this type of shot. Innovator also features elements that add up to a visual fest in general. The reels are backed by multi-colored LEDs, they are surrounded by light colors, and they even spin at various speeds, for-ward and backwards.
According to Kelcey Allison, CEO of Aruze Gaming America, the company's game designers made a conscious effort to make its new reel-spinning star visually stunning enough to top even the most popular current Innovator games. This was done through the color schemes on the games themselves, and the presentations of the banks of games.
"Most of the configurations are six on a wall—two Diamond games, two Ruby games, two Sapphires, and the corresponding colors provide a beautiful image," Allison says. "You can see these games from anywhere in the casino." And the slot-bank setups enhance the individual colors. "It comes with a beautiful, ornate merchandising display, which includes a 60-inch LCD monitor, which displays the five-level progressives for each title."
Of course, once the visuals draw you to the area, the game takes over, and this one is designed for fun. The name "Rapid Shot" refers to the fact that the jackpots hit quickly compared to most other games. According to Allison, a mystery event that can lead to one of the progressives happens every 45 spins, on average. That's frequent for any bonus, let alone a progressive.
During the base five-reel, 30-line game, you can win a progressive through a regular line combination or a special mystery event triggered by a Rapid Shot symbol on the third reel. Four gem symbols scattered on the reels return a static pay of 400 credits times the line bet. Five to 10 rubies, diamonds or sapphires (depending on the game)scattered across the 15-space screen (five reels, three rows of symbols) return a progressive.
The good part: You don't have to bet the max to qualify for a progressive. Even the minimum one credit per payline—a paltry 30cents—will win a progressive ranging from a $5 reset for six gems to$15 for seven, $30 for eight, $100 for nine or $250 for the maximum 10 gems.
Of course, as you bet up, you will see the incrementing progressive meters change accordingly. At the maximum wager of 10 credits per line—that's $3 a spin on the most common version of the game—the progressives reset at $50, $150, $300, $1,000 and the top prize of $2,500. With jackpot events this frequent, you would be well-advised to either start with a good bankroll—as in $100 or more—and bet the max every time, or at least start with what you can afford and jack up your bet as soon as you get a good bank of credits built up.
In addition to the straight line combinations is a mystery event that can also lead to a progressive. When the Rapid Shot symbol appears on the third reel, it triggers one free spin with a random number of gem symbols added to the screen, and thus, a very good chance of hitting a progressive. This free spin frequently results in another Rapid Shot symbol and a re-trigger of the free spin with random added jackpot symbols.
This is the one-in-45 event that makes the game special, says Allison. "This is a rapid-hit progressive, and that's the uniqueness of the game," he says. "The Rapid Shot is going to intrigue the customer, and because it will hit between one and 45 spins, you get a lot more time on device than other slots of this type."
Add to that the fact that this is a first-ever use of this style of play in a reel-spinning format, and you get a game that will appeal to practically everyone, he adds. "It's going to encompass a broader demographic than just the video, because our Innovator series is a hybrid stepper game," he says. "It's going to entice both the stepper and the video player."
At press time, the Rapid Shot games—the first in what Aruze is calling its 'iLink Series"—were in Nevada, Arizona, Louisiana, Mississippi, Connecticut, Florida and California. Allison says initial player response has been fantastic, and by the time you read this, it's likely the games will be in a casino near you.
"We have huge momentum with this game," he says. "We've had overwhelming demand. It's been well-received, the player response has been excellent. We're really excited about it."
With all those progressives, this is indeed one to get excited about.
 Rapid Shot Ruby
Rapid Shot Diamond
Rapid Shot Sapphire
SLOT TYPE
Five-reel, 30-line mechanical reel-spinning slot; five-level progressive jackpot; free-spin bonus event; penny denomination
PAYBACK % RANGE
87.15%—97.94%
AVERAGE HIT FREQUENCY
54.39%
TOP JACKPOT
Progressive; $2,500 reset
AVAILABILITY
AZ, CA, CT, FL, LA, MS, NV (Others pending at press time)