Evolution of the Slot Bet
Wagering enough to come out ahead on today's volatile slots requires vigilance and patience
By Frank Legato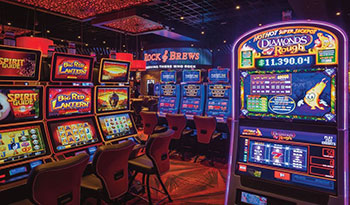 Wagering on slot machines a few decades ago was easy. Most of them took two or three coins, mainly quarters or dollars. Your only decision was whether betting a single coin was wise, or whether you needed to bet the maximum—two or three, in most cases—to get the most out of your reel spinning.
As in spinning, physical reels, of course.
In the case of those old mechanical-style games, your only decision was an easy one. You just needed to look at the pay table, which was always displayed on the glass of the machine. (Silk- screened on real glass with real paint, if you can imagine that.) There were basically two styles of traditional slot games—a straight "multiplier" or what was known as a "buy-a-pay."
It was easy to know which kind of game it was. In a multiplier, each successive coin added to the wager multiplied the jackpot equally. For example, three bars would return 20 credits with a single coin wagered, 40 credits for two coins and 60 credits for three coins. In this case, it didn't really matter how much you wagered. The return was proportionate.
A buy-a-pay slot machine, on the other hand, would have a certain number of winning combinations activated by the first coin bet, would activate more combinations on the second coin, and offer the most paying combinations for maximum wager. Often, the top winning combination was only active with a maximum bet.
Some machines were hybrids of these two, with all pays active with each coin wagered, paying equal multiples of all winning combinations, but with an added bonus for the top combination at max bet. For instance, if the top combination was three 7s, a single-coin wager would pay 50 credits for three 7s; a two-coin wager, 100; and a maximum three-coin wager, perhaps 1,000 credits.
This made it easy for slot experts to offer wagering advice: If it's a straight multiplier, it's up to you; bet more if you want to win more. On the other two styles, always bet the maximum, or you could lose out on money you could have won.
The nature of slot wagers began to change in the mid 1990s, when the number of paylines multiplied on video slots. Traditional slots mostly offered a single payline, with some as many as three or five. The first Aristocrat slot machines appearing in the U.S. had nine paylines, and were offered in the nickel denomination. On these games, the player was required to wager a nickel to activate each of the paylines—a minimum of 45 cents per spin to be paid to activate all the winning combinations appearing on all the paylines.
The first Aristocrat games were answered by multi-line video slots from the former WMS Gaming (now Scientific Games), IGT, Bally and others, with the games also generally in nickel denominations.
The wagering advice here was simple—make sure you wager enough to activate all the paylines, or you will miss out on wins.
Those early multi-line games offered very low volatility—a steady stream of low-level hits to keep you playing, along with clever bonus features to keep you entertained. A big win was comparatively rare, and getting paid was a bit complicated back when all pays were distributed in coins. Old- timers will no doubt remember when getting big payouts on a nickel game invariably meant waiting for a slot attendant to arrive with more nickels to feed into the hopper.
In the early 2000's, two developments changed the nature of betting once again. Actually, the first development led directly to the second.
That, of course, was the introduction of ticket-in/ticket-out play. Removing coins from the equation freed up slot designers to move into areas where they had not ventured. Mainly, with no need to keep a hopper stocked with coins, the denominations were able to go down to the penny game.
The penny denomination allowed multi-line games to be designed with the same kind of volatility enjoyed with the old reel spinners. In other words, with the penny denomination came the return of occasional huge credit jackpots.
While many operators used the penny denomination to lower the return-to-player percentage—a discussion for an entirely different column— the development also brought up a new way to bet. No longer were players even able to bet less than the minimum needed to activate all paylines. Most newer games have a minimum wager that automatically activates all the lines. And with the ability to wager 10 or more credits on each of 50 paylines or more, bets increased to hundreds of credits per spin in many cases.
Most of the newest penny games draw average bets of $1 to $3 per spin—the same as the high- returning traditional reel spinners. These games don't offer anywhere near the overall payback percentage of those games, so a different wagering strategy is in order.
The volatility of these games means that huge credit wins will appear periodically. Because of the denomination, you want to be able to get as much as possible for those big wins. Therefore, you should bet the maximum that you can afford. Then, be patient, and vigilant—meaning, when that big win does occur, you need to use that larger bank of credits to be ready when the next big win comes along. As soon as you can, jack your wager up to the maximum. You'll be surprised what a $3 or $5 bet can yield when that big win comes.
Maintain the maximum bet as long as you can, to wait out that hefty penny house edge. And if you do hit it big, take a break. Take a walk, get some dinner. If you keep playing, it's too easy to give that big win back to the house. When you return, go back to your original stake.
These are pennies. Bet enough of them to make a difference.
KNIGHT FEVER
At the height of the NHL playoffs, South Point Casino in Las Vegas is getting in the spirit to back the hometown team. The casino has introduced a Vegas Knights-themed jumbo slot machine after AGS announced a deal with the league for NHL-themed slot and table games in the U.S. and Canada.
The Knights game becomes the first in the collection after debuting in April. The Zamboni-sized machine will be hard to miss, measuring 8 feet wide by 8 feet tall.
The machine features a roomy seat built for more than one player—perfect for a spin with a few friends.
"We are elated to be the first casino to unveil the Vegas Golden Knights slot game, and look forward to offering our loyal players, many of whom are Las Vegas locals and huge Golden Knights fans, with a hockey-themed slot experience based on an enormously popular team," South Point slot director Cliff Paige said. "We expect the Vegas Golden Knights game to do very well. Not only does the game offer a community-style play experience as people gather to watch those giant reels spin, but it also provides a great social media photo opp."
As the postseason approached at press time, the Knights sat atop the West Division standings, with fans hoping for another big playoff run. South Point visitors can hope for a bit of that play off glory at the new machine.