Ellen's Slots
IGT forges a partnership with talk and comic superstar Ellen DeGeneres for a hot new slot series
by Frank Legato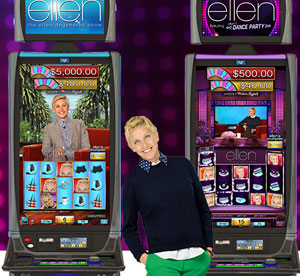 There was a time when leading slot-maker International Game Technology's high-profile slot brands were drawn from old TV shows. Stars from the 1960s would promote the games by showing up at the trade shows, canes and walkers in tow.
These days, though, IGT's themes invariably draw from what's hot in popular culture right now.
And right now, no one's hotter than Ellen.
Ellen DeGeneres, the comedian, writer and former sitcom star, is riding a crest of popularity thanks to her beloved daytime talk and variety show, The Ellen DeGeneres Show. Now in its 12th season, the award-winning show—it has won 36 Daytime Emmys so far—draws around 3.9 million viewers per episode, and DeGeneres herself is at the zenith of her popularity. When she hosted the Oscars last year, she drew 43.7 million viewers, the highest ratings for the awards show in 14 years.
As it turns out, Ellen is just as popular among slot players, according to early returns from the floor for IGT's two new Ellen-themed slots, "The Ellen DeGeneres Show Featuring Twelve Days of Giveaways" and "The Ellen DeGeneres Show Featuring Ellen's Dance Party."
While slot machines based on a daytime TV talk show may seem like a strange concept to some, IGT officials knew this one would be a slam-dunk, thanks to DeGeneres herself.
"When it became possible for us to license this brand, we knew that it was obviously a great match with our core demographic, but equally important, we also knew how current Ellen is, how hot she is, how really successful her show continues to be," says Joe Sigrist, senior vice president of global product development and operations for IGT. "It is really important to have brands that are current, and it's been great timing for us to launch these games at the height of her popularity."
(In fact, in a happy coincidence for IGT, DeGeneres' popularity soared even higher after the famous Oscar selfie performance, which happened after these games were already in production.)
Of course, a popular theme is only part of the equation for success among slot players. The game itself has to be fun. Sigrist says IGT developers found a rich vein of material in the show that translated perfectly into slot bonus games.
It's why there are two games in the launch, a rarity in the branded-slot-machine business.
The Ellen show is known for its recurring gags, catchphrases, audience giveaways, and of course, "the dance." That infectious, goofy dance, originally done by DeGeneres to segue from her monologue to the first guest segment, has become a central feature of her show, its largely female audience going wild and dancing along every time she struts through the seats.
That's why the first two themes were easy to decide, says Sigrist. A game built around the dance was a no-brainer, but the other obvious theme would be what is easily Ellen's most popular segment of the year, the holiday-season "Twelve Days of Giveaways," in which each of the 300 audience members in 12 consecutive episodes is given a gift valued in the thousands of dollars.
The show's ample material translates well into slot bonuses, and that means the combination of Ellen and IGT is the beginning of a beautiful friendship—Sigrist says his team is already working on the follow-up to the two games in the field. But the material itself is not the only thing catapulting these two games to the top of IGT's sales ledger. DeGeneres, says Sigrist, has been possibly the best celebrity ever in terms of helping create, and then market branded slot games.
It's not just that she provided her voice, recording original introductions to the slot bonus games, and funny original comments placed after various game events. DeGeneres has used her own pop-culture standing—and the world of social media—to bring her own fans to the games. She plugs the games on her website, on her Facebook page, on Twitter—it's been a landmark use of social media in connection with a slot game.
Her fans have responded in droves, and if you want to know how they feel about the game, simply visit DeGeneres' Facebook page. A typical post:
"Mama will love this! Nothing she loves more than you and penny slots!"
Twitter tweets follow the same line. And DeGeneres is all-in, using all the social media to direct players back to her website, where she has set up a game-finder revealing the casinos where they can find the Ellen slots.
DeGeneres on Twitter: "I'm in a slot machine! Not actually. Though I did get my hand stuck once. I have 2 new games! Find the nearest 1 here http://ellen.tv/1z60Crg."
"This is a really great intersection of social media with gaming, in a way that's never been achieved before," says Sigrist.
He says it's typical of the unprecedented support IGT has received from the star. "I can't think of another brand that we've licensed where we've had as much collaboration as early and as frequently as with Ellen and her team," says Sigrist. "Ellen bought into all of this. For us, the support of Ellen, and especially her team from the show, was incredible. We had multiple meetings with her executive producers, who have been with her on the show for a long time, and who really are her collaborators in creating what has made the show so successful.
"We went to them a number of times, got their feedback, they played early versions. We took them to Vegas to play their games and suggest how we can bring what they created for her show into the slot machine."
As far as DeGeneres herself, there has never been a star who has so embraced being the subject of a slot machine. Other stars have barely mentioned their slots publicly. DeGeneres actually made it part of her show, while handing IGT a priceless bit of public relations.
Last month, for one of the "Twelve Days of Giveaways," DeGeneres introduced the two slot games to her millions of fans by giving each of 300 audience members a three-day, two-night stay at the Mirage in Las Vegas, along with $200 in restaurant credits and—get this—$300 in free slot play to try her two games.
If you didn't see it, it was one of the loudest sustained audience cheers ever, on a show known for audience cheers.
Top Bits, Top Games
The two inaugural Ellen games, by the way, are as good as advertised. Both games will push all the right buttons of Ellen fans and provide even those unfamiliar with the program lots of fun bonus events and opportunities to win.
It starts with the game cabinet itself, IGT's new "CrystalCore," launched last year with the second game based on the Avatar films. It features a single, giant vertical LCD video screen on which all game features occur.
"We wanted to put the Ellen show on our best hardware," Sigrist says. "From a presentation standpoint, we really challenged our studios to use that single, immersive screen in a very leading-edge way, from the incorporation of video from her show to the use of custom voice recordings she did for us. All of those things were incorporated into the art and presentation of these games."
Once the palette was secured, the subject of the bonus events would be easy to decide. "We wanted to make sure we themed these games and incorporated elements that were really important aspects of her show," says Sigrist, "and two of the really well-known aspects are Twelve Days of Giveaways—people who are able to secure tickets for this part of the show actually cry—and the dancing. She is really known as a dancing aficionado, and it's a very important element of her show."
Building upon the most-anticipated Ellen episodes each season, the Twelve Days of Giveaways slot features a symbol set that includes many of the show's most famous gift shop items, including Ellen-branded boxers, totes and mugs. A dedicated Free Spins bonus has players spinning reels full of holiday-themed symbols and picking from 12 on-screen gift boxes, each revealing multipliers that increase with each spin, up to 12X.
The Giveaways game is available in 15-line and 30-line versions. Ellen's Dance Party is a "ways to pay" setup—no paylines, with wins from adjacent symbols. In this case there are 432 ways to win on each spin.
The Ellen's Dance Party Free Spin Bonus turns the game's reels into a boogie-down bonus round, as a cut-out of DeGeneres dances around to award wild symbols in a funny sequence that really reflects the energy of the TV show.
Two of The Ellen DeGeneres Show's games come to life in bonus rounds of both games. The "Know or Go Bonus" has players picking prizes until they are eliminated. "Ellen's Wheel of Riches Bonus" offers players the chance to give the touch-screen wheel a spin for bonus awards including one or two of the game's progressive jackpot awards.
While each game has three main bonus events, the primary games in both slots are packed with mystery events, video clips and other surprises. "We wanted to make sure there was fun even in the base game," Sigrist says. "Obviously, players, especially penny slot players, want to get into the bonus to experience the fun of playing these games, but each of the base games has fun aspects."
In the end, fun is what drives both of these new slots. And again, it goes back to Ellen herself. "She is one of the most fun celebrities we have in the popular culture today," Sigrist says.
It shows in the games.
The Ellen DeGeneres Show Featuring Ellen's Dance Party
The Ellen DeGeneres Show Featuring Twelve Days of Giveaways
International Game Technology
SLOT TYPE
Five-reel, multi-line or ways-to-pay video slot; second-screen and free-spin bonus events; penny and nickel denominations
PAYBACK % RANGE
85.9%—96%
AVERAGE HIT FREQUENCY
Approximately 50%
TOP JACKPOT
500,000 credits (penny)
200,000 credits (nickel)
AVAILABILITY
All U.S. jurisdictions
Find Ellen's slots at a casino near you: http://ellen.tv/1z60Crg.