Direct Access
New casino websites let players check points, get special offers and more
By H. Scot Krause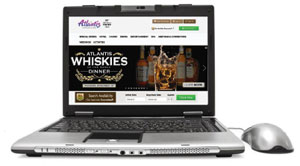 Several casinos have launched new websites for direct access to your slot club account and providing up to date offers, promotions and specials.
Myhootersrewards.com, has launched a personal website for Hooters Casino in Las Vegas. Now you can access your offers anytime or anywhere. Once you register you will also be getting email notifications for new offers and events. Login with your email address and Rewards Club+ number as your password at: Myhootersrewards.com. (Do not enter any leading zeros when entering your password.)
With a new responsive design, you can view the new Silverton Casino website and player portal from any desktop, tablet or mobile device. The new player portal allows you to: view your upcoming offers and promotions, view your tiered rank plus point and free play balances; review your Silverton Rewards Club contact information; and download win/loss statements. Go to SilvertonCasino.com to see the new website.
All Aliante Players Club members now have the ability to log-in online to view their account info. The new website allows club members to check their account info (point balances, free play offers, tier info, etc.) view your current offers, view promotional calendars, request win/loss statements and view club benefits. The player login is located in the top right-hand corner of the Aliante website homepage. Your Player's Club number is your user name and your date of birth (MMDDYY) is your password. Visitaliantegaming.com to log in.
Maverick Helicopters, an award-winning division of Maverick Aviation Group, launched an exclusive partnership with Playstudios to offer real-world experiences through the developer's myVEGAS Slots and myVEGAS Blackjack applications. Players are now able to redeem loyalty points for a wide range of Maverick Helicopters excursions in Las Vegas, the Grand Canyon and Maui, Hawaii.
"Playstudios' partnership with Maverick Helicopters gives myVEGAS players a thrilling new collection of experiences unlike any other that we've ever offered," said Jeff Netzer, vice president of business development at Playstudios. "This is a great example of how diverse our rewards offerings have become—from rooms, shows and restaurants to travel packages and experiences. All these great in-game benefits speak directly to our customers' lifestyles and leisure-time interests."
The new Maverick Helicopters offerings let myVEGAS players redeem loyalty points for a credit towards an array of the company's most popular destination flights over the Las Vegas Strip, to the Grand Canyon and through Maui, Hawaii. Excursions include Vegas Nights, Vegas Dream Sunset, Wind Dancer and Molokai Voyage. Gamers can also redeem loyalty points for merchandise credits at the Maverick Helicopters Las Vegas and Maui, Hawaii gift shops.
myVEGAS Slots and myVEGAS Blackjack are the top-ranking free-to-play casino applications for iOS, Android and Kindle mobile devices. myVEGAS Slots is also available on Facebook. The games are the only social casino applications that give players a chance to earn real-world rewards from an exclusive collection of travel, leisure, and entertainment brands. Rewards include complimentary hotels stays, travel packages, cruises, meals, shows, VIP nightclub access and more.
AtlantisClub Paradise (Reno, NV) members can view their account benefits, view exclusive online offers for hotel, dining, entertainment events, packages, check tier points, check comp points and redemption methods, check club invitations, view and print win/loss statements, participate in online video poker contests and participate in online video slot contests. Currently the site is featuring a video poker contest with a grand prize valued over $1,500. The grand prize package includes: three nights suite accommodations, $200 in free slot play, airfare for two to Reno ($600 value.) Second place winner will receive two nights Atlantis Tower accommodations and $100 in free slot play and third place will win two nights Atlantis Tower accommodations and $50 in free slot play. 4th–10th place winners each receive two nights Atlantis Tower accommodations (Sun-Thurs). Sign up at: https://my.atlantiscasino.com/account/login/
Good luck and happy slot clubbing!