Def Leppard Hits Vegas: The Sin City Residency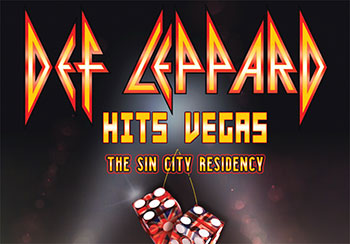 2019 will be another influential year for legendary British rock 'n' roll icons Def Leppard. In addition to being inducted into the Rock & Roll Hall of Fame on March 29, the band will be taking over the Las Vegas Strip in August with their exclusive headlining residency show.
Promoted by Live Nation and Caesars Entertainment, Def Leppard Hits Vegas: The Sin City Residency kicks off Wednesday, Aug. 14 at Zappos Theater at Planet Hollywood Resort & Casino.
Said lead singer Joe Elliott, "Five years ago, we played our first ever residency in Las Vegas which was relatively new ground for a rock band giving this kind of experience…I have to say, we really enjoyed it! Being in one place for the best part of a month is vastly different to our normal city to city touring routine. Breaking this cycle adds another element to the experience for both us and the audience. We look forward to seeing you at the Zappos Theater this summer!"
"Planet Hollywood transformed the entertainment landscape in Las Vegas with the first pop residency," said Jason Gastwirth, president of entertainment at Caesars Entertainment. "We are proud to be at the forefront of rock residencies as well and treat the city's visitors to a new type of experience with Def Leppard."
The 12 performances going on sale are Aug. 14, 16, 17, 20, 23, 24, 29, 31;  
Sept. 1, 4, 6, & 7 
General ticket prices begin at $69, plus applicable tax and fees, and may be purchased online at ticketmaster.com/defleppard or in-person at the Planet Hollywood box office. All shows begin at 8 p.m.